Flames name Gulutzan head coach
Glen Gulutzan is the new head coach of the Calgary Flames. The 44-year-old from Hudson Bay, Sask., was a Vancouver Canucks assistant coach for the last three seasons. His previous experience as an NHL head coach came with Dallas from 2011 to 2013.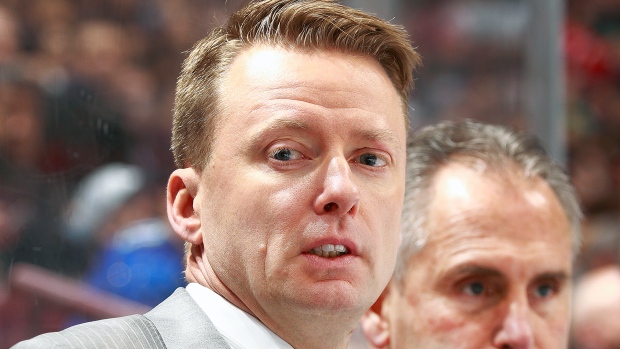 CALGARY — The word "connected" was in heavy rotation during the introduction of Glen Gulutzan as the Calgary Flames head coach.
Gulutzan and Brad Treliving, the general manager who hired him, employed the term several times during Friday's news conference at Scotiabank Saddledome.
Gulutzan's task is to re-connect the Flames to the spirited, confident 2014-15 edition of themselves, when Calgary was a surprise second-round playoff team.
"When I say connected, we want to be connected in fives in all three zones," Gulutzan told assembled media. "We want to defend fast, we are going to defend fast, we're going to utilize the assets we have here.
"For me, it's a team that's on the cusp. It's a team that's exciting."
The 44-year-old from Hudson Bay, Sask., replaces Bob Hartley, who was fired May 3 less than a year after he won the NHL award for coach of the year.
The Flames backslid 20 points in 2015-16 despite the scoring talents of Johnny Gaudreau and Sean Monahan and blue-line strength of captain Mark Giordano, T.J. Brodie and Doug Hamilton.
Gulutzan is Treliving's first head-coaching hire, as Hartley pre-dated Treliving's arrival as Calgary GM. Gulutzan spent the last three seasons as an assistant with the Vancouver Canucks following two seasons as a head coach with the Dallas Stars.
Gulutzan's success cultivating players in the minors, as well as a young Jamie Benn in Dallas, was a check mark for Treliving.
"The biggest asset that I see with Glen . . . his ability to connect to players," Treliving said. "He's a communicator. In today's game, he answers the questions of why and how. Those are important questions in today's game.
"I think he can connect with all types of players. It came loud and clear in the research we did, the word that kept coming up is 'trust.'"
Gulutzan (pronounced GULL-it-sen) believes the coach-player relationship is the foundation of a winning team.
"When you build trust and you build relationships, you get something that's long-lasting and you create an emotional bank account with players," he explained.
"When you need to make a withdraw from that account, and you've got a good bank account, you can withdraw from that account.
"Whatever it is you're going to do with those players, if you have a good base, if you have trust, you can push them a long way and they will play better."
Gulutzan was just 39 when he was fast-tracked from coach of the AHL's Texas Stars to the helm of the parent club in Dallas. The Stars went 64-57-9 under Gulutzan in 2009-10 and 2010-11 and missed the playoffs both seasons.
While he considers Dallas important job experience, Gulutzan indicated Friday he may have missed a step in his coaching progression.
During the last three seasons in Vancouver, Gulutzan says he didn't submit his resume to any other NHL team.
"When you look back on it, you go 'I probably could have used a couple years as an assistant in the league' and that's what I set out to do when I went to Vancouver," he said.
Gulutzan led ECHL's Las Vegas Wranglers to a 254-124-55 record from 2003 to 2009 as coach and general manager. The Wranglers were affiliated with the Flames at that time.
Current Flames defenceman Deryk Engelland played for Gulutzan in Las Vegas.
Gulutzan is a former WHL and University of Saskatchewan centre who played six seasons for Fresno in the WCHL, which is a league that Treliving co-founded.
Treliving says he's followed Gulutzan's career since they met 15 years ago in Las Vegas.
They'll name an assistant for Gulutzan in the coming days. Gulutzan wants someone with special teams expertise.
Calgary has retained assistant coach Martin Gelinas, goaltending coach Jordan Sigalet and video coach Jamie Pringle.
Gulutzan's name began circulating as a candidate for Calgary shortly after Hartley's dismissal. Flames assistant general manager Craig Conroy flew to Vancouver in mid-May to meet with Gulutzan.
Gulutzan says part of the interview process was chugging up Vancouver's Grouse Mountain, also known as "Mother Nature's Stairmaster," with Conroy. But Conroy said the gruelling trek, known as the "Grouse Grind," was Gulutzan's idea.
Gulutzan stepping behind Calgary's bench became a solid bet when other job-seeking coaches Bruce Boudreau (Minnesota) and Mike Yeo (St. Louis) landed in those markets.
Friday's announcement "confirmed Calgary's worst-kept secret over the last couple of days," Treliving said.
Gulutzan's wife Nicole went to high school and university in Calgary. The couple have four children.
Follow @DLSpencer10 on Twitter