Gulutzan: Jagr could be back in a week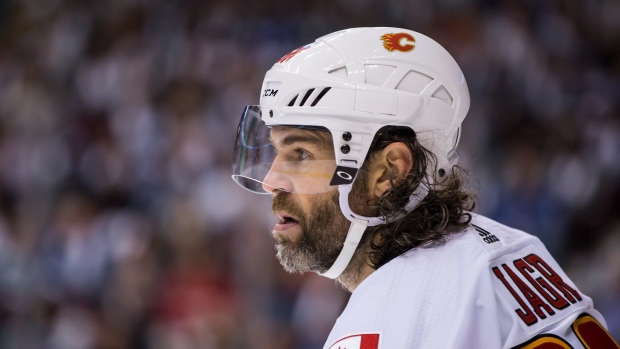 The Calgary Flames placed forward Jaromir Jagr on injured reserve with a lower-body injury, but head coach Glen Gulutzan does expect to be without the winger long-term.
Gulutzan said Jagr may spend only the seven-day minimum on injured reserve before returning. He is eligible to play again on Sunday against the Washington Capitals.
The 45-year-old was sustained a lower-body injury in Saturday's game against the Minnesota Wild.
Jagr has two assists over five games this season, his first in Calgary and 25th in the NHL. He had been playing on the team's top line with Sean Monahan and Johnny Gaudreau prior to the injury.
The 45-year-old signed a one-year, $1 million deal with the Flames earlier this month.
Jagr needs to appear in 51 more games this season to tie Gordie Howe's all-time games played mark of 1,767.
The team recalled Mark Jankowski on Monday to fill Jagr's roster spot.