Flames prospect Hickey sticks with school
Boston University defenceman Brandon Hickey's WHL rights were traded to the Red Deer Rebels this week, sparking rumours he would leave the Terriers. But as TSN's Mark Masters reports, the Alberta native still intends to go back to school to get his degree.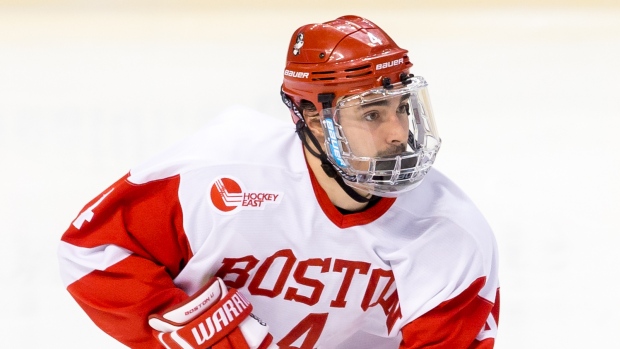 Brandon Hickey's phone "blew up" with messages on Wednesday after news broke that his rights in the WHL had been traded to the Red Deer Rebels, who will host the 2016 Memorial Cup. That set off speculation that perhaps the Flames prospect would leave Boston University and play closer to his hometown of Leduc, Alberta next season.
"I'm going back to school," Hickey said with a smile following Canada's shootout loss to Russia at the Summer Showcase for world-junior hopefuls. "The plan hasn't changed."
Hickey said some of the messages he received were from his coaches back in Boston, who "freaked out" after hearing reports he was jumping ship after helping the Terriers reach the Frozen Four last season. But Hickey, a third-round pick in the 2014 NHL draft, quickly reassured them.
"I'm looking for a backup plan in case I get injured. Injuries happen in sports," he explained. "I don't want to be a guy that is just tied to hockey. I want to be a guy who has options. If hockey doesn't work out then I'll always have my degree to fall back on."
Hickey, who proudly states his grade-point average is north of 3.0, describes his first season of NCAA hockey as his favourite season ever in the sport.
"It's pretty special to play for a school and have the entire student body behind you," he says. "The thing that stands out to me is the passion that the school brings to the game. The student section is always going. You come to class after games and people are always talking about it."
There were 40 players invited to the Hockey Canada summer camp, but Hickey is the only one from the American collegiate system.
"At first you feel different, because you come in and everyone else has teammates and guys they've played against all year so you kind of walk in and you don't know many people."
Some of the other players have been picking Hickey's brain about the experience.
"I've been asked a lot of questions about school, because nobody really knows what university is like so guys will always ask me, 'What are the girls like?' and stuff like that and, 'Is it hard to balance classes?' and stuff like that."
Hickey, who must log six hours of study hall per week as mandated by his coaches, is pursuing a finance degree. "Don't take stupid risks," is his retort when asked for some financial advice. But some may consider going to Boston University a risk when it comes to trying to make Canada's junior team. NCAA players rarely crack the roster, with Jaden Schwartz (Colorado College) the last to accomplish the feat in 2012.
"It doesn't matter if he plays in the CHL, NCAA or on the moon, you're a hockey player for Canada," Hockey Canada's director of player personnel Ryan Jankowski insists, "We want the best guys no matter where they're from."
But the CHL is considered the top junior league in the world and players in the NCAA are sometimes not as prominent on the radar.

"This is the first opportunity that I've had to watch him play," Team Canada bench boss Dave Lowry, who coaches Victoria in the WHL, admitted. "But he's here for a reason. It doesn't matter where he comes from, if he's Canadian he deserves a chance and he'll get one."
Hickey is confident his NCAA status won't hurt him.
"I have the same chance everyone else does. Everyone thinks my disadvantage is the coaches don't see me as much, but Hockey Canada has a scouting staff out there watching me. I don't think it's a disadvantage."
Hickey is happy with the progress he's made with his game and credits Boston teammate Jack Eichel, who was taken No. 2 overall by the Buffalo Sabres in June's draft, for helping his development.
"For the first few months you don't really know how to defend a guy like that," Hickey said when asked about practising day in and day out against Eichel. "The way he skates, it's hard to notice how fast he's going until he gets to you because his legs, his strides are so long that he looks like he's going slow and then all the sudden he's flying by you down the wing. That takes some time to adjust to. Just defending against his high-end skill really helps you in game situations, because you're used to going against the best player in college hockey on a daily basis."
Eichel, who captained the American team at last year's world juniors, has offered some advice to Hickey about that event.
"He said it was a great experience," Hickey notes. "He said the big thing was you got to enjoy it and not put too much pressure on yourself. So, for me, at this camp, I know nobody's going to make the team or get cut here so you just got to come and put your best foot forward and have a good time."