Fleury bucks trends with mid-career rebound
Pittsburgh Penguins goaltender's renaissance is helping keep his team afloat in the Eastern Conference playoff race, Travis Yost writes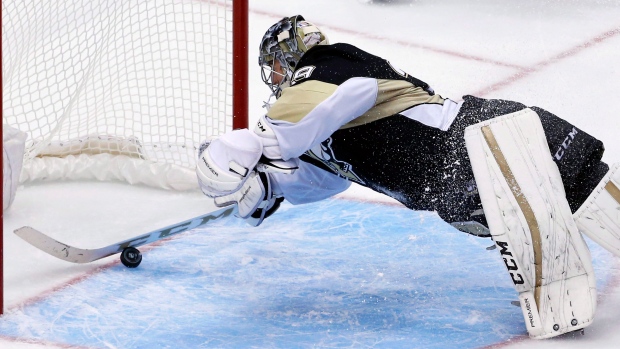 Very early in his career, Pittsburgh's Marc-Andre Fleury was billed as the next great thing.
Those expectations were created by virtue of his first overall selection in the 2003 NHL Entry Draft, and then solidified after back-to-back Stanley Cup appearances in 2007-08 and 2008-09. He was remarkable in his first taste of playoff hockey, and good enough in his second to drive Pittsburgh toward their first championship since the days of Mario Lemieux.
You could very well argue that this run was the pinnacle of Fleury's career. That's not exactly what you want to hear about a mid-20s goaltender after an organization invested significant resources (and a premium pick in a first-round absolutely loaded with top-end talent).
The Fleury debate existed at every corner of the internet. I think a lot of it was Penguins fans searching for reasons to explain away his middling numbers. The truth of the matter is that he was painfully, painfully average – a fine spot to be if you're looking for long-term work, but not a fine spot if you are trying to clear the bar you set with fantastic performances early in your career.
Consider this: By raw save percentage, Fleury's ranks league-wide in the five years post-dating that Stanley Cup victory: 31st, 13th, 26th, 16th, and 22nd. He was eating up a ton of starts and doing a pretty poor job in those minutes – his mistakes frequently masked by the offensive firepower being flexed from old Penguins teams.
Still, that's a tough spot if you are a Pittsburgh organization that's had championships on its mind ever since Sidney Crosby and Evgeni Malkin came into the fold. Each year, they would watch a handful of NHL journeymen and another handful of AHL call-ups around the league out-perform Fleury, to say nothing of the true elites of the goaltending world.
At one point, I remember wondering if we were witnessing the end of the Penguins/Fleury relationship. It was the culmination of a few really bad postseason appearances spanning 2011-2013, highlighted by that 2013 series against the Islanders where he let in just about any shot from any angle. I thought it was a guarantee that, best–case scenario, the team would invest in some serious contingency plans.
That off-season, Pittsburgh promoted then-scout Mike Bales to goaltender coach. They wanted to see if some new blood could iron out the holes in Fleury's game.
At NHL.com about a month ago, Kevin Woodley wrote a lengthy post describing the tweaks and modifications Fleury has made to his game since Bales came into the fold. I found it fascinating that a goalie of Fleury's age was prepared to overhaul the techniques that put him into the National Hockey League. Old habits die hard, of course. But perhaps it speaks volumes about where Fleury's game was, and how open he was to change.
For his part, Fleury's went through something of a goaltending renaissance. It goes without saying that players in their late 20s and early 30s don't historically improve, but his numbers have been steadily trending upward for a couple of seasons now.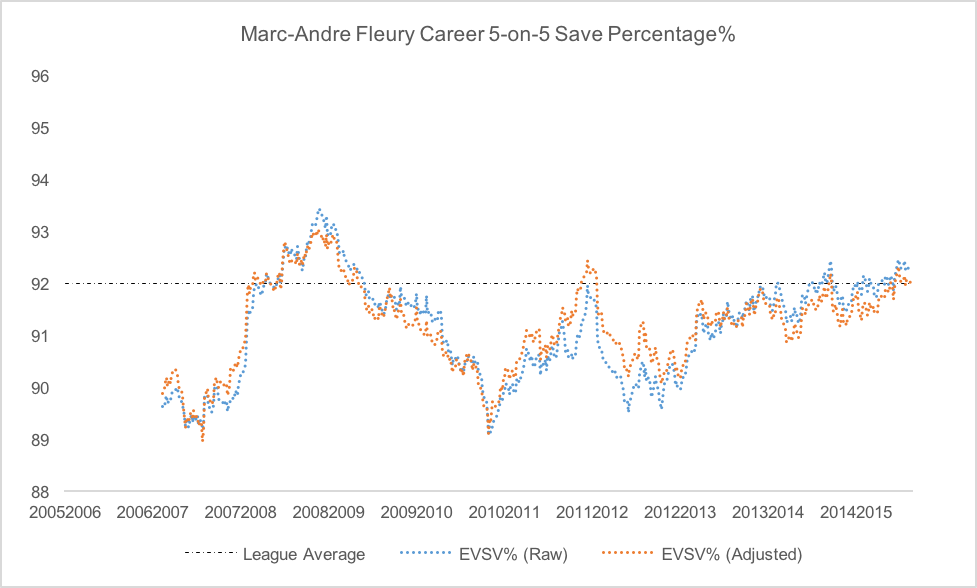 That's a pretty consistent upward move – he's consistently teetered near or slightly above league-average save percentage (92 per cent) for about 150-games now, and he's inarguably playing the most consistent hockey of his career. Again, Henrik Lundqvist he is not, but let's remember where he's coming from. The pits of 2009-2012 were quite real and quite terrible.
Are the structural changes made to Fleury's game driving this trend? I'm not entirely sure. It sounds quite sensible in theory, but most post-hoc explanations usually do. We shouldn't immediately rule out other variables just yet. Specifically, if the team talent (or systems) lend themselves to slightly more favourable goal suppression. This aspect certainly warrants further investigation, though based on pure shot distances allowed, I'm suspicious this aspect is true.
Altogether, here's the hard and fast reality. Since the start of last season, Marc-Andre Fleury's inside of the top 10 in even-strength save percentage (93.1 per cent). When you adjust for shot quality using War on Ice's criteria, Fleury gets a favourable bump, signaling that he's experiencing slightly more difficult shots than the league average goaltender. By adjusted even-strength save percentage (93.2 per cent) in that same timespan, he sits sixth-best in the league – bested by names like Carey Price, Henrik Lundqvist, and Cory Schneider to name a few.
Not a bad place to be.
The Takeaway
Full marks to Marc-Andre Fleury for what seems to be a pretty impressive rebound in the middle of his career. He's one of the big reasons why Pittsburgh's still afloat in the Eastern Conference playoff race despite a very slow start to the year, and at least in this space, his uptick in performance will not go unnoticed.