Fleury earns second consecutive shutout as Penguins blank Sabres
Marc-Andre Fleury made 18 saves for his second consecutive shutout and Chris Kunitz scored twice and the Pittsburgh Penguins earned their fourth win in a row with a 5-0 victory over the Buffalo Sabres on Saturday night.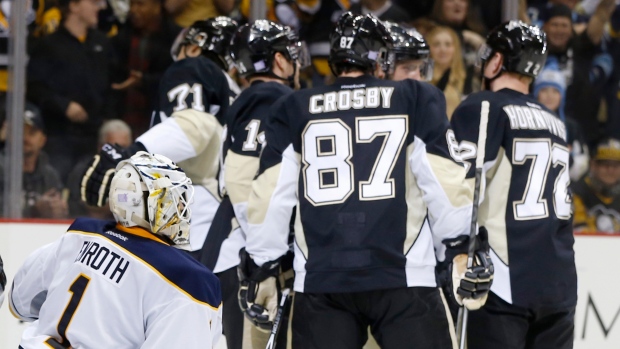 PITTSBURGH, Pa. - Marc-Andre Fleury capped a career week with another shutout for the Pittsburgh Penguins.
Fleury made 18 saves for his second consecutive shutout, Chris Kunitz scored twice, and the Penguins earned their fourth win in a row with a 5-0 victory over the Buffalo Sabres on Saturday night.
"I don't think I've had two straight shutouts in the NHL," Fleury said. "It feels good though."
Fleury was right. He recorded back-to-back regular-season shutouts for the first time in his career.
Coming off a 3-0 win over the defending Stanley Cup champion Los Angeles Kings, Fleury posted his third shutout in four games and the 31st of his NHL career.
He has stopped 98 of the last 101 shots he faced and has held opponents without a goal in 10 of his past 12 periods.
"You have a feeling your goaltender is in a zone, so we went back to him tonight," Penguins' coach Mike Johnston said. "He was good in Nashville and continued right through this week.
"You can't say enough about having a goaltender that will play like that."
Evgeni Malkin, Patric Hornqvist and Blake Comeau also scored for Pittsburgh, and captain Sidney Crosby had three assists. Kunitz, with four goals in his last two games, has seven this season.
Malkin also had two assists, extending his point streak to 10 games. Crosby has a point in 18 straight games against Buffalo, his longest active run against any team.
The Penguins finished 3 for 5 on the power play. It was the fourth straight game and seventh time in 10 games that Pittsburgh's power play scored multiple goals. Pittsburgh is 10 for 21 on the power play during its four-game winning streak.
"We've done some good things, guys have capitalized, but you need some luck, too," Crosby said. "We'll try to keep riding that. It's tough to do, but hopefully we'll continue to carry that momentum and build confidence."
The Penguins have outscored opponents 19-3 during the last four games. They defeated the Sabres for the 13th time in 17 games, earning their eighth win in the past 11 played in Pittsburgh.
Jhonas Enroth made 29 saves for the Sabres, who were shut out for the fifth time in 12 games this season.
"It's very tough, especially today," Enroth said. "I didn't play my best game and just felt that we weren't really close in this one."
Buffalo entered with 12 non-shootout goals in 11 games. The Sabres, who lost for the seventh time in eight games, are 2-9-1 and have the second-fewest points in the Eastern Conference.
"With our confidence right now, if we get down two goals, it doesn't seem like we have the will to battle back," Sabres coach Ted Nolan said. "When you don't work and you don't fight and you don't compete and you don't battle, that's what's going to happen."
Kunitz opened the scoring at 4:26 of the first, crashing the net to backhand a rebound from the slot past a sprawled Enroth.
The Penguins controlled long stretches of the first period, owning a 12-3 shots advantage. The Sabres went more than 13 minutes without a shot.
Buffalo had the better of the play through early parts of the second period as the Penguins appeared listless at times.
"I didn't think we carried our speed very well," Johnston said. "There were a lot of lulls in the game."
Comeau provided a boost with his goal at 11:54 of the second. He took a pass from Malkin at the blue line and snapped a shot that beat Enroth high to the glove side.
The Penguins nearly scored again 1:30 later during a goalmouth scramble, but a video review of the puck tucked inside the post proved inconclusive.
The Penguins' power play made it 3-0 at 16:09 of the second. Hornqvist, from the slot, completed the slick one-touch passing sequence from Malkin at the point and Kunitz at the goal line.
Kunitz added a second power-play goal 2:33 into the third, tipping Kris Letang's blast from the point past Enroth. Malkin scored another at 13:11.
"It's all about results and execution when it comes to the power play," Crosby said. "For it to be going in, it builds confidence and gets you to believe in what you're doing. That's the biggest part."
NOTES: The Penguins have killed 26 straight penalties during their past seven games. ... Penguins D Olli Maatta played his final game before undergoing surgery next week to remove a tumour from his neck. He is expected to return in four weeks. ... Crosby played in his 560th game, tied for 10th most in team history. ... Buffalo will host Detroit on Sunday. Pittsburgh will play its next five on the road starting Tuesday at Minnesota.