Flyers score late to rally over Blues
Evgeny Medvedev scored on a wrist shot with 3:13 left to lift the Philadelphia Flyers to a 4-3 comeback victory over the St. Louis Blues on Monday night.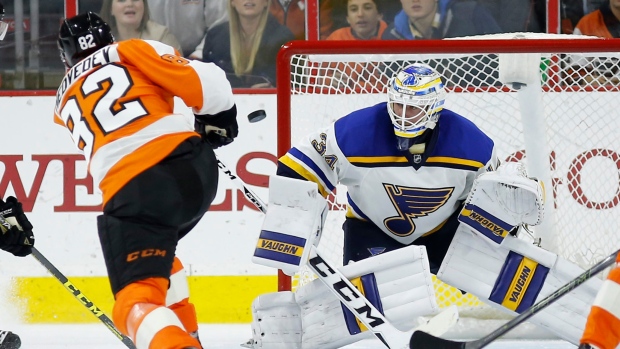 PHILADELPHIA - The Philadelphia Flyers didn't want to go into an extended break on a sour note.
Evgeny Medvedev scored on a wrist shot with 3:13 left, lifting the Flyers to a 4-3 comeback victory over the St. Louis Blues on Monday night.
Wayne Simmonds had a pair of goals and Chris VandeVelde also scored for Philadelphia, which enters a five-day Christmas hiatus with eight wins in its last 12 games.
"We thought we'd been playing really, really good hockey of late, so it was only right for us to go into the break with a win," Simmonds said. "We channeled our energy and got the win."
Robby Fabbri, Kevin Shattenkirk and Magnus Paajarvi scored for St. Louis, which had won three straight.
Medvedev received a nice backhand pass from Ryan White and fired the puck high past Jake Allen on his blocker side.
"I saw him coming out of the net so I shot high," Medvedev said through a translator.
Philadelphia came back from a 3-0 deficit to sweep the two-game season series with St. Louis.
"It's just our lack of burying that team when we have a 3-0 lead, never giving them life," Blues captain David Backes said. "You never know what this turns into. (The Flyers) get life and we're on the losing side and get zero points when we should have two."
Simmonds tied it 51 seconds into the third period with a rare power-play goal against the Blues, who entered leading the NHL in killing penalties at 87.8 per cent.
Jakub Voracek took the initial shot with a one-timer from just above the right circle, and Simmonds deflected it past Allen.
"You never know what can happen in this league," Simmonds said. "You put one at the net and it goes in, it's only a matter of a couple shots sometimes. We can't keep our heads down when we go down goals; we just have to keep going harder and harder."
Voracek finished with two assists and has seven points (two goals, five assists) in four games since shifting to left wing. Shayne Gostisbehere also had a pair of assists for the Flyers.
The Blues jumped out to a 3-0 lead on Paajarvi's breakaway goal midway through the second period. The goal was set up when Philadelphia's Pierre-Edouard Bellemare fell down at the Flyers blue line. Paajarvi took the puck the other way and beat Steve Mason through the legs.
Mason had 25 saves.
That goal appeared as though it would send Philadelphia to a defeat, but the Flyers didn't quit.
"Guys kept fighting," coach Dave Hakstol said. "Sometimes that can be the nail in the coffin, but we kept scrapping."
Bellemare made up for his gaffe a minute later when he stole a pass at centre ice. Allen denied Bellemare's breakaway chance, but VandeVelde pounced on the rebound, and the short-handed goal pulled the Flyers to 3-1.
"The short-handed goal hurt us a lot, gave them momentum," St. Louis coach Ken Hitchcock said. "There were a lot of poor puck decisions in the second period. They dialed it up in the second period and we started turning it over. We didn't manage it very well at all. It was in the offensive zone that really hurt us. We lost a lot of 1-on-1s that exposed us."
Simmonds finished a pretty 2-on-1 with Voracek with a one-timer from the slot that went high over Allen's glove hand, drawing Philadelphia to 3-2 with 7:47 left in the second.
Voracek missed a chance to tie the game just before the second-period horn when his wrist shot toward an open net went wide. He also misfired from close range 1:30 into the period.
Allen, in his first game against the Flyers, made 27 saves.
Fabbri gave St. Louis a 1-0 lead just more than 8 minutes in with a one-timer from the slot after Dmitrij Jaskin set him up with a pass from behind the net.
The Blues took a two-goal lead on Shattenkirk's power-play score with 5:09 left in the first period.
"I think it took us 30 minutes to wake up," Mason said. "But when we did, we took over the game. And it was a lot of fun to watch those guys go to work."
NOTES: The Flyers return to the ice Sunday night at Anaheim. ... After Tuesday night's game at Boston, the Blues will have three days off. ... Simmonds scored two goals in a game for the second time. He also did it in a 3-0 win at the New York Rangers on Nov. 28. ... Philadelphia beat the Blues 4-2 in St. Louis on Dec. 10.