Simmonds ponders kneeling for anthem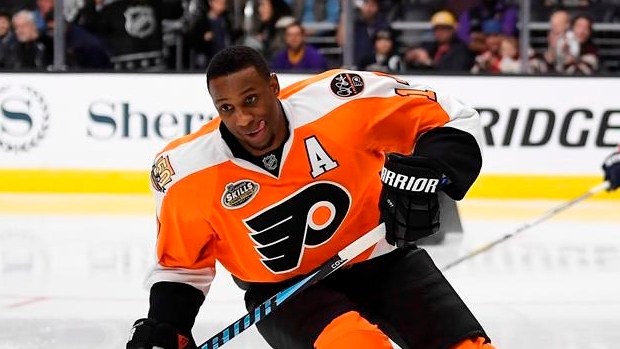 A day after close friend Joel Ward said he was considering the same thing, Philadelphia Flyers forward Wayne Simmonds says that he, too, might kneel for the national anthem when the National Hockey League's season kicks off next week.
"I definitely back Wardo. I know Wardo very well," Simmonds told Philly.com's Sam Carchidi. "What's going on now is a shame. I definitely back his statements. It doesn't mean I'm going to kneel, and it doesn't mean I'm not going to kneel."
Coincidentally, Simmonds' Flyers meet Ward's San Jose Sharks in their respective openers on October 4 in San Jose. Ward and Simmonds are two of roughly 30 black players on NHL rosters.
Simmonds, 29, says he believes the protests that began last year by then-San Francisco 49ers quarterback Colin Kaepernick are being misinterpreted.
"Everybody is relating to politics, but for the people who are doing the kneeling and protesting peacefully, I think it has nothing to do with how (other) people are taking it," Simmonds said. "Some people are saying it's a disrespect to the flag, a disrespect to the Army. That's not the thought process behind it; it's just the vehicle that's being used to create a conversation about social inequality."
A native of Scarborough, Ont., Simmonds says the conversations around the protests aren't easy, but he didn't expect them to be.
"In this day and age, obviously, you have to be cognizant of everything that's going on," Simmonds said. "You see the protests in the NFL, you see guys in baseball starting to kneel…..It's a hard subject to talk about. Everybody's on one side or the other. It's a fine line."
While Kaepernick's protest began against police brutality, Simmonds says they have now transcended racial injustice.
"I don't think it's black and white; at this point, it's about what's wrong and what's right," Simmonds said. "It's not just a black and white thing. It's the LGBT community, it different ethnicity — black, brown, Asian, all that. It shouldn't just be black and white."
As for whether or not he chooses to kneel for the anthem next week, Simmonds will decide later on.
"It's not something I've put too much stock into, to be honest with you," Simmonds said. "I knew at one point, this question was going to be asked to me, but I said to myself that I'll take it as it comes. I don't have anything in my mind at all as to what I would do. I'm not sure."
To those who believe athletes should stick to sports and that sports and politics shouldn't mix, Simmonds points at President Donald Trump.
"Trump kind of threw sports into the middle of it," Simmonds said. "Some try to use sports as an escape from politics, but we're role models, too, and everybody's trying to do the right thing. Like I said, it's not to be disrespectful to the flag, it's not to be disrespectful to the anthem. People are taking it out of context and saying it's disrespectful to the men and women of the Armed Forces, which it's definitely no slight on them because without them, we would have no freedom. They fight for our First Amendment and it all goes hand and hand."