Fomer Major Leaguer Williams talks Carter, closers, Utley
With the Toronto Blue Jays in the playoffs for the first time in 22-years, TSN.ca had the chance to look back at Joe Carter's famous home run with the man on the other side of the pitch, former Major League closer Mitch Williams. He also spoke about current MLB bullpens, closers and Chase Utley's controversial slide.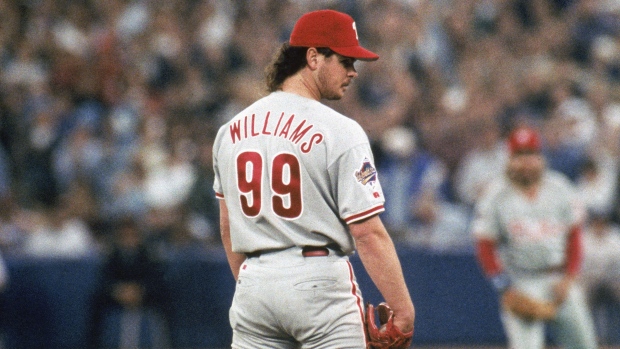 Former major-league closer Mitch Williams twice finished in the top 10 of Cy Young voting, played in the 1989 All-Star Game and saved a career-high 43 games in the 1993 season. He was also part of one of the greatest moments in Canadian sports history when Joe Carter hit a 2-2 pitch he delivered over the left field wall at SkyDome to capture the 1993 World Series.

Carter recently recounted the famous at bat in "Now the 2-2" a TSN original video feature that documented what the Blue Jays slugger was looking for, pitch-by-pitch, before powering the Jays to their second championship in dramatic fashion.
As for the man that served up the pitch remembered by baseball fans across the country, Williams says he was throwing in an unfamiliar way and didn't come anywhere near executing on what turned out to be the final pitch of the 1993 World Series.
"Not even close (to the pitch I wanted to make)," Williams told TSN.ca. "I had never thrown out of the slide step in my life and they wanted me to in the World Series because of Alomar and Henderson. I threw the pitch out of a slide step and it was supposed to be a fastball away. All I wanted to do was throw a fastball up and out because he couldn't hit the ball out of right field if you gave him a bucket full of balls; he was a dead pull hitter. I knew he was a down and in hitter and I jerked a fastball down and in."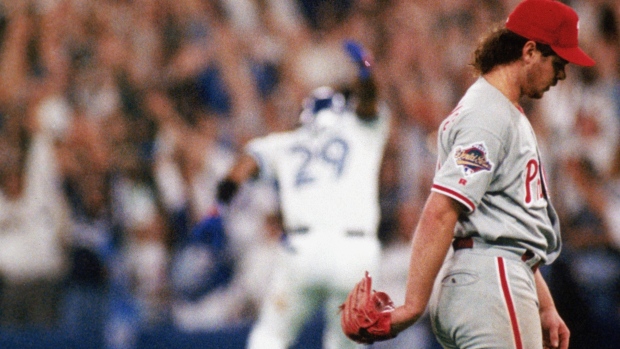 "I could throw a fastball up and away to a right hander in my sleep. That's why I'll never teach a slide step; you're not getting the most out of what God gave you. Ask Nolan Ryan if he ever threw out of a slide step."
The 50-year-old former pitcher is not hesitant to talk about a low moment from his solid career that most others would probably do their best to bury and forget. He credits that to the way he approached every situation on and off the field.
"Whether it was spring training, regular season, playoffs or World Series, every game I ever pitched in meant the same to me," said Williams. "I didn't want to lose. I didn't care if it was spring training, I didn't want to lose. I wasn't built that way. If I lost, I was just looking for the next opportunity to win and that's all it was with Joe. It just happened to be the end of a World Series."
Turning to the current season, the Kansas City Royals lost closer Greg Holland prior to the playoffs and the Blue Jays will be without lefty specialist Brett Cecil who suffered a leg injury during the ALDS, two shocking blows for their teams. Williams, who appeared in nine playoff games during his 11 season career - two with the Chicago Cubs and seven with the Philadelphia Phillies - believes that both teams should be fine with what they still have available to them to finish games.
"I don't think it hurts the Royals one bit," said Williams. "You've got Wade Davis coming in throwing 100 miles per hour, you've got Kelvin Herrera throwing 100, they signed Ryan Madson who throws 97 and has one of the best changeups in the game, so I don't think the Royals are hurting at all, they're just not getting an opportunity to save games."
"Losing Cecil is going to hurt (the Jays) from a matchup perspective, but they have guys that can get people out."
Another controversy that has cropped up during the playoffs involves a takeout slide by Los Angeles Dodgers second baseman Chase Utley which broke the leg of New York Mets shortstop Ruben Tejada.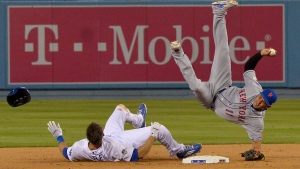 Williams does not believe the veteran deserved the two-game suspension he was handed by the league, but if he was pitching for the opposition he would probably pay someone back, even if it wasn't the actual offender.
"(The slide) was late, no question about it, but was it designed to hurt Tejada? No it wasn't," said Williams. "I know Chase, I know the way he plays the game and I'll guarantee you that's been done to him 50 times in his career. It looked like Chase got the worse end of it, he got his bell rung. If Tejada doesn't get hurt, there is no suspension."
"I always did everything I could to protect my players," said Williams. "But if they hit Utley, he gets hit a billion times he doesn't care. He won't even look out towards the mound if he gets hit, he'll run right to first. You'll be doing him a favour, because he isn't swinging the bat very good. I'd hit someone that's hot. I wouldn't hit someone that isn't hitting, but yeah, there would be retribution."
He also believes Washington Nationals closer Jonathan Papelbon was out of line in his late season confrontation with outfielder Bryce Harper.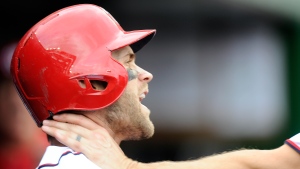 "A pitcher should never say a word to a position player," said Williams. "If you want to get on another pitcher for not doing things the right way, fine. For Papelbon to get on Harper about playing hard when he throws two days in a row and needs a day off. Bryce Harper is playing 150-something games a year and you're getting on him for not running out a fly ball?"