Formenton leads Sens over Leafs' rookies
Alex Formenton scored in overtime as the Ottawa Senators' rookie squad beat the Toronto Maple Leafs' rookies 6-5 on Saturday afternoon in the second game of a three-day tournament that also features the Montreal Canadiens.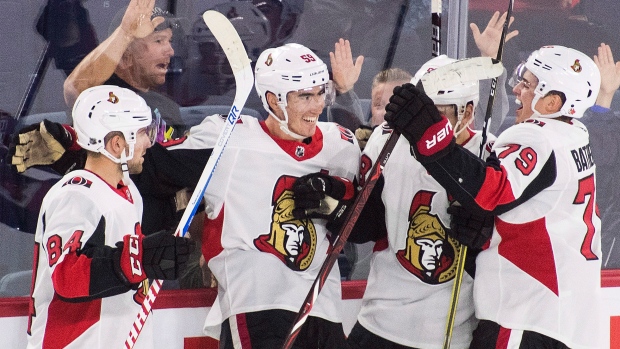 MONTREAL — Mason Marchment's road to the National Hockey League has been anything but conventional.
The now 23-year-old only started playing junior hockey five years ago. He was not drafted in the Ontario Hockey League, and only signed later as a free agent, where he bounced around from team to team for a few years.
Marchment was again overlooked at the NHL entry draft, joining the American Hockey League's Toronto Marlies on an amateur tryout.
Once inside Toronto's system, the Uxbridge, Ont., native impressed the organization enough to earn himself a professional tryout at camp before signing a two-year, entry-level contract with the Maple Leafs earlier this year.
"I've been given opportunities and I'm trying to take advantage of them as much as I can," said Marchment, the son of former NHL defenceman Bryan Marchment. "It obviously makes me feel good about myself. I'm a hockey player and I want to be the best that I can be. I just do my job and keep working hard and if I get a chance, then I get a chance.
"My dad always said: 'Being drafted is not a big thing. Whoever works hard, gets there.'"
Marchment is one of the older players competing on the Maple Leafs' 30-man squad that lost 6-5 in overtime to the Ottawa Senators in their opening game of the Rookie Showdown on Saturday.
Semyon Der-Arguchintsev, Derian Plouffe, JJ Piccinich, Carl Grundstrom and Adam Brooks supplied the offence for the Leafs.
Alex Formenton scored the overtime winner for Ottawa. Jordan Stallard, Boston Leier, Luka Burzan, Brady Lyle and Drake Batherson scored in regulation time for the Sens.
The 6-foot-4 Marchment was a threat in front of goal, but didn't score.
"He's a net-front guy on the power play," said Ryane Clowe, head coach of Toronto's ECHL affiliate, the Newfoundland Growlers. "He has good hands in tight. From what I've seen, he's a smart player too, not just a big player. He's a guy who, especially down below the circles and at the net, can really be a factor."
When asked to describe his style of play, Marchment said he's a "big body with a little bit of skill and some grit."
"I just try to get in the other team's face and score some goals while I'm at it," he added, comparing his play to former Leaf and new Flyer James van Riemsdyk,
For Marchment, turning an OHL tryout into an NHL entry-level deal was all about good work ethic.
He had to convince the Erie Otters to give him a shot in the OHL back in 2014 after going undrafted. After playing with the Hamilton Bulldogs and Mississauga Steelheads, he proved he was good enough to join the Marlies as a fourth-liner two years ago.
Fast forward to this summer, when Marchment was an integral part of the Marlies' Calder Cup-winning run. He scored six goals in 20 games in the playoffs, including the game-winner in Game 7 of the finals.
"Confidence wise, it was huge," said Marchment of winning the Calder Cup. "My line was great in the finals. When you're given opportunities, you have to take advantage of them. I'm happy we came out with the win. It was a great experience."
Naturally, the winger has an eye on cracking the Maple Leafs' roster. But like with everything else, he's not rushing things and wants his feel-good story to come to its own conclusion.
"I don't really have a timeline," he said about becoming a regular NHL player. "I'm just working as hard as I can. Opportunity is everything."
Marchment and the Leafs are back at it Sunday when they face the Montreal Canadiens' rookie squad in the tournament's final game.