Four NFL head coaches nominated for Salute to Service Award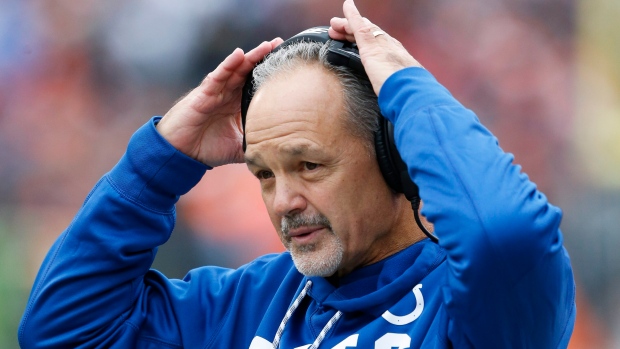 Four NFL head coaches are among 32 nominees, one from each NFL team, for the league's Salute to Service Award.
Carolina's Ron Rivera, Tennessee's Mike Mularkey, Indianapolis' Chuck Pagano and Baltimore's John Harbaugh, the 2013 winner, were nominated Friday for the seventh annual award presented by USAA, the NFL's official military appreciation sponsor. Finalists will be announced in January, and the recipient will be recognized at NFL Honors, the Super Bowl eve awards show at which The Associated Press hands out its individual league awards.
It is not unusual for a coach to be nominated; last year's winner was Dan Quinn of Atlanta.
A team owner, Paul Allen of Seattle, also is under consideration.
"Meeting with military members each season since I've been in the NFL has given me more insight into the many different aspects that make up military life and what goes into keeping our country safe," said nominee Vernon Davis of the Washington Redskins, a 12-year NFL veteran tight end. "It's a true honour to be nominated by the Redskins for this award, but it's important that we really honour and appreciate all military members, veterans, and especially their families for the sacrifices they make every single day for all of us."
Davis came full circle during the "4th and Life Football Forum" last November as a speaker at the event, 14 years after first participating as a student at Dunbar High School.
The father of Chiefs linebacker Derrick Johnson, another nominee who is in his 13th pro season, was in the military. Johnson spends time working on many military-based initiatives. He has visited Fort Leavenworth, Kansas, on multiple occasions to chat with soldiers and their families and to help boost morale. Twice, he brought along teammates to host a Chiefs Play 60 clinic for the base's youngsters. He also is involved in fundraising initiatives to benefit Fort Riley's Wounded Warriors Transition Battalion.
"My father served in the Navy during the Vietnam War and serves as my inspiration for supporting the military community," he said. "I've always enjoyed visiting with military members based in the Kansas City area and writing letters to soldiers deployed overseas. Being nominated by the Chiefs for the Salute to Service Award is a nice tribute to how we can all play a role in thanking our military."
Other past winners are Vincent Jackson (2015), Jared Allen (2014), Charles Tillman (2012), and Bud Adams Jr. (2011).
USAA contributes $25,000 in the name of the award recipient to the official aid societies representing all five military branches.
The remaining nominees:
Arizona Cardinals: Frostee Rucker (defensive end)
Atlanta Falcons: Andre Roberts (wide receiver)
Buffalo Bills:Mike Waufle (defensive line coach)
Chicago Bears: Jason McKie (former fullback)
Cincinnati Bengals:Tyler Eifert (tight end)
Cleveland Browns:Joe Thomas (offensive tackle)
Dallas Cowboys:The Dallas Cowboys Cheerleaders
Denver Broncos:The Denver Broncos Cheerleaders
Detroit Lions:Golden Tate (wide receiver)
Green Bay Packers:Mike Daniels (defensive tackle)
Houston Texans:Woody Campbell (team ambassador)
Jacksonville Jaguars:Malik Jackson (defensive tackle)
Los Angeles Chargers:Donnie Edwards (former linebacker)
Los Angeles Rams:David Vobora (former linebacker)
Miami Dolphins: Mike Wahle (manager, skills development)
Minnesota Vikings: Mike Priefer (special teams co-ordinator)
New England Patriots: Joe Cardon (long snapper)
New Orleans Saints: A.J. Klein (linebacker)
New York Giants:Mike Sullivan (offensive co-ordinator)
New York Jets: Mike and Betty Maccagnan (general manager and wife)
Oakland Raiders:Joe Condo (long snapper)
Philadelphia Eagles: Denise Kozul (marketing and executive assistant)
Pittsburgh Steelers: Arthur Moats (linebacker)
San Francisco 49ers: John Lynch (general manager)
Tampa Bay Buccaneers: Clinton McDonald (defensive tackle)
___
For more NFL coverage: http://www.pro32.ap.org and http://www.twitter.com/AP_NFL