Franzen's wife details NHLer's brain injury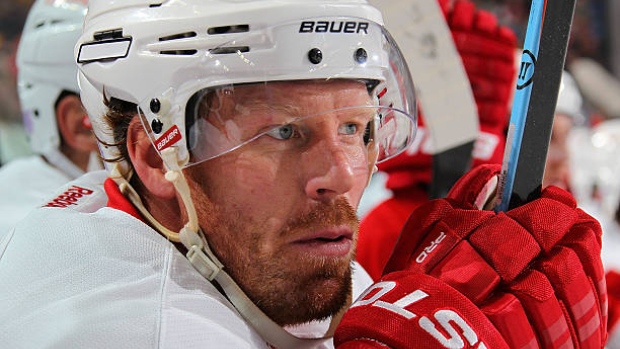 Detroit Red Wings forward Johan Franzen has not dressed for a game since October, 2015 due to post-concussion syndrome.
The 38-year-old is a veteran of 602 career contests, all with the Red Wings, and has said he sustained at least four head injuries during his career.
Franzen's wife, Cissi, detailed the struggles he has been dealing with in a blog post on Sunday titled "An emotional week."
"I don't know where to start, but this week has been really hard and extremely emotional. Monday morning the kids, Lisa and I flew out to Denver, Colorado to visit Johan," Cissi wrote on Franzen Residence.com. "He's been going thru an intensive treatment program at Marcus Brain Health Institute, and this last week was a family week where I joined in for a lot of sessions. He's still dealing with post-concussion syndrome, and the last months have been really bad. Something needed to happen and I'm so thankful we found this new amazing place. It opened up in March and they treat vetarans and athletes with brain traumas. Johan was actually their very first athlete.
"First day when we came was a great day, so nice to see each other again. Second day – terrible and we got in to a huge fight. Probably normal in most relationships, but when you have an brain injury it adds up, and it becomes SO not rational. The brain just can't paus [sic] and take a break when it's overloaded and can't recover. He bounced back to a very dark and sad place. However, I'm glad it happened while we were there. The amazing top of the line team at 'The Marcus', handled the situation so professionally, they rescheduled his and my schedule completely the day after to treat him as best as they could. You could feel how they all genuinely cared for Johan, and also me.
"He was teamed with three vetarans [sic], and they have all become very close to each other, sharing their stories and situations. For me it was also great to get together with the other wives, same there sharing our stories along with LOTS of tears. I have not been crying this much in a very long time. So as I said, it's been very hard, but also GREAT! They have a really good approach where they target all different aspects of PTSD, everything from auditory processing, balance, vision and tools to deal with dark thoughts of depression and ways to learn how to calm down with meditation and mindfulness, and to be proactive to give themselves a longer fuse.
"We are for the first time very hopeful for the future and Johan feels much better from when he started the treatment. It's not gonna be easy, but now he has a plan on how to go forward and can also start to work out slowly again, we have learned how to handle different situations better, and the doctors and therapists are still there for us and will continue to follow up. I'm super proud of my husband for getting his lately lazy butt out there!!
"Living with a husband with a brain injury is not easy, it's like a rollercoaster. But I am doing my best to get us to a better place, not only for us and but also for our amazing boys that deserve the best!!"
Franzen has spent the past three seasons on long-term injured reserve and remains under contract with the Red Wings through the 2019-20 season.
For more on NHL players dealing with brain injuries and the league's response to the issue, go to TSN.ca/concussions.