Freestyle up, skeleton way down in Own the Podium money this winter
The Canadian freestyle skiing program is getting a significant bump in Own The Podium funding this winter, while money for skeleton has been slashed almost to the bone. Own The Podium doles out federal government money based on a sport federation's ability to produce Olympic medallists.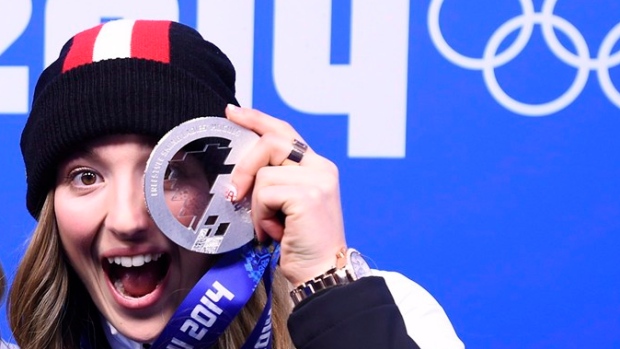 CALGARY - The Canadian freestyle skiing program is getting a significant bump in Own The Podium funding this winter, while money for skeleton has been slashed almost to the bone.
Own The Podium doles out federal government money based on a sport federation's ability to produce Olympic medallists.
Freestyle skiers led Canada's medal haul at this year's Winter Olympics with seven, including three gold.
Out of OTP's budget of $21,605,000 for the 2014-15 winter season, freestyle skiing will have $3.78 million at its disposal. That's a significant raise on the average of $2.58 million annually in the four years between the 2010 and 2014 Winter Olympics.
Skeleton, by contrast, will receive just $20,000 this winter and far less than the average of $876,250 in the previous quadrennial.
OTP meets with each sport federation to identify athletes with medal potential and come up with a training and competition plan to get them on the podium. Chief executive officer Anne Merklinger emphasizes the financial allotments for 2014-15 were not rewards for results in Sochi in February.
Where the money went reflected a sport's ability to not only win medals in Pyeongchang, South Korea, in 2018, but also in 2022, she said.
"It is very much about investing in future podium potential athletes and teams," Merklinger said in an interview. "Sure, the past result is important because it indicates an organization has been successful in getting athletes on the podium, so it's embedded in their culture. That's important, but at the same time, if there's no athletes in the pipeline particularly for zero to four years out for the upcoming set of Games, then that's OTP's mandate, to help Canadian athletes and coaches win more medals.
"No athletes, no money."
OTP is the organization established five years out from the 2010 Vancouver Olympics to get the home team on the podium.
The majority of its money comes from taxpayers via Sport Canada, although the Canadian Olympic Committee contributes to OTP's budget from its own corporate sponsorship campaign.
Canada topped the gold-medal count in 2010 with 14, which is a Winter Games record, and ranked third in the overall medal count with 26. In Sochi, Canada was third in the gold-medal count with 10 and fourth overall with 25.
Canada achieved the goal of a top-three ranking in gold medals won at both Paralympic Winter Games with 10 in 2010 and seven in Sochi.
But a troubling stat for Merklinger is the number of Canadians who finished in the top eight at the Winter Games fell from 72 in 2010 to 57 in Sochi. That decline is one indicator of a shrinking pool of athletes with medal potential, which would impact Canada's performance at future Games.
Canada needs to widen and deepen that pool and not just for Pyeongchang, Merklinger said.
"Going into Sochi, going into Vancouver, the lens from OTP was pretty narrow," she explained. "It was about podium performance in the upcoming set of Games.
"We made a very deliberate decision to look at the top sports that have multiple medal potential and invest a little bit deeper in the pathway, so looking at athletes who are eight to five years away from a podium performance in addition to those sports that have athletes who are four to zero years away."
So the Canadian Freestyle Association is using its increased funding to hire staff and operate projects for athletes who are competing at a level between the provincial and national teams.
The most visible sign of the increased money will be seen this winter at Canada Olympic Park in Calgary.
The CFSA has hired the "best half-pipe course designer in the world," according to chief executive officer Bruce Robinson, to construct and maintain this year's edition of the half-pipe.
"In half-pipe skiing, the quality of the pipe is incredibly important," Robinson said.
"It allows our team to have the best training possible in their home country and not always having to go to the United States or overseas. That's a huge benefit for us."
The CFSA also hired a staff to work with developmental athletes across the four freestyle disciplines of moguls, aerials, half-pipe and freestyle.
A moguls program of 10 to 15 athletes who race on the NorAm circuit, one level below the World Cup, was also established in Whistler, B.C.
Canada won gold and silver in Sochi in skicross, which falls under the freestyle umbrella internationally. OTP funds it separately from freestyle, however, as it is administered domestically by Alpine Canada.
After skeleton made its Olympic debut in 2002, Canadians won World Cups, world titles and Olympic medals over the next decade.
But Canada has been overtaken by Europeans and Americans. OTP has determined there isn't another Duff Gibson or Jon Montgomery on the near horizon.
"Our analysis was skeleton does not at this point does not have medal potential for 2018," Merklinger said.
The head of Bobsleigh Canada Skeleton disagrees with that assessment.
"I believe and I think the organization believes that OTP underestimated the talent we have and their prospects of medalling in 2018 and 2022," Sarah Storey said. "That being said, we need to demonstrate that to a degree.
"I'm confident we'll be able to show OTP these athletes are worth OTP investing in because they do have the talent and the potential and we do have a plan to get them there."
Skeleton's coaching staff has been reduced to one, Ivo Pakalns, who oversees all athletes in the program. Gibson, the 2006 Olympic gold medallist who coached the Canadian team in Sochi, says he returned to his job as a firefighter for family, not funding, reasons.
BCS will provide financial support for Canadian skeleton athletes who qualify to race World Cups this winter, Storey said.
"It is still our responsibility and mandate to develop world-class athletes to get medals," she said.
"It's a major setback, but we're not going to let it affect these athletes and the next athletes coming through. It's very important we restore funding next year and we're working on that."
The majority of winter sports saw more modest gains or drops in funding ranging from a few thousand dollars to tens of thousands.
But long-track speed skating's piece of the OTP pie shrunk to $1.35 million from an average of $1.75 million in the previous quadrennial. The athletes are feeling the pinch.
Ottawa's Ivanie Blondin says she and her teammates were told earlier this month they must pay $1,500 in "team fees" out of their own pocket to race on the national team this winter.
"I just finished paying off my tuition," Blondin said.
"We kind of saw it coming, but moving forward I will have to look for sponsorship somewhere for myself. I do have a spot available on my racing skinsuit that I can fill, but it's trying to find that one company or one supporter that would will be willing to give me that per season is really hard right now with the economy."
After winning a combined 13 medals in 2006 and 2010, the long-track team produced two in Sochi. The national team is smaller this winter with just 11 skaters named to the senior team, but there are 20 on the developmental squad.
"Long track was cut significantly from every year of the quad previously," Merklinger acknowledged. "We certainly can't abandon the podium potential athletes that are there now and we need to work closely with long track to strengthen the program.
"For Canada to continue to be a strong winter sport nation, we need long track to get back to where they were."
Ski jumping and its cousin Nordic combined will receive no funding this winter. Ski jumping's OTP funding in 2013-14 was just $54,000. Even with the introduction of women's ski jumping to the Olympics, OTP determined Canada is not close to having a medal threat.
___
WINNERS AND LOSERS: A QUICK LOOK AT SPORTS IMPACTED MOST BY NEW OTP FUNDING
WINNERS
Freestyle skiing, $3.78 million — Freestyle is one of the few winter sports where Canada has the depth to get more than one athlete on the podium in moguls, half-pipe and slopestyle. Moguls skier Mikael Kingsbury, half-pipe skiers Mike Riddle, Noah Bowman and Matt Margetts and women's slopestyle specialists Dara Howell, Kim Lamarre and Kaya Turski are among them.
Luge, $1.020 million — A trio of fourth-place finishes and two women in the top five in Sochi indicates the lugers are on track to claim Canada's first Olympic medal in the sport. Keep your eye on Kimberley McRae, who was fifth in Sochi, en route to 2018.
Figure Skating, $1.1 million — Canada must keep its world-class talent across singles, pairs and ice dance to remain a medal threat in the team event, as well as contend for individual medals. Nam Nguyen in men's singles and the ice dance team of Kaitlyn Weaver and Andrew Poje are the ones to watch for the next four years.
LOSERS
Ski jumping/Nordic combined, $0 — The introduction of women's ski jumping in Sochi was four years too late for Canada, whose best medal prospects were competing prior to 2010. There are just two ski jump venues in the country and few people who participate, so the talent pool is very shallow.
Skeleton, $20,000 — It was a glorious decade of Canadian World Cup, world and Olympic champions after the sport made its Olympic debut in 2002, but OTP has determined no slider is currently tracking to get there again.
Long-track speedskating, $1.35 million — Looks like a lot of money, but down significantly from previous years because of fewer potential medallists.
---
Follow Donna Spencer on Twitter at @DLSpencer10