'Friendly competition' between Tavares, Matthews drives Leafs
The Toronto Maple Leafs have exploded out of the gate with a league-high 20 goals in four games and 13 of those goals have been scored by superstar centres Auston Matthews and John Tavares who vow to push one another all season, Mark Masters writes.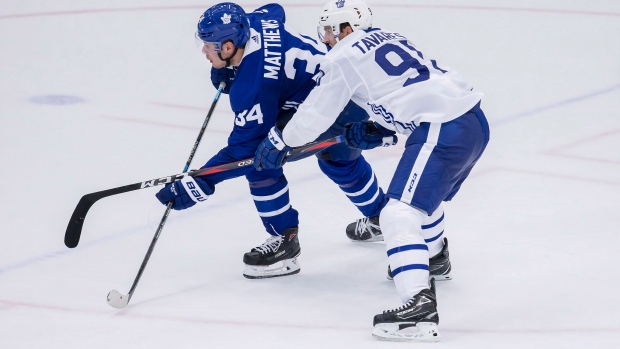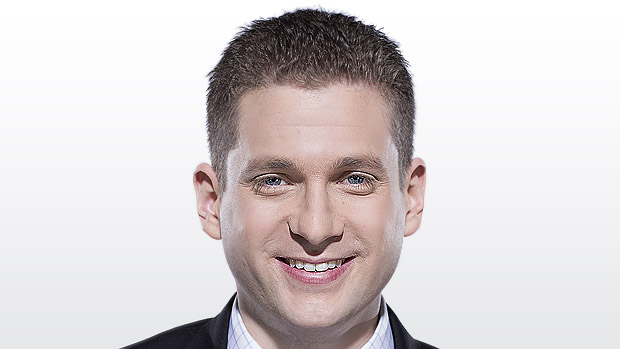 TSN Toronto reporter Mark Masters checks in daily with news and notes on the Maple Leafs. The team practiced for 30 minutes at American Airlines Center in Dallas before flying to Detroit for Thursday's game against the Red Wings.
The Maple Leafs have exploded out of the gate with a league-high 20 goals in four games. Thirteen of those goals have come from superstar centres Auston Matthews and John Tavares. The kid from Arizona has seven while the hometown hero has six. The pair will share the spotlight all season in Toronto.
How much will they push each other?
"I think a great deal," said Tavares. "We're both very driven and, obviously, you want to put yourself in that elite company and when you're able to go up against each other in practice and then play together, see what each other does on a daily basis, I think it's very motivating and a lot of fun to be around. I think when you have the competitiveness that we have it's just naturally going to push yourselves and make you better players."
Head coach Mike Babcock describes it as a "friendly competition," one which will benefit the team as a whole.
"When those guys are leading, I think the rest of the guys will follow suit," said defenceman Morgan Rielly. "When those guys are playing as well as they are, you know, it makes for a good feeling in the room. Guys want to up to the ante, their linemates want to be able to keep up and I think that's good. That's contagious and that's what good teams do."
Making the duo all the more interesting is how different they appear to be. Matthews is a fashion-forward 21-year-old from Arizona while Tavares, 28, seems to be more reserved. What unites them is the pursuit of excellence.
----
Matthews, for example, worked on his skating throughout the summer and enters this season feeling more explosive than ever. Where is it helping him the most?
"I think just through the neutral zone," he said. "Sometimes you got to put the puck in and (get) there when the puck arrives and kind of being on top of their D, and (I'm) just skating through the neutral zone and trying to get through guys and create those chances."
Babcock is quick to point out Matthews was always a good skater and was only slowed a year ago by a series of injuries.
And yet, as good as he already was, teammates insist he's definitely a step faster now.
"He's taken it to a whole new level with speed," said Rielly, "and the way he can cut back and create room for himself."​
The speed is one factor, but Matthews has also become even more elusive as well.
"He's always putting himself in a position to shoot the puck," noted Mitch Marner. "He's always moving out there and getting in open space."
Matthews spent about 10 minutes on the ice with Barb Underhill, the team's skating consultant, last week to fine-tune some of the adjustments they worked on in the summer.
Tavares, meanwhile, has impressed his new teammates with just how good he is down low in the offensive zone. He's an expert at maintaining possession.
"He's really shifty," noted Rielly, "and likes to use his size, has great hands and likes taking the puck to the net. He works very hard on his game and that's an area that he takes a lot of pride in."
"His stick is like a crowbar; I mean you can't lift it off the ice," observed Babcock.
How did Tavares develop his down-low ability? The answer, he says, is quite simple.
"It's not a lot of fun playing the game without the puck and that, in itself, is very motivating," Tavares said. "And it's where you want to be, in the offensive end making plays and playing with it and not having to chase and work for it so, I don't know, maybe it's that inner drive to win your battles."
When he was recruited to the Leafs in the summer, Tavares told Babcock it was his preference to play the net-front role on the power play and so far he's fit in well on a stacked first unit, which has connected on five of 10 chances.
"What I like about the power play is we're not trying to make any highlight-reel plays," Tavares said after Tuesday's 7-4 win over the Dallas Stars. "I think we're just sticking with our structure and what we believe is going to work for us and then trying to take what's been given and not try to force anything. I think when you do that, time after time, the odds tend to be in your favour, especially when we've got the type of guys we've got on the ice. Just keep taking what's given and continue to work at it and understand who we're going up against on a nightly basis, what tendencies we face and make adjustments when we need to."
Entering Wednesday's games, Tavares leads the NHL in tipped shots (five).
----
The Leafs lines remained unchanged at Wednesday's practice and that's no surprise considering how happy Babcock was with the win over Dallas.
"I liked our game throughout much more than I have liked our other games," he said. "We had good intensity, good battle, everybody was focused, we had good detail in our game. I liked our game … That was actually the most engaged we've been. We've done it once and now we've got to do it again."
Frederik Gauthier remains the fourth-line centre while Kasperi Kapanen continues to look good on the right side of Matthews.
"Kappy's had two and now Goat's got to get to two," said Babcock. "You have to learn to do it every day. Those guys are in the process of figuring that out."
----
Lines in Wednesday's practice:
Hyman-Tavares-Marner
Marleau-Matthews-Kapanen
Lindholm-Kadri-Brown
Leivo-Gauthier-Ennis
Johnsson
Rielly-Hainsey
Gardiner-Zaitsev
Dermott-Ozhiganov
Marincin-Holl
Andersen
Sparks