Frustrated Babcock shuffles Leafs deck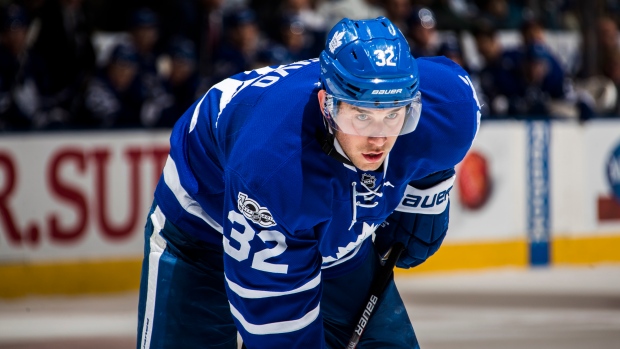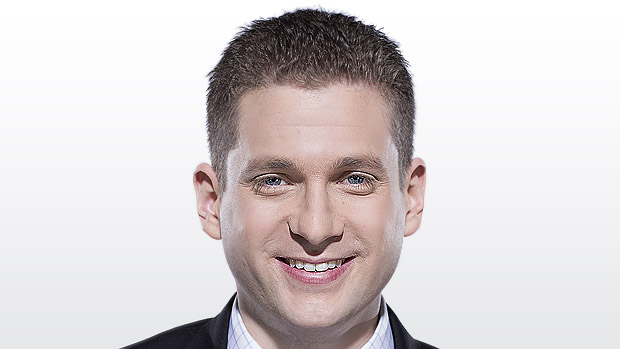 TSN Toronto reporter Mark Masters checks in daily with news and notes from Maple Leafs practices and game-day skates. The Maple Leafs practised on Tuesday at the Honda Center in Anaheim.
Mike Babcock has seen enough. After watching his team lose three straight in regulation and four of five overall, the Toronto Maple Leafs head coach made significant changes at Tuesday's practice. The moves included:
* Patrick Marleau practised as a centre on a line with James van Riemsdyk and Connor Brown;
* Josh Leivo, who has been a healthy scratch in all but one game this season, skated with Nazem Kadri and Leo Komarov;
* Tyler Bozak and Mitch Marner were on the fourth line with Matt Martin;
* A healthy scratch in four straight, Connor Carrick was paired with Jake Gardiner;
* Andreas Borgman skated with Nikita Zaitsev leaving Roman Polak as the odd man out on the blueline.
"Last night's game was an example of one team just staying on it, staying on it, staying on it all night long and I thought we fed their transition by turning pucks over and that made it hard for us," Babcock said. "Our goaltender did a good job and we still had an opportunity, but in the end we weren't good enough. So, when that's been a consistent theme of late, it's time for change."
Bozak is struggling to find his form and actually finished the last two games on the fourth line.
"Obviously, you never want to be the guy that doesn't get out there later in the game when your team needs a goal," Bozak said. "It definitely motivates you. It's one of those things where it happens to everyone and it was me last night. I didn't play my best."
What's missing from Bozak's game right now?
"That's a good question," said Babcock. "This is what I'd say to you: when it doesn't go good for you, it doesn't matter how good a player you are, confidence is the first thing. It's not that Bozak's not trying, it's not that he's not putting effort in; it's just not going for him right now.
"So, he's got to find it. And I think the good thing about Bozie is when things don't go right for him, he owns it and he's not looking for anybody else. He's looking for himself to find a way out ... we need him to be an important player for us. We need him to be feeling good. We really felt last year we had a real good line with Mitch, James and him and right now it's not working for whatever reason and so we'll give them some time apart."
Bozak gets it.
"I mean, we got to change something," he said. "It hasn't been a good last few games. We got to change things up and hope for a spark."
So, what has been the issue for the once-potent JvR-Bozak-Marner trio?
"I thought we started pretty good," Bozak said. "Then pucks just sort of started going in on us so, obviously, had to change that up and just haven't been able to get back into form yet. But, we've played some really good teams that have played well."
Babcock often referred to Marner as the driving force of the line last year and the 20-year-old's dip in play has certainly been a factor in the line's early-season struggle.
"He's probably getting keyed on a little more this year," Bozak said. "Guys got to see how great of a player he is. You know what, I think he's doing fine, it's just things aren't going his way, bouncing for him and there's going to be a time this year when all the bounces go his way and he's going to put up a lot of points and we're going to win a lot more games."
Marleau shifts to centre with van Riemsdyk, Brown
With Bozak in a funk, Babcock has few options left when it comes to the centre spot. As a result, on Tuesday Marleau was asked to move to the middle where he had found himself at times during the last two games.
"We didn't acquire him to play in the middle, to be honest with you," Babcock said. "That wasn't our plan and it sure isn't our intent. It's just what we're doing right now."
"There's definitely a little bit of an adjustment," said Marleau, who saw some limited time at centre with San Jose last season as well. "It's just about playing within the system and playing it the right way and being in the right spots so you just got to focus on doing those things."
What's the biggest adjustment?
"Well, obviously taking more draws," Marleau noted. "And then playing down low probably a little bit more in our zone. There's quite a few different things, but we're pretty interchangeable out there. Sometimes when you're left wing, you end up playing centre down low in your own zone and then in the offensive zone you can find yourself in a couple different spots as well."
Leivo's big chance with Komarov-Kadri
One of the biggest beneficiaries from all the moves was Leivo, who has produced 11 points in his last 10 NHL games, but has still failed to lock down a spot in Babcock's lineup.
"Should he be an every-day (player)? You can debate that all you want," the coach said. "The reality is: you need a certain amount of power-play guys, certain amount of penalty-kill guys and enough speed in your lineup and he's coming in (now) and he's going to get a good opportunity. His opportunity is now to grab hold and make it as hard on me as possible and take someone's job. When you get a chance to get in, just take someone's job."
"It feels great," Leivo said. "I just got to be ready. I don't know when the chance is (coming), so I just got to make the most of it every time."
In his season debut on Saturday, Leivo started on the fourth line, but in Wednesday's game against the Ducks he'll have a more prominent role alongside some linemates he's very familiar with
"We did well last year when I played with them," Leivo said. "We produced a lot of chances and a lot of points so hopefully we can keep the chemistry going from last year. Leo's a hard-working forward, who gets in on the forecheck and Naz's is just skilled and making plays so I'm just there to bury the puck."
Carrick gets back in; paired with Gardiner
Babcock is also shuffling the deck on defence, with Carrick getting reunited with Jake Gardiner with whom he played alongside for a good chunk of last season.
"We think C's should be in the lineup on a regular basis," Babcock said. "He's been out for a bit, so we're going to give him a chance to jump back in. That gives us three solid pairs. We think Borgman's really starting to come and settle in so we don't have to be as concerned about match-ups, we can roll them out the door more and maybe give us more balance and more puck movement."
Carrick isn't planning any major adjustments after sitting out for a little more than a week.
"You know, I was pretty happy with how I was going for the most part," he said. "There were mistakes that I was making that were ending up in goals and, flat out, you can't have that. There are little details and as a player, in the role that I'm in, those have to be sharp."
Leafs admit they forgot about defence amid hot start
These changes wouldn't be necessary had the Leafs paid attention to the warning signs early in the season when the goals and wins were piling up.
"We were scoring so many goals that we just forgot about the defensive part of the game," Bozak admitted. "We just thought we could go out there and it'd be easy and we could score a bunch of goals and Freddie (Andersen) was going to stand on his head every night and make 50 saves, but you're never going to win in this league that way."
"Even when we were winning, there was kind of a 'but' after," Carrick said. "Hey, we outscored them BUT we weren't happy with our D zone. Hey, we outscored them BUT we weren't happy with the amount of blueline turnovers we had. When you're losing you're forced to face that question, you're not allowed to duck under it and hide from it – it kind of smacks you right in the face and our team's got to tighten up."
Dodgers fan Matthews relives baseball past
Auston Matthews will be glued to the World Series on Tuesday as the Leafs enjoy a night off in California. His father, Brian, played baseball at Loyola Marymount University​ in Los Angeles where he fell in love with the Dodgers, a love he passed on to his son.
"I don't follow baseball too tightly – the Dodgers are the only team I really follow," Matthews said. "Exciting game tonight and I'll be watching."
Matthews played baseball until age 13 before deciding to focus on hockey. It's a decision that didn't surprise his father.
"He definitely saw it coming," Matthews said with a smile. "I really enjoyed playing it and I think he was kind of hoping I'd choose baseball, but I think they knew it'd be hockey all the way."
Did Matthews have a favourite ballplayer growing up?
"I loved Manny Ramirez," he said. "I always liked watching him and I liked Russell Martin as well when he was in L.A., because I was also a catcher."
Lines in Tuesday's practice:
Forwards
Hyman-Matthews-Nylander
Komarov-Kadri-Leivo
van Riemsdyk-Marleau-Brown
Martin-Bozak-Marner
Moore, Kapanen
Defencemen
Rielly-Hainsey
Gardiner-Carrick
Borgman-Zaitsev
Polak
Goaltenders
Andersen
McElhinney