Frustrated Matthews facing another spell on the sidelines
Maple Leafs centre says left shoulder injury won't require surgery, but it's another frustrating setback in his young career, Kristen Shilton writes.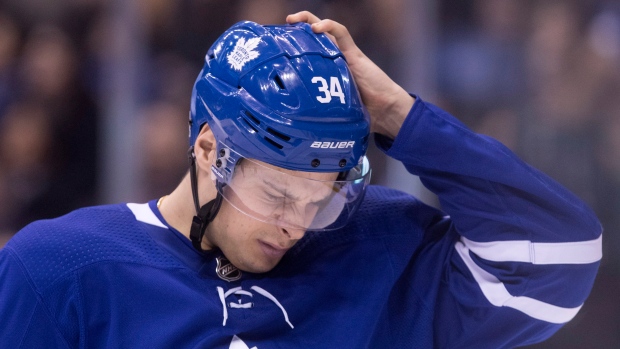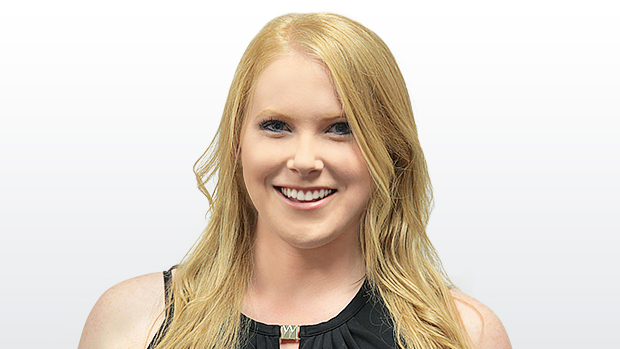 Hours after the Maple Leafs announced Auston Matthews will be out a minimum of four weeks with a left shoulder injury, the centre spoke out about his frustration over facing another long absence from game action.

"It's frustrating, there's not much you can do. It sucks," he said Monday. "It's part of the game. Your health comes first, and you want to come back when you're feeling ready to go. I'm going to work as hard as I can to get back as soon as possible and feeling back to myself."

The injury, which will not require surgery, happened in the second period of Saturday's game against the Winnipeg Jets. Matthews was about to put a shot on net and defenceman Jacob Trouba laid a hard hit to Matthews' left side. The 21-year-old immediately looked to be in pain and exited the game for good soon after returning to the bench.

"I knew the guy was coming but I was trying to get a shot off and score a goal," Matthews said. "But obviously he took body, which is what you're supposed to do, and caught me at a weird angle. You don't really know what to expect when you're so close to the goalie."

It was also on a play around the net that Matthews suffered a separated right shoulder injury last season, when the New York Islanders' Adam Pelech and Cal Clutterbuck collided with him in the slot. That hit cost Matthews 10 games, and he characterized this injury as similar.

Having been through the recovery process, Matthews has a good idea of what to expect going forward.

"Just have to let it heal I guess and do everything you can to stay in shape," he said. "It's not a position you want to be in, but you can skate once it starts to heal a little and feel better and you can get back on the ice and stay in game shape."

Based on the timeline provided by the Leafs, Matthews is projected to miss at least 14 games as he rehabs through the end of November. It's a disappointing turn of events for Matthews on multiple levels, including in the face of what work he did in the off-season to prevent such an injury.

"It's tough for him. He did a ton of work on his shoulders this summer to get stronger, but sometimes things happen," said coach Mike Babcock. "It's too bad for the kid. Yet it's an opportunity for someone on our team to play more, opportunity for us to dig in and continue to get better."

That starts on Monday, when the Leafs battle the Calgary Flames with a new-look lineup, one that won't include any recalled player from the American Hockey League taking Matthews' vacated spot.

Instead, Babcock wants to see players already in the fold working harder to earn the extra ice time available.

"Someone always thinks they're getting the short end of the stick," Babcock said. "No one is getting the short end of the stick [now]. We've got 12 forwards, they're all playing."

At the Leafs' morning skate on Monday, Babcock had re-assembled his lines with Tavares between Kasperi Kapanen and Zach Hyman, Kadri between Mitch Marner and Patrick Marleau and Par Lindholm centering Connor Brown and Andreas Johnsson. Toronto's fourth line with Tyler Ennis and Josh Leivo flanking Frederik Gauthier remains the same as it did to start Saturday's game.

Babcock's message to his team in the wake of Matthews' absence is the same as it would be if he were dressing.

"Win the game," he said. "The greatest thing about hockey is it's a team game and you don't win by yourself."

Matthews has been a large part of what the Leafs accomplished so far this season, leading the way in both goals (10) and points (16). Yet the Leafs have amassed a winning record without him before.

Last season, Matthews missed a total of 20 games with injuries (four with a back issue, six with a concussion and 10 with the shoulder), and Toronto went 11-7-2 in those games. This time around, his teammates are just as confident a winning record is possible without his contributions.

"When you have one of the best players in the league on your team, it's an opportunity for a lot of guys to step up," Tavares said. "Obviously with his skill set you can't always look to one person, but it starts with guys like myself and trickles on down through the lineup. I believe we are ready to deal with it and try and find another level for our team and everyone individually."
The Matthews injury was also a popular topic in the Calgary dressing room, especially for Matthew Tkachuk. A former teammate of Matthews' at the U.S. National Team Development Program from 2013-15, Tkachuk was supposed to see his good friend when the Flames arrived in town Sunday, but they thought better of getting together.
"It probably wasn't a good idea for him to be out in the city answering everybody," Tkachuk said. "It's a tough time, tough news for him. Freak play. He's playing awesome this year. He's a guy who will make sure he comes back better than before he got hurt."
Whether the Leafs have better depth now than they did a season ago is still up for debate with Babcock ("In another 20 games ask me again. I'll tell you whether we have more depth"), but he was crystal clear on what Matthews should be focused on as he navigates a difficult stretch.

"Be around the group and do what you do. Train real hard; be better when you come back than you were. Be fitter," Babcock said. "He can do everything [with a shoulder injury]. Let's be in the best shape you can be, as strong as you can be and around the guys as much as you can be."