Fucale gets nod in goal for exhibition game against Russia; McDavid to sit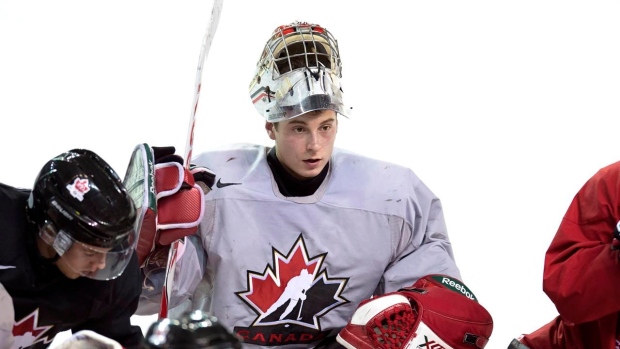 Team Canada head coach Benoit Groulx announced that Zach Fucale will start in goal for Canada on Friday night in its first exhibition game against Russia, while centre Connor McDavid will be a scratch.
Fucale is 13-11 with a 3.20 goals-against average and .890 save percentage in 24 QMJHL games with Halifax this season.
"There's a lot of things that influence stats and a lot of things happen. I'm not worried about it," Fucale said. "I know, my teammates know and my goalie coach and I have been working hard. I feel I'm doing very good things on and off the ice. Those things will pay off."
Fucale also brushed off talk about being traded, amid reports that coming out of Quebec on Wednesday that he could be on his way to the QMJHL's Remparts next month.
That allows him to put trade talk aside for now.
"I'm not focused on that," Fucale said. "I can't control what goes on over there. I'm just concentrating on helping this team win."
Groulx wants Fucale to be himself in net, especially if that means chirping to stay on his game. One thing he's not worried about is the trade distracting Fucale.
"With the experience he's got, I don't think he'll look further ahead," Groulx said. "If that part is true, he's going to the Memorial Cup again. It's not a bad thing for him. I really feel that right now I don't see anyone here having his focus anywhere else than with this team."
Groulx also pointed to Halifax's bad start and a barrage of injuries as reasons for Fucale's numbers dropping off. He also knows another season in the same junior league can take a toll.
"When it's your fourth year in the league and you've been playing with three solid teams and then you've to come back for a fourth one, sometimes it's tough to start the engine," Groulx said. "But I thought he got better in November. He had an outstanding game against Russia at the Subway Series. I think he feels good about himself now. He's mentally ready. That's what he's showing us on the ice."
Team Canada practised on Wednesday in St. Catharines, Ont., and once again, the skate wrapped up with a shootout drill. McDavid went 0-for-1, after going 0-for-3 the day before. Afterwards, he admitted being rusty as he returns from a broken hand and tries to get his timing back.
McDavid was also a bit fatigued by all the talk of the New Year's Eve showdown between him and fellow NHL draft prospect Jack Eichel.
"It's a little bit annoying, I guess," he explained. "I mean, I feel like I know him, but I've never even spoken to him."
Joining McDavid in the press box for Friday's game are forward Nic Petan and defenceman Joe Hicketts.
Wednesday's Practice Lines:
Forwards:
Domi-Reinhart-Duclair
Petan-McDavid-Fabbri
Ritchie-Paul-Point
Crouse-Gauthier-Virtanen
Dal Colle-Dickinson-Chartier
Defence:
Nurse-Theodore
Morin-Bowey
Morrissey-Fleury
Heatherington-Hicketts
Goalies:
Comrie
Fucale