Gaudreau hopes to keep Jagr on top line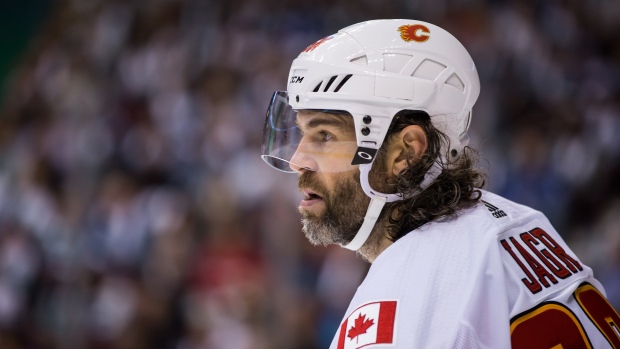 Jaromir Jagr appears set to skate on the Flames top line Thursday night, teaming up with Sean Monahan and Johnny Gaudreau.
Jagr has joined the duo for shifts throughout the team's past two games and is expected to be the third right winger to start a game with the line this season, following Micheal Ferland and Curtis Lazar.
"I think that Johnny and Monny are just fantastic off the rush," Flames head coach Glen Gulutzan told the Calgary Sun Wednesday. "And with Ferly being injured there for a couple of days, it was a chance to see how Jags would look in that position. For me, the biggest thing he can give them is that zone-time. He's just so good at holding pucks in the offensive zone, and I think we've seen that even before he's gotten fully up to speed.
"I think what he's going to add is just that offensive zone-time. Johnny and Monny are the best in the league at creating off the rush and off broken plays and that sort of thing, but to create more zone-time for both of those guys would be a huge advantage."
Gaudreau and Monahan have combined for 15 points through six games this season, while Jagr posted his first point of the season on Saturday night - drawing an assist on Gaudreau's third period power-play goal.
Gaudreau said he and Monahan have grown used to having wingers rotate on their right side, but are hoping the 45-year-old will stick.
"For me and Monny, I think we've been doing this for quite some time now - rotating right wingers. So I'm a little used to it by now," Gaudreau told the Sun. "But still, it's nice to find a player you can keep building with. It gets easier on the ice when you're playing with a player you've been playing with for a while.
"Hopefully, we can do that with Jags."
Gulutzan said the experiment will only continue if Monahan and Gaudreau continue to produce. "They have to continue to do their thing," Gulutzan said.
Gaudreau has averaged just under 18 and a half minutes of ice time per night this season, while Monahan is just under 17 minutes per night. Through three games, Jagr has posted 13:01 of average ice time but will likely be in for a boost against the Carolina Hurricanes on Thursday.