Gaudreau powers Flames in third period, come-from-behind victory over Predators
Johnny Gaudreau sparked a third-period comeback with a goal an and assist Friday night as the Calgary Flames scored three times in a span of just over four minutes to win 4-3 over the Nashville Predators. Trailing 2-1, Jiri Hudler got the rally started with the tying goal 2:36 into the third period. It came on a set-up from rookies Markus Granlund and Gaudreau.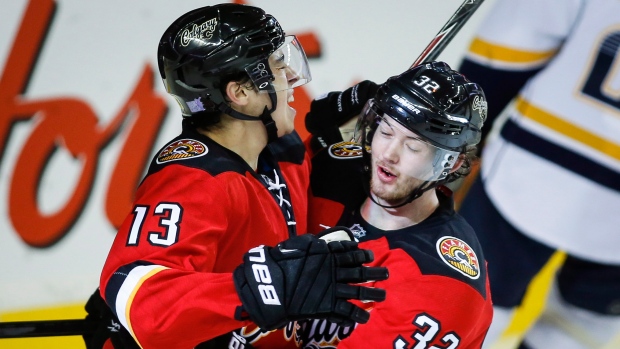 CALGARY - Johnny Gaudreau was on full display in the third period for the Calgary Flames on Friday night.
The dynamic 5-foot-9 rookie set up the tying goal, drew the penalty that led to the go-ahead power-play goal, then scored what would end up being the game winner as three goals in a span of just over four minutes powered Calgary to a 4-3 comeback win over the Nashville Predators.
Trailing 2-1 entering the third period, Jiri Hudler got the rally started with the tying goal at 2:36. He converted a slick cross-crease pass from Markus Granlund, who got the puck to begin the sequence from Gaudreau.
On his next shift, Gaudreau was tripped while hustling after the puck in the offensive zone by Mattias Ekholm. On the power play, TJ Brodie's pass deflected in off Predators defenceman Shea Weber to give the Flames the lead at 4:23.
The eventual game-winner came when Gaudreau darted down the left wing, showed good strength in fending off the stick check of Craig Smith, then whipped a shot from a bad angle that beat Pekka Rinne over his shoulder.
"It seems like the puck's on a string for him lately, not just this game but the past few. It's really nice to see," said Flames captain Mark Giordano. "Tonight, he was a game changer. There's nothing else to say. He really changed the game for us."
After beginning the season with no points in his first give games, a stretch that culminated in him being a healthy scratch, Gaudreau has two goals and four assists in his last six games.
"I know every game I'm feeling more comfortable and it helps when you're playing with guys like Hudler," Gaudreau said. "I'm just real fortunate to get to play with a lot of skilled guys. That's just going to make me a better player when I'm playing with great players like that."
Contrary to earlier in the season when he appeared more cautious, now when Gaudreau gets the puck he attacks the opposing defenceman. In the first period, he completely turned Anton Volchenkov inside out on an individual rush.
"I'm feeling a lot better in the defensive zone every game and I think that's just going to help me have more time in the offensive zone and create more offence during the game," Gaudreau said.
Sean Monahan also scored for Calgary (6-4-2). The Flames finish 2-1-2 on a five-game homestand. They begin a five-game road trip Sunday night in Montreal.
James Neal paced the offence for Nashville (6-2-2) with two goals — his sixth and seventh of the season. Smith also scored. The Predators have split the opening two games of a season-long six-game road trip, which continues Sunday in Vancouver.
"In this league, if a team hangs around long enough and gets a few bounces, they're right back in it and gives themselves some life. It's just that six minutes in that third period where they got some life and we just couldn't get it back," said Neal. "Other than that, I liked the way we play on the road and it's a tough loss when you feel like you deserve better."
Neal made it a one-goal game again at 4-3 with a power-play goal at 10:47, but that was all Jonas Hiller would give the Predators.
Hiller finished the night with 28 saves to improve to 3-2-1 on the season. The veteran goalie was making his second straight start for Calgary, which was significant in the fact that until Friday, coach Bob Hartley had been rotating Hiller and Karri Ramo.
In giving up a season-high four goals on 30 shots, Rinne saw his record fall to 6-2-1.
"Our guys played hard tonight. They were constantly on the attack," said Predators coach Peter Laviolette. "We weren't able to pull away when it was 2-1. I think we continued to press, it seemed like we had a lot of zone time. We just couldn't find the net one that would help us pull away."
The banged up Flames won despite playing without three of their top centres in Mikael Backlund (abdominal strain), Matt Stajan (knee) and Joe Colborne (upper body). They joined Mason Raymond (shoulder), who is also sidelined.
"My job is to make our players believers and the longer and the better we play and we collect points and suddenly every morning we wake up and we're in 6th place, we're in 5th place, we're in 7th place, well, we're there, and the marathon has just started," said Hartley. "I know everyone in the hockey world is waiting for us to trip but I have faith in our guys. We're going to succeed because we're hard workers, we're good people."
Notes: Brodie's four goals matches his career-high... Prior to the game, a moment of silence was held for ex-Stampeder and prominent businessman John Forzani. The 67-year-old Calgary native passed away from a heart attack... The game marked the NHL debut of Flames LW Michael Ferland and the season debut for Granlund... Ferland (upper body) left the game late in the second period and did not return after being shaken up after a hit by Volchenkov... Back in the Flames line-up for the first time in a while were RW Devin Setoguchi and RW Brian McGrattan. They had been healthy scratches for the last four and five games respectively.