Flames edge Blackhawks with OT winner
Johnny Gaudreau scored 1:38 into overtime Friday night and the Calgary Flames remained perfect in extra time with a 2-1 victory over the Chicago Blackhawks.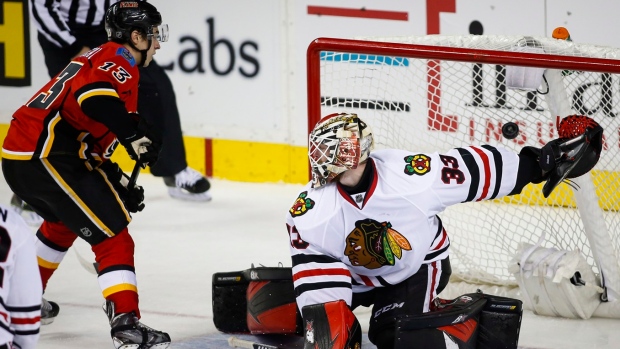 CALGARY - Two days after the NHL announced its All-Star game is going to a 3-on-3 format, Johnny Gaudreau made his case to represent Calgary.
Gaudreau scored 1:38 into overtime Friday night with a spectacular effort as the Flames remained perfect in extra time with a 2-1 victory over the Chicago Blackhawks.
After patiently hanging onto the puck and getting off an initial shot that Scott Darling saved, Gaudreau chased down the rebound, stole it from Brent Seabrook, moved back in on Darling again and beat him on a slick move to his forehand.
"He's a big goalie and he's making saves from outside the crease when I was shooting on him all night. I figured I'd try to get him in close and get him down and get the puck up," said Gaudreau.
Flames goaltender Karri Ramo, watching from 180 feet away, admired Gaudreau's ability to finish when other players may not have been able to.
"He has the thing where he somehow manages to deke you all the way and you think that you are there and he is still able to lift the puck up even though it seems impossible," said Ramo. "Today was one of those where many guys would have pounded it into the goalie's pad but he had the patience and the skill to lift it up."
It was the sixth shot of the extra period for the Flames, who dominated and improve to 5-0 in overtime.
"Give them credit, they came out hard and they did what they needed to do to win, but we can do better," said Chicago defenceman Duncan Keith.
The Blackhawks wasted a superb effort from Darling, who was sharp all night in making 35 saves.
"They're a good team. They create a lot of offence. They've got a lot of good players on that team and they made some nice plays tonight," said the Chicago goaltender. "You want to get two points but at the end of the day we battled hard and got one. We'll go from there."
Sean Monahan also scored for Calgary (8-12-1), which has won consecutive games for just the second time this season. The Flames, who open up a three-game Pacific road trip Tuesday in Arizona, have won four straight at the Saddledome.
Artem Anisimov scored for Chicago (11-7-2), which had its three-game win streak halted. Patrick Kane had an assist to extend his points streak to 15 games (10 goals, 15 assists). Chicago's six-game road trip continues Saturday night in Vancouver.
The two teams were playing for the second time in less than a week. Chicago won 4-1 at the United Center last Sunday.
Calgary played much better on this night, outshooting the Blackhawks 37-19.
"We got rolling and when we're aggressive like that, it's tough to contain us," said Flames captain Mark Giordano. "The past couple games, I've noticed our back end is keeping pucks in the offensive zone, having some zone time, and we're helping our forwards on the forecheck. That's our team. That's how we've got to be successful."
Calgary opened the scoring on Monahan's seventh goal at 15:05 when he backhanded a shot past Darling, who got his stick tangled up in the equipment of Mason Raymond.
Chicago coach Joel Quenneville, citing goaltender interference, challenged the call but it was upheld.
The Blackhawks answered back less than two minutes later on another goal that would be challenged for the same reason, but was also upheld.
Notes: Flames defenceman Kris Russell (upper-body) exited the game in the first period... Jiri Hudler (ill) did not play for Calgary. That meant Mason Raymond got a chance to play for the first time in six games.... Chicago was without Marko Dano (ill) and Teuvo Teravainen (upper-body)... Calgary has scored first 13 times, which is tied for the league lead.