George returns to form as Pacers beat Heat
Paul George scored 36 points and grabbed 12 rebounds to lead the Indiana Pacers to a 90-87 victory over the Miami Heat on Friday night.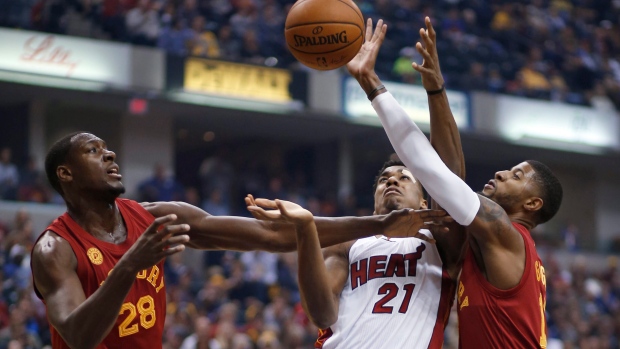 INDIANAPOLIS - It hasn't taken long for Paul George to get his legs back under him. After breaking his right leg on Aug. 1, 2014, and missing all but six games last season, George is quickly returning to his All-Star form.
Against the Miami Heat on Friday night, George had 36 points and 12 rebounds to lead the Indiana Pacers to a 90-87 victory. He got going early and performed down the stretch like the star the Pacers came to know before his injury that happened when he was playing for Team USA.
George scored 10 points in the final quarter and helped the Pacers dig out of an early hole in the fourth quarter to even their record at 3-3 and hand Miami (3-3) its eighth consecutive loss at Bankers Life Fieldhouse.
He iced the game at the free throw line with 4.1 seconds left as chants of "M-V-P" showered him in a game that felt like those Heat-Pacers playoff games in recent years. It was close, the teams went back-and-forth, and there was even a scuffle that led to technical fouls for George and Hassan Whiteside in the fourth quarter.
Chris Bosh led the Heat with 21 points and 11 rebounds. Justice Winslow finished with 13 points and eight rebounds and Goran Dragic added 11 points for the Heat, who were playing the second night of a back-to-back.
George Hill added 12 points for Indiana while Jordan Hill had 10 points and 10 rebounds.
TIP-INS:
Miami: Bosh recorded his third consecutive double-double. . Dwyane Wade, who entered Friday's game tied for ninth in scoring at 22 points per game, finished with nine points on 4-of-15 shooting. . Miami again played without guard Gerald Green, who was hospitalized Wednesday morning with an undisclosed illness.
Pacers: Backup point guard Rodney Stuckey left the game with a sprained right ankle midway through the second quarter and did not return. .The Pacers wore their Hickory uniforms in honour of the 30th anniversary of the film "Hoosiers.". Hill had his second straight double-double for the Pacers and Monta Ellis had eight assists for the second consecutive game.
UP NEXT:
Miami: Hosts Toronto on Sunday.
Pacers; Visit Cleveland on Sunday.