Giants beat Padres, gear up for NL wild-card game
Buster Posey and Adam Duvall homered, and the San Francisco Giants geared up for the NL wild-card game by beating the San Diego Padres 9-3 in the regular-season finale Sunday.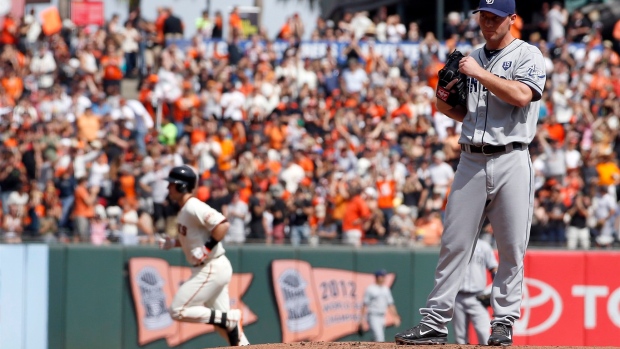 SAN FRANCISCO - At the end of a long and sporadic regular season for the San Francisco Giants, Hunter Pence held the microphone to his mouth and gave fans at AT&T Park a pep talk.
The right fielder, whose profanity-filled speech in a celebratory clubhouse a few days earlier made national headlines, kept his words clean this time as teammates and coaches surrounded him in the infield. He led the crowd in a chant and asked, "Do you guys want to see another game here at home?"
"Yes! Yes! Yes!" fans responded.
Whether there will be is up to the Giants now.
The Giants geared up for the NL wild-card game by beating the San Diego Padres 9-3 in the regular-season finale Sunday behind home runs from Buster Posey and Adam Duvall.
San Francisco will play at Pittsburgh on Wednesday night. The winner will face the NL East champion Washington Nationals in the best-of-five division series.
"I expect to see a great ballgame and we'll do all we can to get back here," Giants manager Bruce Bochy said.
Bochy got just about everything he wanted out of the 162nd game: the regulars tuned up, the bullpen pitched stress-free innings and nobody got injured. Even starter-turned-reliever Tim Lincecum (12-9) tossed two scoreless innings for the win.
The Giants (88-74) enter the playoffs on a three-game winning streak. But perhaps the most encouraging sign for San Francisco was Posey starting behind the plate — and showing some pop with the bat — after dealing with a nagging back over the last few weeks.
The 2012 NL MVP hit a tying, two-run shot in the first inning for his 22nd homer this season. He said he felt fine and is ready to go for the post-season.
Posey, Pence and Pablo Sandoval all started after getting a day off Saturday to rest. They were replaced in the middle innings along with most of the other starters, including first baseman Brandon Belt, who left with a tight groin that Bochy called a minor injury.
Giants rookie Chris Heston tossed four innings in his first major league start. He allowed three runs and six hits.
Padres starter Robbie Erlin (4-5) allowed four hits and four runs in 1 2-3 innings. The Padres (77-85) lost their final three games and finished third in the NL West.
But everything Sunday was secondary. The only result that really matters is the next one for San Francisco.
The Giants won the World Series in each of their last two post-season trips — in 2010 and 2012 — and many of the team's current players have experience in the kind of pressure-packed game ahead. They won six elimination games before sweeping Detroit for their last title, and they'll need a similar effort to put Pittsburgh away.
"The guys who have been through it know that's it's going to come down to pitching well and playing good defence," Posey said. "And I think we have the offence that can get hot and sustain that hotness for a few weeks."
UP NEXT
Giants: Bochy announced the worst-kept secret in San Francisco's clubhouse: LHP Madison Bumgarner (18-10, 2.98 ERA) will start Wednesday at Pittsburgh. Bochy said he felt comfortable with Bumgarner or Jake Peavy on the mound, "but Bum's our guy. The last few years, the job he's doing, I don't think there was any question who you pitch that game." If the Giants beat Pittsburgh, Peavy would pitch Game 1 against Washington.
Padres: Manager Bud Black said he plans to meet with new general manager A.J. Preller in San Diego and is looking forward to being part of the club's rebuilding process this off-season.
TRAINER'S ROOM
Giants: OF Michael Morse (strained left side) said he's feeling better but remains doubtful to be activated for the wild-card game.
Padres: Black said nobody on his team is expected to have any off-season procedures. "Medically, we're all doing fine," he said.
TRICKY TRAVEL
The Giants finally got some clarity on their travel schedule after the Pirates lost 4-1 to Cincinnati, ensuring the NL wild-card game would be in Pittsburgh. The Giants will to travel to Pittsburgh on Monday.
BOCHY'S BOY
Brett Bochy, the son of the Giants' manager, pitched a perfect ninth to close out the regular season. Father and son both called the moment "special," and the manager said he would keep the lineup card as a souvenir.