Gibbons has guided Blue Jays to perch atop division standings
Toronto Blue Jays manager John Gibbons was holding court with reporters in his office before a recent home game when a longtime scribe poked his head in the door. "Gibby, are you smart again?" he joked, as the veteran skipper let out a roar.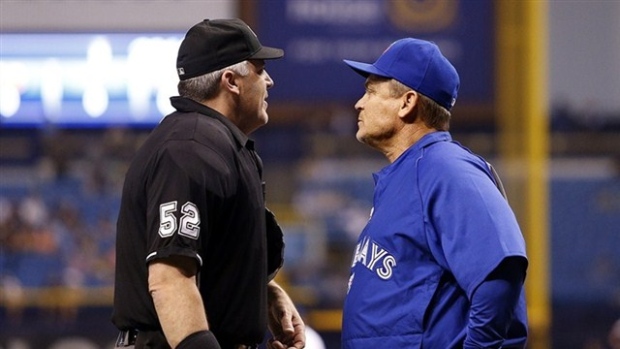 TORONTO - Toronto Blue Jays manager John Gibbons was holding court with reporters in his office before a recent home game when a longtime scribe poked his head in the door.
"Gibby, are you smart again?" he joked, as the veteran skipper let out a roar.
"No, definitely not," Gibbons replied with another hearty laugh.
He may not want to take the credit, but Gibbons is doing something right this season. In a remarkable turnaround from a deflating 2013 campaign, he has guided the Blue Jays to the top of the American League East division standings.
Gibbons has appeared to use the same style whether his team is struggling or in peak form.
Rarely without a big wad of chewing tobacco tucked under his lip, he's quick with a smile and is as laid back as they come. With over three decades of experience in the sport, he knows not to get too high when times are good or too low when they're not.
"I don't think I'm doing anything differently or trying to be anybody different," Gibbons said in a recent interview. "I don't know if I could. We're just playing better.
"Nothing has changed. We're just playing better."
Big things were expected last year after an off-season makeover that included the rehiring of Gibbons, who previously managed the team over parts of six seasons until June 2008.
General manager Alex Anthopoulos stuck with him despite a 74-88 campaign in 2013. With the team currently sporting a 41-30 record, it appears to have been a wise decision.
Gibbons has helped the Blue Jays become one of the surprise stories in Major League Baseball.
"I have confidence in this team," he said. "I knew we were better than we played last year and then we felt there were some reasons we didn't play well last year and we were holding on to that fact.
"At the beginning of (this) year, we got off to just kind of a so-so start, but then we kicked it in and we've been on a nice little roll. But I can't say necessarily that it surprises me because I think we've got a good team."
Toronto had a decent April and made its move with a 21-9 record in May. The Blue Jays have cooled off a bit this month but entering Monday's games, only Oakland (42) and San Francisco (43) had posted more wins.
There are several reasons for the turnaround.
The starting rotation is much improved, leadoff man Jose Reyes is healthy and in form and the offence has been one of the best in the major leagues. The players also appear to be used to each other now after an off-season of significant change before the previous campaign.
Former Blue Jays manager Buck Martinez, currently a team broadcaster, said he feels Gibbons was more demanding in spring training this year and that helped set the early tone.
"I think he pushed his players to play more, he wanted them to play together more," Martinez said. "And I think he's been more demanding and been forceful in his thoughts and opinions of what he thinks about this team. I think he's passed them on to the front office and I think he's done a terrific job."
"I think the biggest thing that he has done, he has got a roster right now where he utilizes all 25 men," he added. "Everybody knows that there is a role for them on this team and they're all ready. I think he's getting the most out of his 25-man roster."
Gibbons has managed his pitching staff well and his experiments have paid off. Brett Lawrie of Langley, B.C., is playing well despite bouncing between second and third base and the team's rare three-catcher system (Josh Thole, Erik Kratz, Dioner Navarro) has been a success.
While firm when he needs to be, the 52-year-old Gibbons is also known for being very approachable.
Pitcher Dustin McGowan, who made his Blue Jays debut in 2005, said Gibbons is the same manager now that he was during his first stint with the team.
"For a manager, for me the important thing is that he relates with the players," McGowan said. "That's what John really does (well). He's a guy that's easy to talk to. From a player's standpoint, that's what you want.
"You don't want to have the intimidation factor. If you have a question for the guy, it's like talking to another guy."
There is a lot of baseball left to be played this season — the halfway point of the 162-game campaign is still over a week away.
However, the division may be Toronto's for the taking. New York, Boston and Baltimore have spent most of the year hovering near the .500 mark and Tampa Bay has struggled.
With fans salivating at the prospect of the franchise's 21-year playoff drought coming to an end, Gibbons doesn't think his players will be affected by any increased pressure as a first-place club.
"It's still so early in the season," he said. "You're going to hit your ups and downs regardless, it doesn't matter how good you are. I don't sense it. It's pretty much a carefree group, it's a very loose group. Last year, even when we were struggling, they were very loose. It's just their personality.
"I don't sense that these guys (will be affected). We'll see, who knows. But I don't see any tightening up where guys are like, 'Oh I've got to do this, I've got to do that.' But only time will tell on that. It's too early to say right now though."
Follow @GregoryStrongCP on Twitter.