Gibbons has little interest in guiding Jays through total rebuild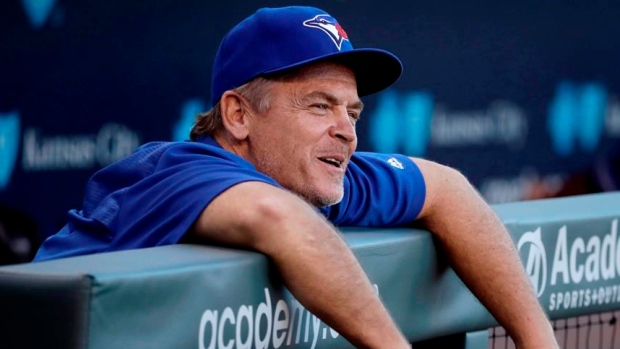 TORONTO — Either John Gibbons can see the writing on the wall or he's trying to leave his own message there.
With the Toronto Blue Jays playing out the string and a second consecutive playoff-less October on the horizon, the 56-year-old manager's future has become a hot topic, and Gibbons wasn't shying away from giving his take on the subject Friday.
After causing a stir with comments he made on SiriusXM MLB Network Radio earlier in the day, Gibbons doubled down ahead of the series opener against the Tampa Bay Rays at the dome, saying he doesn't think he's interested in guiding a team through a full-scale rebuild.
Whether that's Gibbons reading the tea leaves or simply a way of him pointing out his preference is a bit of a mystery.
Now three years into the Mark Shapiro/Ross Atkins-led Jays regime, Gibbons joked he hasn't been fired yet, but he reiterated his lack of desire to manage a team through a total rebuild.
"Well, I didn't bring up the topic to start with," Gibbons smiled. "But yeah, that has been kind of floating around there. That has been kind of hanging over ever since we got a new regime here. Yeah, I made those comments today on the radio show. Truthfully, a full breakdown, going young, you know I have to admit I don't know if I'm interested in that. But we'll see. I'm still here. I've enjoyed every minute of it. Everybody has been great to me, no doubt about that. We'll see where it all ends up."
Where it will likely end up is with the Jays front office embarking on a search for a new manager this off-season, despite GM Ross Atkins saying this week that the relationship with his manager was still strong.
Gibbons, who has another year on his contract plus a club option for 2020, has been around long enough that he doesn't let the talk bother him.
"As long as I've been here, I've heard (I'd be fired) many a times," Gibbons said. "Sometimes it's true, one time it was accurate. You just deal with it. It's kind of part of the job, the job description. When things don't go well, that's generally what happens."
The fact he'll be paid for 2019, regardless, likely has something to do with that.
"Screw-you money," Gibbons jokingly called it to veteran Toronto Star baseball columnist Richard Griffin.
Gibbons admitted it's fair to say he's at peace with whatever transpires between now and the final day of the regular season on Sept. 30.
"I'm fine with it — I've loved my time here in Toronto," Gibbons said. "How many guys get a chance to come back and do it a second time? I'm confident in what I do. I don't doubt that at all. I've always given my best here, but this a result-driven business and that's part of it."
It's impossible not to notice there's a lot of past-tense coming out of Gibbons' mouth as he surveys the scene in another lost season.
If firing the manager was going to solve all of the Blue Jays' problems, they would've done it a year ago.
It wasn't going to help the Jays hit, pitch or reverse the aging process.
Blaming Gibbons for this club's problems takes a wild imagination and isn't a realistic way to assess a situation that's likely going to get even worse before it gets better.
But Gibbons' old-school approach has never been thought of as something that meshed well with an analytics-leaning front office.
It did mesh well, however, with the veteran-laden roster that made back-to-back post-season appearances and has tried a couple of failed kicks at the can over the past two seasons.
With much of that core either out the door or on its way out, that thought process may have changed.
With a career 772-762 record coming into Friday's game, Gibbons sits 11th on MLB's active manager wins list.
If these are indeed his last days at the helm of the Jays, he hinted it could be the final time anyone calls him skipper.
"I will say one thing, there will be no third time's a charm, I will guarantee you that."