Gibbons: "Nothing's going to happen" with Estrada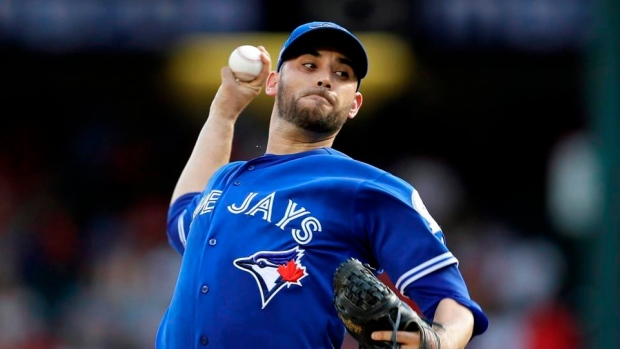 Toronto Blue Jays manager John Gibbons told reporters that "Nothing's going to happen," with Marco Estrada in response to reports of the right-handed pitcher being claimed on revocable waivers Tuesday.
"We need him," he told reporters prior to Tuesday's game against the Tampa Bay Rays. "My gut tells me nothing's going to happen. Or I have inside info."
It is not known which team made a claim on Estrada.
Estrada told reporters after Toronto's loss to the Rays on Tuesday that he knew about the rumours, but wasn't thinking about it during the game after the manager assured him he wasn't going anywhere.
"I saw on TV before the game that I had been claimed and I wasn't really sure if I was going to pitch for these guys tonight," he said. "Gibby came up to me and told me not to worry and after that I didn't really think about it."
When a player is claimed on revocable waivers, one of three things can happen. The team that claims the player may keep him and be responsible for all of his remaining salary, the player's original team may pull the player back and keep them on their roster, or the two teams can work out a trade for the player that was claimed.
Estrada, 34, has struggled in 2017 after two solid seasons with the Blue Jays, posting a 5-7 record with a 4.85 ERA over 24 starts.
He has pitched well over the last two weeks allowing just four earned runs in three games while going seven innings in each of his last three starts.
Toronto acquired Estrada from the Milwaukee Brewers for Adam Lind in 2014.
Over two postseasons, he put up a combined record of 22-17 and an ERA of 3.30.