Gilles returns to European soccer with powerhouse Lyon
Canadian defender relishing opportunity to test herself in Champions League play ahead of next year's World Cup, Meaghen Johnson writes.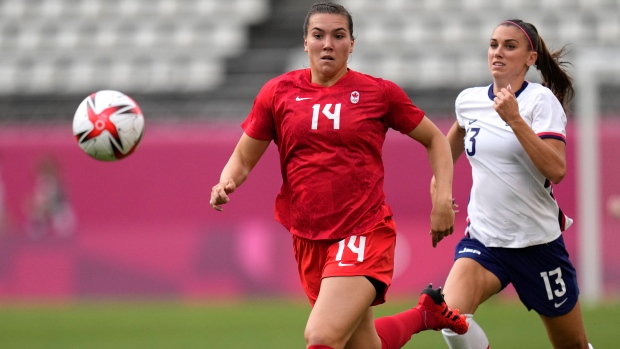 When Vanessa Gilles made the jump to the National Women's Soccer League this year after playing four seasons in France, she knew she would one day return to Europe.
But the Canadian defender didn't expect it would come just months later with Olympique Lyonnais, one of the top clubs in the world.
"I could not have predicted it," Gilles told TSN. "I've always been honest about my dream of playing at the highest levels in Europe, and Lyon is arguably one of, if not the best, clubs in the world. So, it was a no-brainer for me to be able to learn from the best."
Gilles has joined Lyon on loan from Angel City FC until the end of the French club's 2022-23 season. Angel City retains Gilles's rights (with Lyon not officially having an option to buy Gilles's contract) and has extended her contract through December 2023.
Lyon is a powerhouse in women's soccer. The club has won a record eight UEFA Women's Champions League titles, including last year's crown, and has finished first in the top league in France, Division 1 Féminine, 15 times in the last 16 years.
"This is like a once-in-a-lifetime opportunity. Lyon doesn't come knocking at anybody's door," Gilles said.
The Ottawa native won't make her debut for Lyon for at least another few weeks. She has been recovering from a hip injury and hasn't played since suiting up for Canada at the CONCACAF W Championship in July.
"My injury is very frustrating… It has not been fun to deal with," Gilles said, adding that medical staff haven't been able to determine an exact diagnosis, but it stems from overuse, and she's been carrying it since May.
Lyon was also recently dealt a serious blow when defender Griedge Mbock suffered a knee injury while on international duty with France. Lyon was suddenly in need of a centre back to partner with captain Wendie Renard.
After missing a good chunk of the NWSL season due to her injury and international duty, Gilles was looking for an opportunity to play more games ahead of next year's FIFA Women's World Cup. Lyon showed interest in the Canadian centre back, and with the transfer window quickly closing, a deal was in place within a matter of days.
"You never want to wish harm on anybody, or anybody to get injured," Gilles said. "Everything happens for a reason. I was not anticipating the return to Europe, but here we are. The stars are aligning for me so I'm very excited."
The unfortunate side to everything happening so quickly came when reports of Gilles' move started circulating on social media, before she could tell her Angel City teammates.
Gilles has spoken highly of her NWSL club, a new expansion team this year based in Los Angeles. Although her first season with the club was short, she made a memorable impact. She scored the first regular-season goal in franchise history and was named to the NWSL Best XI for May.
The 26-year-old said one of the hardest parts was not being able to say goodbye to her teammates in person or have a final home game at Banc of California Stadium in front of thousands of fans.
"But that's how sports are," she said. "I'm sad that I had to say goodbye to my friends, but I know that this is what's best for my career, and a soccer career is short. So, I'm also happy and not regretting this decision in any way."
In the team's official press release, Angel City said Gilles is scheduled to return to the club after the 2023 World Cup for the remainder of the NWSL season. But when asked if that was her intention, Gilles wasn't ready to fully commit.
"For me right now, I just have been very frustrated with my injury and the time it's been taking. So right now, my focus is just on getting healthy and back to playing," she said. "After that, I think we can revisit. But as of now, I'm just extremely happy to be here in this kind of environment. And that's all I'm really going to say about that."
Gilles confirmed she'll miss a pair of upcoming friendlies for Canada scheduled for early October but is targeting a return to pitch and a debut for Lyon in time for the start of the group stage of Champions League, which begins on Oct.19.
Champions League is a key draw for Gilles. She got her first taste of the competition with Bordeaux, her previous club before Angel City, who were eliminated by Wolfsburg in the qualification round last season.
Now, she has the opportunity to play for the defending champions.
"Champions League is the tournament. It's like the World Cup of club soccer," Gilles said. "There's culture behind it. There's just a history that goes behind the trophy. That's not really the same feeling you get when you think of like an NWSL playoff championship trophy. As much as winning that trophy would be amazing, I think this is like the epitome of soccer."
Gilles will be following in the footsteps of fellow Canadian centre back Kadeisha Buchanan, who played nearly six years with Lyon before joining Chelsea this season. Buchanan enjoyed a very successful stint with the French club, taking home five Champions League trophies, along with winning the league five times and lifting three French Cups.
Gilles revealed she will also be wearing the No. 21 that Buchanan previously donned, which happened by coincidence when her agent chose the number for her.
"So, picking up No. 21, hopefully having as much success as she had here. I know, that'll be hard to match, because she won everything there is to win with this team repeatedly," she said.
Gilles's unlikely soccer journey reads like a screenplay. She didn't start playing the sport until she was 16. After stints in League1 Ontario and the top league in Cyprus, Gilles joined Bordeaux, where she played in France's top division for four seasons.
In 2019, Gilles made her debut with the Canadian national team and was later named to the Olympic roster for the Tokyo Games, where she soon became a starter on the backline and helped the team win gold.
Now, she's joining one of the top clubs in the world.
"I always say success is a little bit of luck. It's hard work, but also luck. And I've been incredibly lucky along the way, whether that's meeting the right agent, going to a club in Cyprus, having a French passport," she said, in reference to her father being born in Paris. "So, I don't necessarily look back and go, 'Whoa.' I more so am looking forward."
In June, Gilles had told TSN that she felt the NWSL was better suited to her style of play in terms of physicality and defending, and that she didn't necessarily view herself as the most technical player.
But she doesn't feel like she'll need to make any adjustments to her game to fit in with Lyon's style of play.
"Lyon knows what they're getting out of me when they recruited me and, on the contrary, I think it's what they want. They have incredible midfielders, incredible outside backs, wingers, strikers to be the money makers," she said. "I think any player has their pros and cons. I think I've come a long way from the girl who couldn't pass a five-yard ball, but I'm also a player who's, I would say, very simple, very consistent."
Gilles said she has had positive conversations so far with Lyon's head coach, Sonia Bompastor, a former French international who last season became the first person to win the Women's Champions League as a both a player and manager. The Canadian said one of the first things they spoke about was how the defender would fit into the team.
"Obviously, every minute has to be earned here at such a competitive level. But I'm excited to just get feedback," Gilles said. "[Bompastor] was an incredible player, so any player respects her already. And just from the conversations we've had, I already can feel the knowledge and the enthusiasm she has about my mentality and my team spirit and how I can integrate."
Gilles is excited for the opportunity to not only learn from the coaching staff, but her new teammates. While Gilles will be building a partnership with Renard, Lyon boasts a stacked roster of some of the best players in the world, including Ada Hegerberg (the 2018 Ballon d'Or winner), and French stars Amandine Henry and Eugénie Le Sommer.
"I think the beauty and the attraction of coming here is you don't only have Wendie Renard, but you have 10 other world-class players around the field that can share their perspective, give you feedback and are at the top of their game," she said. "Obviously with the [Canadian] national team, it's a different story and different dynamic, but in this high level, competitive club team, I've never been a part of an environment like this."