Giordano, Flames edge Wings in OT
Mark Giordano scored his second of the game at 3:12 of overtime to lead the Calgary Flames to a 3-2 win over the Detroit Red Wings on Friday night.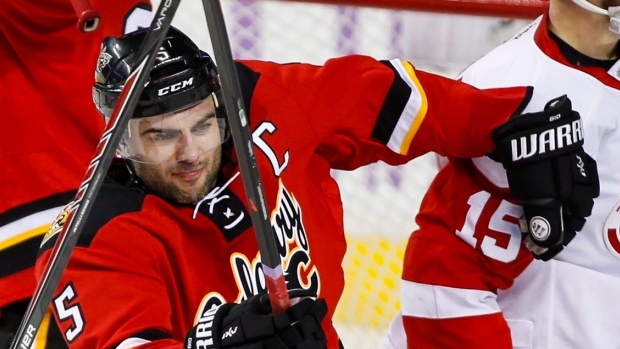 CALGARY - Mark Giordano was amazed with his own move that scored the winning goal in overtime on Friday night.
The Flames captain took a pass from Johnny Gaudreau and then outwaited goalie Jimmy Howard before depositing a backhand shot in the net at 3:12 of the extra time for his second of the game which gave Calgary a 3-2 win over the Detroit Red Wings.
"When I got the puck from Johnny, my first instinct was to shoot, but the goalie charged out and raced over and I surprised myself with that one," said Giordano. "I'm happy for our team to get back in the win column. We deserved that one, I thought, and got rewarded late."
Giordano also had an assist as the Flames (2-5-0) snapped a four-game losing streak. It was also the first time in five attempts Calgary won on home ice at the Scotiabank Saddledome.
"I was pushing for our guys because, gosh, they've worked so hard," said Calgary coach Bob Hartley. "We got rewarded so it's a great feeling."
Joe Colborne scored with 1:12 left in the third period to force overtime, while goaltender Jonas Hiller made 27 saves to even his record at 2-2.
"He stepped up," said Flames forward Sean Monahan of Hiller. "He played a great game for us, kept us in it and made some really timely saves. It's a big credit to him for that win."
Gustav Nyquist and Brendan Smith scored power-play goals in the first period for the Red Wings (3-3-1), while goalie Jimmy Howard turned aside 37 shots.
"At the end of the day we didn't get the extra point and that's all that matters," said Howard. "It was a tough one. We have a lot of work ahead of us."
Nyquist opened the scoring at 7:38 of the first period when he converted a feed from Henrik Zetterberg to finish off a great passing play during a Detroit man advantage.
Giordano answered shortly after with his second goal in as many games when he took a pass from Johnny Gaudreau and wired a point shot past Howard.
Just eight seconds after his goal, Giordano took a costly delay of game penalty. The Red Wings regained the lead on the ensuing power play when Smith's point shot snuck past Hiller, who was screened by Detroit forward Riley Sheahan.
Despite outshooting the Red Wings 16-4 in the second period, the Flames weren't able to get any pucks past Howard.
Calgary forward Mason Raymond had the best chance in the second, but his wrist shot ricocheted off both Howard and the post. The puck then landed on Howard's left pad and he was able to cover it up before Mikael Backlund could get his stick on it.
The Flames kept pouring on the pressure in the third period and Howard had to be sharp to stop a breakaway attempt by Josh Jooris.
Not to be outdone, Hiller made a pair of nice blocker saves to stop scoring attempts by Dylan Larkin and Tomas Tatar to keep the Flames in the game.
Colborne was able to tip a Giordano point shot past Howard at 18:48 — forcing overtime.
"We didn't get on our toes enough," said Detroit coach Jeff Blashill. "When we did have time in their end we didn't do a good enough job of getting pucks to the net, not that we weren't attempting to do so. We got to do a better job of getting through."
Notes: Defenceman Ladislav Smid made his season debut with the Flames after sitting out Calgary's first six games with a neck injury. … Prior to Friday, the last time Smid dressed for the Flames was last season on Jan. 19 when the Flames had a 2-1 overtime victory over the L.A. Kings. … Flames goalie Karri Ramo cleared waivers on Thursday and was assigned to the AHL's Stockton Heat making way for Joni Ortio to dress for his first game this season as Hiller's backup. … Red Wings forward Brad Richards missed Friday's game due to a back injury, meaning that fellow centre Joakim Andersson drew into Detroit's lineup for his second game this season.