Giroux, Voracek lead high-octane Flyers in win over Leafs
Claude Giroux scored twice and added two assists, and Jakub Voracek chipped in with four helpers as the Philadelphia Flyers erased an early deficit to thump the Toronto Maple Leafs 7-4. Voracek's four points give him 42 on the season, three more than Dallas Stars' forward Tyler Seguin. It was Voracek's second career four-point game. His first was on Feb. 18, 2013.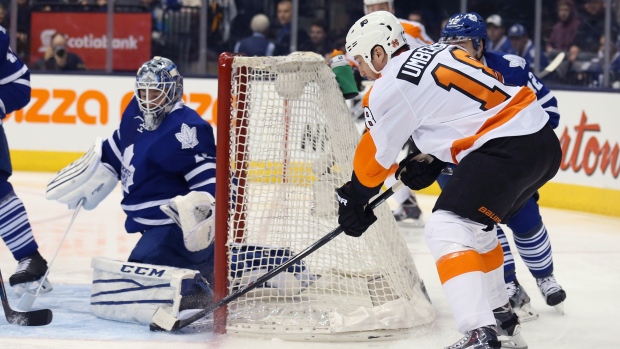 TORONTO - After preaching the need for better starts on Friday, the Toronto Maple Leafs jumped out to a 2-0 lead before the six-minute mark of the first period Saturday night. The bad news, though, was that it was all Philadelphia after that.
The Flyers erased the two-goal deficit — thanks in part to four-point nights from both Claude Giroux and Jakub Voracek — and skated away with a 7-4 win at Air Canada Centre.
"We had a good start offensively, but we gave them a lot of good scoring chances," said Leafs defenceman, Stephane Robidas. "That's a good team out there, they have a lot of skill and we beat our self basically."
Giroux scored twice and added two assists, and Voracek chipped in with four helpers to take the NHL scoring lead in a game that saw the Flyer outshoot the Leafs 42-25.
"We started the way that we wanted, we come out we have a great start and give them credit, they came back," said Leafs captain Dion Phaneuf. "We're tied up and they just seemed to push the pace of the game and continue to play a harder game than we did.
"We took our foot off the gas pedal after we scored early and we just didn't regain any traction the rest of the game.
Voracek's four points give him 42 on the season, three more than Dallas Stars forward Tyler Seguin. It was Voracek's second career four-point game. His first was on Feb. 18, 2013.
"I think we skated very well today, we were attacking, we were forechecking, we were backchecking," said Voracek. "How many shots did we have? 40? On the road it's tough to do but because we were skating and aggressive with the puck that's why we scored so many goals."
Added Giroux: "The thing about Jake is that defensively he's playing very well for our team and that's why I'm able to get scoring chances because we're able to get the puck out. For a guy like me, playing centre with Jake makes my job a lot easier and I'm pretty lucky to play with him."
R.J. Umberger, Sean Couturier, Nicklas Grossman, Scott Laughton and Michael Raffl also scored for the Flyers (12-14-6) while Ray Emery made 21 saves.
Joffrey Lupul, James van Riemsdyk, David Clarkson and Peter Holland found the back of the net for Toronto (19-11-3), which has now lost back-to-back contests after winning six in a row.
Jonathan Bernier stopped 34 shots in the loss while James Riemer made one save on one shot in 10:28 of relief.
"We have to cut down shots again. … We start very well, but the second half of the first period and maybe 12 minutes left in the first period, they took over the shot clock and we give up 15-plus shots," said Phaneuf. "You can't do that. It makes us rely on our goaltenders too much. They've been outstanding."
The Leafs dropped to 5-8-1 against teams below .500. Toronto also saw its perfect 14-0-0 record when scoring first this season come to an end.
Raffl's goal midway through the third gave Philadelphia a 7-3 lead to end Bernier's night early.
Giroux and Grossman gave Philadelphia a 5-3 lead after two periods.
The two teams combined for six goals on the game's first 16 shots in a 6:53 span of the opening period.
Lupul and van Riemsdyk gave Toronto an early 2-0 advantage, scoring on the Leafs' first four shots of the game.
"I thought we came out to a good start in the first 5-10 minutes, got a 2-0 lead and then clearly took our foot off the gas pedal and were outworked for the rest of the game," said Holland.
"What we need to realize is in that streak that we were winning, we were working for the full 60 minutes. It wasn't just happening by fluke."
After Umberger got the Flyers on the board with his third of the season, Philadelphia and Toronto scored three goals in 26 seconds, setting a new Leafs record for the fastest three goals scored by both teams.
Couturier tied it 2-2 with his eighth of the season, Clarkson briefly gave Toronto a 3-2 lead at 11:33 of the first, and Giroux tied the game again 11 seconds later.
"We played aggressive," said Flyers coach Craig Berube. "We needed to be a lot more aggressive and we were tonight, we attacked and shot the puck and had some real good offensive-zone time."
Robidas took a hit from Flyers' forward Wayne Simmonds as time was expiring in the second period and fell awkwardly on his left shoulder. He had his shoulder heavily wrapped after the game.
"Just a little injury, but it's nothing," Robidas said. "No big deal."
Saturday was the first of three meetings between the two clubs. They meet again in Philadelphia Jan. 31.
Notes: Flyers' goaltender Steve Mason (tweaked back) missed his first game with the injury. … Rob Zepp, who was recalled Friday, backed up Emery Saturday. … Leafs defenceman Jake Gardiner was a healthy scratch for the third time this season and was replaced by Korbinian Holzer in the lineup. … Toronto forward Leo Komarov (concussion) missed his 10th game. Lupul was playing in his 200th game as a member of the Leafs. ... Toronto now begins a stretch of eight straight on the road starting Sunday in Chicago. Fifteen of the Leafs' next 20 games are away from Air Canada Centre. Toronto is 14-3-2 against teams with a record above .500 and 5-3-3 on the road this season.