Golf's governing bodies clean up rules mess
The R&A and United States Golf Association issued a clarification Wednesday on caddies helping a player line up a shot following a few eyebrow-raising situations at recent tournaments, Bob Weeks writes.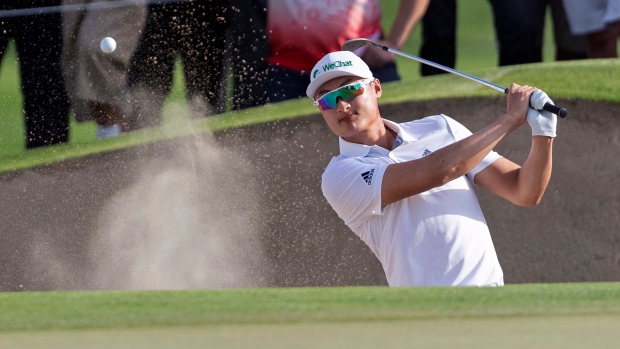 After a contentious few weeks, the R&A and United States Golf Association have cleaned up one of the new rules that came into effect last month.
The two governing bodies of the game issued a clarification on caddies helping a player line up a shot, which clearly needed to be done after a few eyebrow-raising situations. One cost a player a lot of money; another led to an awkward but correct ruling reversal.
"Experience has taught us that introducing a new Rule requires us to balance patience with a willingness to act quickly when necessary," said Thomas Pagel, USGA senior managing director of governance, in a release.
The ruling in question – Rule 10.2b(4) – was created to prevent a caddie from helping line up a player for a shot.
On the European Tour at the Omega Desert Classic, Haotong Li was dinged two shots when his caddie didn't move out of the way before he began setting up to hit a putt.
Never mind that the caddie provided absolutely no assistance to his boss in getting aligned properly. He was deemed guilty simply by his location. The penalty ended up costing Li about $100,000.
The second situation, an even stranger one, took place last week at the Waste Management Phoenix Open when Denny McCarthy's caddie, Derek Smith, was situated behind McCarthy while the player took a few practice swings. He wasn't over the ball yet.
Even though McCarthy reset his stance and even though Smith walked away prior to that, the penalty was assessed.
Wisely, the PGA Tour consulted with the R&A and the USGA and the next day reversed its penalty on McCarthy, giving him back two shots.
On Wednesday, the governing bodies reacted and cleaned up the Rule with two clarifications.
If a caddie was standing in the line, a golfer can now back away from a stance, reset and avoid the penalty as long as the caddie has moved. That wasn't the case before and that's why McCarthy was dinged.
And, as long as a caddie is not deliberately standing behind the player when he takes a stance, there will be no penalty. The word "deliberately" is the key to this. For instance, if a player is taking his stroke and the caddie is raking a bunker or maybe getting a yardage but in the line of the shot, there will no longer be a penalty.
The additions wouldn't have changed the outcome of Li's penalty but McCarthy would never have been penalized. The unusual part of that is in both cases the caddie wasn't providing any assistance to the player – it was simply a question of where he happened to be standing.
"These clarifications are designed to improve the operation of the Rule and give the players more opportunity to avoid a breach while remaining true to the purpose of the Rule," said the R&A's David Rickman in the release. "We appreciate that this requires some players and caddies to make an adjustment, but we believe there is widespread acceptance that it is for the player alone to line up a shot."