Gord's Gift
Many Canadians spent Wednesday reminiscing about how Gord Downie's lyrics and the music of The Tragically Hip became soundtracks to their lives. James Duthie is one of them. Here he recounts what Gord and The Hip meant to him over the past 30 years.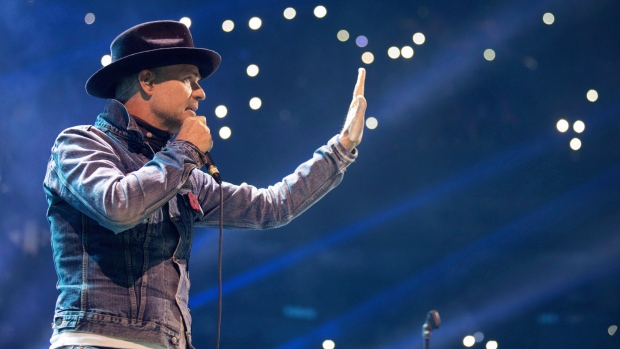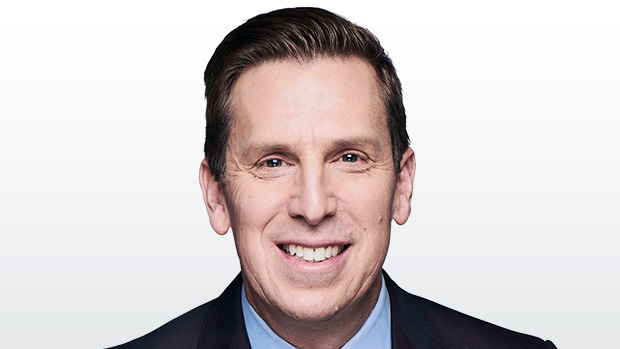 Gotta go
It's been a pleasure doing business with you
My 14 year-old had an appointment with her knee surgeon this morning (torn ACL's suck). As we made the hour drive to downtown Toronto (half-hour for distance, half-hour for traffic – the Don Valley Parkway also sucks), I tried to explain to her how much Gord Downie meant to me.
Told her how I first saw The Hip at Carleton University, when no one knew them, and there were maybe 200 people in the room.
Told her how I saw them again at a New Year's Eve party in Ottawa a couple of years later. How Gord said, "Stay gold, Ponyboy" as he walked off the stage after their final song. How I freaked because I used to sign all my written notes "Stay gold Ponyboy" (my favourite line from The Outsiders), and thus Gord and I must be kindreds.
Told her about the countless other Hip shows I'd seen over the last 30 years, including the last one in Toronto a summer ago, when I cried at the end, but tried to hide it from Bob McKenzie in the seat next to me.
'Cause there's no way I'm getting beaten up by
A guy
Who cries before he fights
Told her it's a close call, but Escape Is At Hand For The Travelllin' Man is my favourite Hip song, narrowly edging Nautical Disaster, Bobcaygeon, and At The Hundredth Meridian (honourable mention to deep tracks like Family Band, Pigeon Camera, and Flamenco). And how I love that a thousand other fans could have a thousand different lists that included none of those songs, but were equally great.
Tried to explain to her how Gord and the boys had been the background music to so many of the best times of my life. Parties, cottages, boys trips, bar nights, long summer family vacation drives across the country with three kids strapped in car seats in the back.
I'm going to get all the children involved
We're going to get lost on all you locals
Any life event that required good music…The Hip were often it.
My daughter listened quietly. Though, who knows, she may have tuned me out before we hit the 401. Finally, I just shut up and found one of the many radio stations playing non-stop Hip.
Gord was gone, and yet he was everywhere…on every station worth scanning to, in every corner of Canada, all day.
In View came on, and she sang with me, which made me smile.
I love you
you know I do
yeah its perfect
well it isn't and it is
My kids know a bunch of Hip songs. Not by choice, just through endless exposure from birth on.
On the way home (btw the doc says her knee is coming all fine post-surgery—the soccer comeback just a few months away), I found CBC Radio One, which was alternating between Hip songs and phone interviews with Canadian musicians. They told endless Gord stories, laughing and crying, often in the same breath.
It was wonderful and comforting. I'd felt oddly alone this morning after reading the news on Twitter. Selfishly felt like no one would ever really understand how much Gord meant to me. Until I figured out a few million other Canadians were feeling pretty much the same thing.
Gord Downie was Canada's poet, Canada's conscience, Canada's soundtrack — the author of our national anthems, to be sung full-lung on the dock with beer in hand, forever.
I haven't idolized an athlete since I was 17. But I idolized Gord my entire adult life.
When his illness became public, I wanted to write him. Bob McKenzie was kind enough to give me his email address. They'd been friends for years. It took me hours. How do you write something even semi-eloquent to a man who can say more in one line of a song than you can in an entire book?
You held my hand and we walked home the long way
You were loosening my grip on Bobby Orr
Plus, I figured his inbox would be full of notes from the hundreds of friends who knew him far better than I did. So I hesitated an entire day before pressing send.
Maybe dive in or maybe hang back.
But I figured even if he never read it, I needed to say it. However hokey it might come off. So I sent him this:
--
Gord,
I first saw you guys when I was at Carleton in 1989. I was hammered. I remember nothing. Except miles of awesome. It was the first of, I dunno, 20-something Hip shows I've seen. I'm not like one of those guys who counts their Springsteen shows. So no idea really. Just lots and lots.
I've only met you once...you tapped me on the shoulder after the premiere of Dave Bidini and your brother's The Hockey Nomad. You said something nice about my work, which was very kind because I'm pretty sure I wasn't very good back then...And I sputtered and spattered (professional broadcaster...wtf) and didn't really get out what I wanted to say...which was...
...That you and the boys have been my long car rides, my gym workouts, my golfing range headphones, my summers on my parents dock, my play-in music on every sports radio station that asks me for play-in music, my everywhere soundtrack...forever. And will always be.
So....Thank-you. It's just an amazing gift you gave me and the countless thousands like me.
I'll be there this summer...as many places as possible...and I hope this turns into the longest goodbye ever.
You are truly the best.
And my family will be thinking of you every day.
James Duthie
--
An automated reply came back from Gord saying he wouldn't be responding to emails in the foreseeable future. Completely understandable. But I was glad I wrote it, even if it never got to him.
And then the next day, he replied.
I'm not going to share it all with you. Haven't with anyone. Likely never will. It's going to be the one tiny Gord thing I'll always have that's just for me. But it was kind, and thoughtful and beautiful. I will say he remembered an illness in my family from years before. I have no idea how. Said it had bothered him that we'd been through that.
Unreal.
And at the end he told me to have a great life.
I have. And I will. With Gord in my headphones. As long as I'm breathing.
I'm not the type to dwell
I'm a fast healer, fast as hell
Heaven is a better place today
Because of this, but the world is just not the same