Gordon: Marlins' off-season 'embarrassing'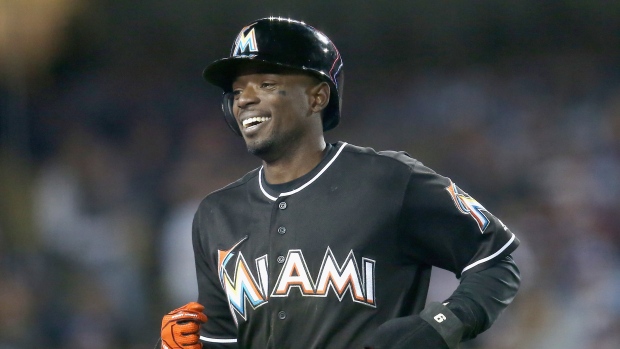 While Dee Gordon says he's happy to be a member of the Seattle Mariners, the two-time All-Star didn't mince words when it came to how the off-season has gone for his former club, the Miami Marlins.
"It's terrible," Gordon told Tim Healey of the Sun-Sentinel. "It's almost — I'm not even going to say almost. It's embarrassing. It's embarrassing. I don't want to bash anyone, but what's happened is not good."
Since the group led by former New York Yankees great Derek Jeter assumed ownership of the team, the Marlins have been in teardown mode, trading stars Gordon and Marcell Ozuna (to the St. Louis Cardinals) and offloading the face of the franchise and reigning National League Most Valuable Player, Giancarlo Stanton, to the Yankees.
"No disrespect to anybody, but those are your best three players. You let them go," Gordon said. "Not because they underperformed. But because of something you [new ownership] can't take care of."
Gordon said that he didn't believe reports of a firesale were accurate when the ownership change first took place.
"At first it was like, ha ha ha, they bought the team and they're going to trade us," he said. "We were like, there's no way you can buy a team for $1 billion and have to trade everybody."
The Marlins' intention is to get opening day payroll into the $90 million-range after coming in at a club-record $117 million last year. Remaining stars like outfielder Christian Yelich and catcher J.T. Realmuto are reportedly unhappy and are also seeking moves. Gordon thinks the team should honour their wishes.
"I think you have to let [Yelich] go win," Gordon said. "That's what you did for the rest of us, let us have a chance to win. Let him go win. I feel bad for Yeli, because he's my brother. I feel bad for J.T. I feel bad for [Justin Bour]. I feel bad for [Martin] Prado. I feel bad for those guys."
Gordon cites the death of star pitcher and close friend, Jose Fernandez, in a boating accident in the fall of 2016 as the beginning of the end of the Marlins' chance to compete with that group of players.
"When we lost Jose, that was pretty much it," Gordon.
A middle infielder for all of his career, Gordon is being converted to centrefielder by the Mariners, a transition the 29-year-old native of Windermere, Fla., said is taking some adjustment.
"We're going to make it work," Gordon said. "The way I work, I'm going to make sure it works."