Greatest skip Jones thankful for every success in Hall of Fame career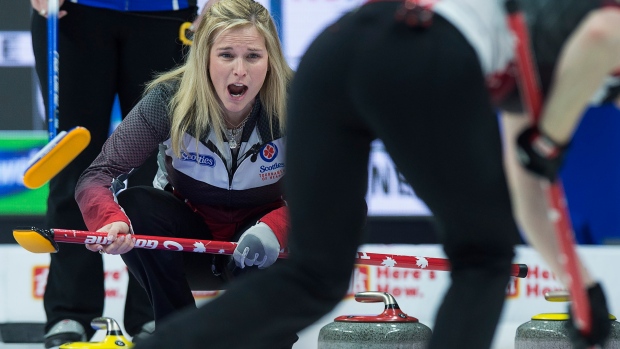 SYDNEY, N.S. – Three out of four isn't bad.
Lead Dawn McEwen, second Jill Officer and skip Jennifer Jones have been named the best in their positions this week as part of TSN's Greatest Canadian Curlers poll.
"It's pretty crazy," said Jones, who was revealed as the greatest Canadian female skip in history on Thursday. "Just how lucky we are to play with such great people as well as players. I know all of us just feel really lucky. We're best friends and that will never change."
Jones can surpass Nova Scotia skip Colleen Jones and longtime teammate Jill Officer for the most Scotties Tournament of Hearts titles in history with seven if she can find a way to get to the top of the podium by Sunday night.
They might have to live up to those titles as the greatest ever if they're going to make that happen this year.
The week in Sydney has been trying at times for the defending champions. Team Jones finished fourth in Pool B action, meaning they'd have to go at least 3-1 in the championship pool if they hope to be playing on the weekend.
They got off to the right start Thursday afternoon with a victory over previously undefeated Team Alberta, but then dropped a close evening game to mighty Team Rachel Homan of Ontario. Team Jones will have to beat Northern Ontario and British Columbia on Friday to get a shot at the playoffs.
Despite their less-than-stellar record (5-4) at the 2019 Scotties, Jones doesn't think her team is playing poorly and that their luck might be turning around.
"I know you guys are on us for not doing well," Jones told the media after her win against Alberta. "But, honestly, we haven't been playing that bad. Instead of rubbing on the guard we finally got by the guard."
Love of the Game
Jones said it was never about winning national, world or Olympic titles growing up in Winnipeg. It was about her love of the game.
When she won her first Scotties championship in 2005 – thanks to one of the greatest curling shots in history – Jones fully expected that could be her last.
"Growing up, honestly, I just loved curling. I loved playing and I loved how it made me feel," she said. "Then all of sudden we won and it was like a dream come true. Then we won again and it was icing on the cake.
"I definitely feel a huge privilege and I think I'll reflect back some day and it will blow my mind."
Three-time Canadian champion Connie Laliberte was a Manitoba curler that Jones admired as a junior coming up the ranks and was inspired to evolve the women's game.
"I always looked up to a lot of the men curlers, too, and really wanted to try and see if we could push women's curling and try to see what women could do," said Jones.
A player like Jones has a plethora of moments they point to as being memorable. The skip said one of her biggest came at the Sochi Olympics in 2014.
"I actually remember the semi-final of the Olympics as being one of [the] biggest moments," said Jones. "Draw to the four foot, the girls swept it from my hand and in that moment I knew we were going to stand atop the Olympic podium. I'll never forget that."
On Friday, the greatest Canadian female rink will be announced at the fifth-end break of the afternoon draw.