Gretzky returning to Oilers in working role
The Great One is coming home. After seven years spent without an official role in hockey, the Edmonton Oilers announced Wayne Gretzky will re-join the franchise in a full-time role as partner and vice chair on Wednesday.
Frank Seravalli, TSN Senior Hockey Reporter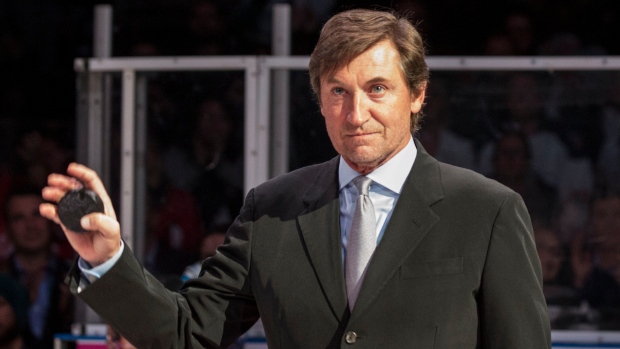 EDMONTON — The Great One is coming home.
After seven years spent without an official role in hockey, the Edmonton Oilers announced Wayne Gretzky will re-join the franchise in a full-time capacity as partner and vice chairman on Wednesday, hours before christening their new downtown home.
The position will mark Gretzky's first foray back in hockey since stepping down as Phoenix Coyotes head coach in 2009.
"I've had opportunities over the last three, four or five years to be involved in the NHL," Gretzky said. "I chose to step back and take my time. We felt like this was a really great opportunity for me to get back in the game and do what we all want to do: win a Stanley Cup. I'm privileged and proud to be back as an Oiler."
Gretzky, 55, will have a role with the club similar in stature to Oilers vice chairman Kevin Lowe. The term "partner" is in name only as Gretzky will not have a financial stake in the franchise. His exact day-to-day function will evolve over the next few months, with Gretzky saying this came together "pretty quickly."
Gretzky's voice will be heard in internal hockey-related discussions, serving as a sounding board in addition to serving in a variety of community roles. Oilers owner Daryl Katz made it abundantly clear that president of hockey operations and general manager Peter Chiarelli will still hold the hammer in all on-ice personnel decisions.
"This is Peter's team," Gretzky reiterated. "Whatever Peter wants, I'll be available for him. He's a tremendous general manager, he's got a great track record. He's done a tremendous job with the Oilers. That's not for me to interfere with. You're not going to see me calling teams (for trades). That's for Peter to do."
Instead, Gretzky will report directly to Oilers CEO Bob Nicholson - whom he worked with at the Olympics for Hockey Canada - and ultimately Katz. Gretzky's younger brother, Keith, joined the Oilers earlier this year as assistant general manager after working for Chiarelli in Boston.
Gretzky is not expected to relocate to Alberta's capital, which he helped turn into the "City of Champions" with four Stanley Cups in the 1980s, on a full-time basis, but he will be spending a significant chunk of time around the franchise throughout the year.
Katz and Gretzky live 15 minutes from each other in Southern California, where meetings about this possibility first took place over the last year.
"I didn't plan in August to be doing this full-time," Gretzky said. "I'll be around a lot and as time goes on, I'll spend more and more time, we'll get a place here in the city."
To be sure, this is more than a mere ceremonial role for Gretzky.
He already has enough of those honourary titles on his resume: In September, Gretzky was named the NHL's ambassador for the centennial season by commissioner Gary Bettman. Gretzky said he phoned Bettman on Wednesday to notify him of his new role with the Oilers and vowed to meet his obligations as ambassador.
"I couldn't get one job, now I have two," Gretzky quipped.
Gretzky's willingness to take a defined role shows his interest in turning around the storied franchise. The Oilers can set a new NHL record for longest drought between postseason appearances – 11 seasons – if they fail to qualify for the 2017 Stanley Cup playoffs.
Gretzky called the Oilers a "machine moving in the right direction." He wants to be a part of the action again.
Gretzky attended the unveiling of his new bronzed statue on 104th Avenue outside of Rogers Place along with former teammates Jari Kurri, Lowe, Grant Fuhr, Craig MacTavish and Mark Messier on Wednesday afternoon. Seated in front row were his wife, Janet, their five children and future son-in-law and PGA golfer Dustin Johnson.
It was Janet Gretzky who "strongly encouraged" Gretzky to dive back into hockey. Whenever Gretzky made that decision to return, Katz said, the Oilers wanted it to be in Edmonton.
"Why not?" Gretzky said. "I love the game. I want to be part of the NHL. Everything that I have in my life is from the NHL. I'm thrilled to be back."
Contact Frank Seravalli on Twitter: @frank_seravalli