Grichuk on bat flips: 'Act like you have done it before'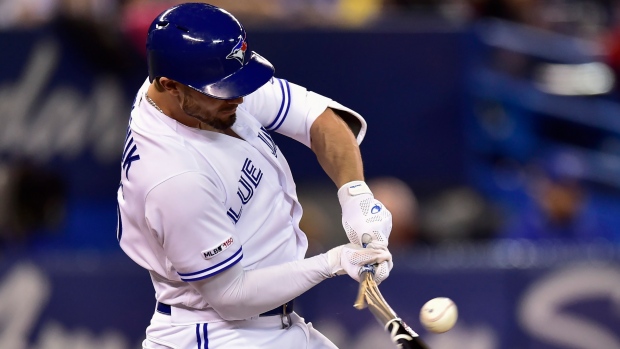 It seems like Toronto Blue Jays outfielder Randal Grichuk is no fan of bat flipping.
"Guys are getting a little excessive on pimping HRs, on meaningless HRs too. Act like you have done it before, one time," Grichuk tweeted Wednesday afternoon.
The tweet comes not long after a bat flip from Chicago White Sox shortstop Tim Anderson preceded a bench-clearing incident on Wednesday.
In the fourth inning, Anderson drilled a long home run to left-centre field and celebrated by throwing his bat emphatically toward the Chicago dugout. He was then hit with a fastball by Brad Keller during his next at-bat which prompted the benches to clear. Anderson, along with White Sox manager Rick Renteria, Royals pitcher Keller and KC bench coach Dale Sveum were ejected.
While the tweet did not directly mention Anderson, the shortstop took exception anyway.
"Put a name on so we can see who you talking bout bra," Anderson responded about four hours later.
The Blue Jays will host the White Sox on May 10.