Groulx: Starting goaltender job up for grabs at world junior camp
Canadian world junior head coach Benoit Groulx says the starting goaltender job is up for grabs. Camp is underway ahead of the Dec. 26-Jan. 5 tournament in Montreal and Toronto.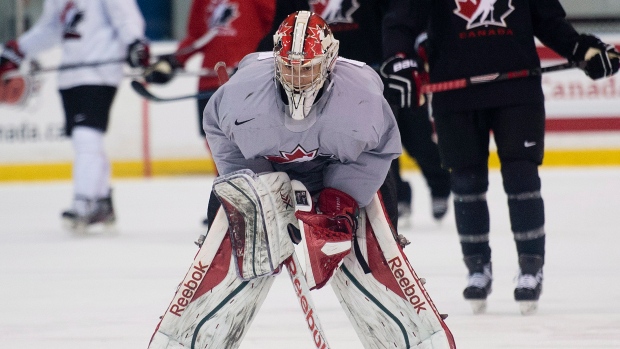 TORONTO - Netminders Zach Fucale and Eric Comrie have already locked down spots on the Canadian world junior team.
What's far less certain is who will get the nod when Canada opens tournament play Dec. 26 against Slovakia. Head coach Benoit Groulx said Friday that the starting job is up for grabs.
"They're on the team, but they've got to compete and they've got to prove themselves," Groulx said. "They've got to have the right attitude and so far we're very pleased with Eric and Zach because they're both competitors. You can tell they enjoy the game. They love to compete and they love to be out there.
"I think that's what we need and it's a healthy competition among the two of them."
Like team brass did last year, Canada finalized its goalies in advance. A third goalie could always be added during the tournament if needed.
That takes a little pressure off the netminders in the buildup to the Dec. 26-Jan. 5 world junior hockey championship in Montreal and Toronto. The other 28 players in camp will battle it out for the remaining 20 roster spots.
Fucale appears to be the favourite to land the first starting assignment.
The Halifax Mooseheads goalie was on the team at last year's tournament in Malmo, Sweden, where Canada settled for a fourth-place finish. Fucale was also drafted in the second round (36th overall) of the 2013 NHL Entry Draft by the Montreal Canadiens and is from Rosemere, Que.
So it would seem logical that he'd play Canada's opening group stage game, given that it will be at the Bell Centre. However, Groulx said the job is open and the netminders' performances in practice and exhibition games over the next two weeks will be key.
"We believe in both of them and we've been evaluating them for two years," he said. "The evaluation process is still an ongoing process every day."
The two goaltenders are quite similar. Both are 19 years old, both are six foot one, and both weigh about 180 pounds. They were both drafted in the second round last year, with Comrie taken 59th overall by the Winnipeg Jets.
They have posted similar records this season and have been teammates at various tournaments in the past. They're also roommates and good friends.
So while the battle is underway, there does not appear to be any tension. They're both saying the right things and seem very supportive of each other and the team.
"I'm not looking at it as a competition," said Comrie, who's from Edmonton and plays for the Tri-City Americans. "I'm looking at it as we're a team here. We're building towards one single goal.
"We're not fighting against each other to reach a gold medal. We're fighting with each other to reach a gold medal."
Groulx said each goalie will get a start when Canada plays exhibition games against the CIS Toronto Selects this weekend before heading to St. Catharines, Ont., for pre-competition camp.
"Me and Eric, we have a lot in common," Fucale said. "One of those things is we're team players and we just want to help the team every time we get out there. It's good that we're on the same page and we have the same goal in mind. I think that's very good for the team."
Canada is hoping to end a five-year gold medal drought at the tournament. Fucale, one of seven returning players from last year's team, said he has made strides over the last 12 months.
"I have become better mentally, stronger physically and technically everything has got better," he said. "I feel very good, I feel great coming into this event. It's a great opportunity once again. I'm just looking forward to the whole experience and living in the moment."
Groulx put the players through a tough 90-minute workout Friday morning at MasterCard Centre. It was the first full team workout as seven players missed the opening session a night earlier due to travel delays.
A timeline for player cuts has not been finalized. There could also be some late additions since NHL clubs have until the Dec. 19 roster freeze to decide whether they will loan players to the team.
The goaltending picture is the one area that's clear, even if the starting assignments remain up in the air.
"It's always good to have internal competition," Fucale said. "Coms is a competitor and so am I. For sure, we want to be ready for each game and like I said, we both have the same goal in mind — that's just to help the team win.
"So whoever is out there, we'll try our best to help the team and that's all that really matters."
———
Follow @GregoryStrongCP on Twitter.