Gurriel brothers relish first-ever on-field meeting
In the major leagues, Blue Jays shortstop Lourdes Gurriel Jr. and Astros first baseman Yulieski Gurriel are simply a pair of brothers with flashy hair and productive starts to their respective careers. In Cuba, however, they're baseball royalty, writes TSN Blue Jays Reporter Scott Mitchell.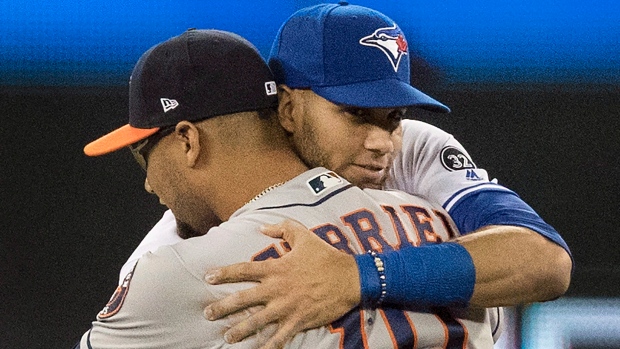 TORONTO — The Gurriel brand doesn't have the same sort of impact here that it does in Cuba.
In the major leagues, Lourdes Gurriel Jr., who signed with the Toronto Blue Jays for $22 million in November of 2016, and Yulieski Gurriel, handed $47.5 million by the Houston Astros in July of that same year, are simply a pair of brothers with flashy hair and productive starts to their respective careers.
In Cuba, however, they're baseball royalty.
Sitting side by side at a Rogers Centre podium with Jays translator Josue Peley prior to the start of Monday's three-game series, 24-year-old Lourdes and 34-year-old Yuli wore ear-to-ear grins ahead of their first-ever on-field meeting, taking time to talk about the path that's brought them to this point.
"I'm the fortunate one here," said Lourdes, who carries the name of his famous father, a player with an Olympic gold medal from 1992 in Barcelona and a Cuban National Series MVP on his resume. "I was the youngest one and I had a chance, not to look just at him but also my other brother and my dad, and see how they went about their business. Not only on the field but off the field, how disciplined and respectful they were with everybody. I'm very fortunate to have him."
Big brother has been watching proudly from afar as Lourdes has looked more and more comfortable as his rookie season has gone on.
"After every game, I watch every single at-bat and I make sure I follow everything he does," Yuli said through Peley. "I'll be honest, I'm really proud that he's here, and I still don't believe it that he's here in the big leagues. And that fast."
Kendrys Morales has a unique perspective on it all.
He's spent the past five months getting an up-close look at Lourdes, but the 35-year-old Blue Jays designated hitter also played with both older brothers in Cuba.
"Since we were young, I played with both of the older ones — Yulieski and Yuniesky — so I've known them for a really long time," Morales said via Peley. "It's a huge family and they're all ballplayers and, of course, the biggest is their dad, he's a legend over there. He's the man there.
It's impressive to see that all three brothers were good in baseball and now with Yuli and Lourdes being in the big leagues and succeeding, it's something that's amazing."
In Morales' final season in Cuba in 2003-04, he hit .358 for Industriales de La Habana.
Yuli, suiting up for Gallos de Sancti Spiritus, also hit .358.
Since arriving in North America, Yuli has mentioned on a couple of occasions that Lourdes is more talented than him, which is saying a lot when you consider the 34-year-old's best two seasons in Cuba — they were all above average — saw him slash a gaudy .399/.472/.710 with 22 homers in 2008-09 and then hit .363/.455/.686 with 30 bombs in 2009-10.
"He's always been the best everywhere he played in Cuba," Morales said of Yuli. "He's always been a good hitter, a guy that dominated."
Both have hit the ground running in North America in different ways.
Yuli is a productive bat in the middle of one of the best lineups in baseball, and he's already got a World Series ring.
While Lourdes can't match his brother's resume at any level just yet, he comes with a couple of exciting attributes: Upside and affordability.
His long-term home defensively is still in question, but the bat has always been the calling card, and if his age-24 rookie year is any indication, he's going to be quite comfortable against MLB pitching in the coming years.
Lourdes' .282/.309/.446 slash line has already exceeded expectations.
Already wielding a big league-calibre bat, the major league deal GM Ross Atkins inked him to almost two years ago is shaping up to be a massive bargain.
After earning $1 million in 2018, Lourdes will pull in $1.5 million next season, $2.5 million in 2020, $3.5 million in 2021, $4.5 million in 2022, and $5.4 million in what will be his age-29 season in 2023.
The Jays will be getting his prime years with a whole lot of surplus value attached if Gurriel continues to progress and improve.
Morales can already see him doing the family name proud down the line and helping expand the Gurriel brand.
"He's a guy who has a lot of talent," Morales said. "I will say this, though — he's still got a lot to learn. He just got to the big leagues and he's just going to get better and better. I know he's going to put that (Gurriel) name up there."