Habs acquire Scott in three-team trade
The Montreal Canadiens acquired forward John Scott from the Arizona Coyotes and defenceman Victor Bartley from the Nashville Predators in a three-team trade on Friday. As Bob McKenzie points out, this likely ends Scott's participation in the NHL All-Star game.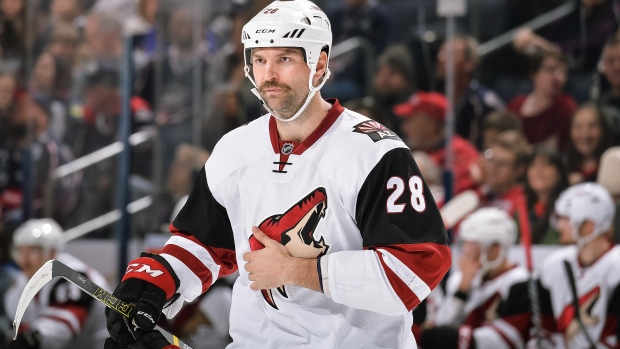 BROSSARD, Que. - Montreal Canadiens general manager Marc Bergevin may still try to prod his struggling team with a major trade, but the deal done Friday wasn't it.
The Canadiens sent little-used defenceman Jarred Tinordi and minor league forward Stefan Fournier to the Arizona Coyotes for tough guy John Scott and defenceman Victor Bartley, who were immediately assigned to the St. John's IceCaps of the American Hockey League.
The six-foot-eight Scott is the best-known player in the deal, if only because he was playfully voted in by fans as captain of the Pacific Division team for this year's NHL all-star game. The 33-year-old has five goals, six assists and 542 penalty minutes in 285 NHL games. It was unclear if being sent to the minors would affect his eligibility to play in the all-star game.
The move drew predictable jokes on social media about the Canadiens trading for an all-star.
A trade to boost the attack had been expected with the team in a 5-14 funk since Dec. 1 after starting the season with a team-record nine-game winning streak.
The slump coincided with a lower body injury to star goalie Carey Price, but it is the offence that has sputtered while back-up Mike Condon has done a decent job in goal. Price resumed skating, without pads, this week and may be back after the Jan. 31 all-star game.
Bergevin did not comment on the deal, which started with the Nashville Predators dealing Bartley to Arizona for defenceman Stefan Elliott.
The only immediate benefit for Montreal appears to be removing Tinordi's US$850,000 salary from the team's cap.
Tinordi was a hot prospect when Montreal made a deal with Arizona to move up in the draft and select him 22nd overall in 2010. But despite his size and pedigree, the son of former rearguard Mark Tinordi spent most of his time in the minors.
The 23-year-old, who played in only three games this season and has six assists in 46 career NHL contests, had fallen to ninth on the Canadiens depth chart on defence, but was kept in Montreal because he needed to clear waivers to be sent to St. John's.
He will get a new chance to prove himself with the Coyotes.
Earlier Friday, the Canadiens returned small forwards Daniel Carr and Sven Andrighetto to St. John's and called up six-foot-two forward Jacob de la Rose.
Coach Michel Therrien said he wanted the "heavier" de la Rose on his fourth line heading into games Saturday in St. Louis and Sunday in Chicago.
They also expect to have right winger Dale Weise back after missing four games with an upper body injury. He needs clearance from team doctors to play in St. Louis.
"I feel good," said Weise, who is having a career year with 11 goals and nine assists in 40 games. "With two weeks off, you get to work on your shot. I feel it's better than when I left."
His return would have the Canadiens fully healthy at forward for the first time since their slump began. Weise said getting the lines at the start of the campaign back together could help an offence that has scored one or fewer goals in nine of the last 19 games.
"We played our best hockey when we've had our whole lineup together this year," said Weise. "When you've had guys interchanging and playing in different spots, it's tough.
"We had a lot of chemistry at the beginning of the year when we had our lines intact."
Bartley played only one NHL game this season before being sent to the AHL. He has one goal and 22 assists in 112 career NHL games.
The 23-year-old Fournier split this season between the AHL and the ECHL.