Habs acquire Smith-Pelly from Ducks
Jiri Sekac's tenure with the Montreal Canadiens was a short one. The team sent the Czech winger to the Anaheim Ducks for right winger Devante Smith-Pelly. Sekac, 22, signed a two-year deal with the Canadiens in the summer. A native of Kladno, Czech Republic, Sekac appeared in 50 games for the Canadiens, scoring seven goals and adding nine assists.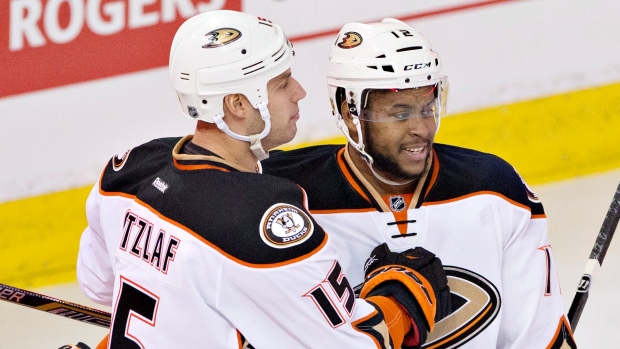 Devante Smith-Pelly knows what he's getting into with the Montreal Canadiens.
"I know it can get nuts down there but I'm pretty excited," Smith-Pelly said Tuesday.
The Mississauga, Ont., native was dealt to Montreal by the Anaheim Ducks in exchange for rookie Jiri Sekac in a swap of players who are similar in many ways.
The difference is that Montreal got a physical, right-shooting winger in Smith-Pelly in exchange for a quicker, flashier left-hand shot in Sekac.
"It was a good trade for both teams," Canadiens general manager Marc Bergevin told reporters in St. Louis, where his team was to face the Blues on Tuesday night.
The straight player-for-player swap between two of the NHL's top clubs was the first move by each team ahead of the NHL trade deadline on Monday.
Bergevin said Smith-Pelly's physical play and penalty killing ability will help in the playoffs. He had five goals in 12 post-season games for Anaheim last spring.
"He's also a right-hand shot. I've been looking for one of those for awhile," Bergevin added.
Ducks GM Bob Murray was looking for skill.
"We needed to get a little faster, a little more skill in the lineup," said Murray. "No complaints with Devo. I thought we had to make a hockey trade to change the look of our team."
Both Smith-Pelly and Sekac are 22, born four days apart in June 1992. Both played in the 2012 world junior championship, with Smith-Pelly taking bronze for Canada despite missing all but the first game due to a broken foot and Sekac finishing fifth with the Czech Republic.
Smith-Pelly's world junior teammates included Canadiens Nathan Beaulieu, Brendan Gallagher and Michael Bournival.
He is six foot, 222 pounds, while Sekac is six foot two and 195 pounds. Both are signed through 2015-16. Smith-Pelly earns US$800,000 while Sekac has a $1.35-million cap hit.
And both are in the midst of scoring slumps
Smith-Pelly had five goals and 12 assists in 54 games and averaged 14:38 of ice time for the Ducks this season, but the Mississauga, Ont., native has not scored in 10 games and has only one goal and six assists in his last 31. He's been sat out four times.
"The lines were always changing (in Anaheim)," Smith-Pelly said of his slump. "I've been a right-winger my whole life and I've been playing left-wing and centre. Getting moved, it's kind of hard to get traction."
Sekac has seven goals and nine assists and averaged 13:48 of ice time per game in 50 games, but has no goals and two assists in 21 games since Dec. 29. He was a healthy scratch twice last week.
The Canadiens, who have been winning despite ranking 23rd in NHL scoring at 2.56 goals per game, were thought to be seeking offence on the trade market. Instead, they got the Ducks' hits leader with 147.
Smith-Pelly is in his first full NHL campaign. He has 14 goals and 26 assists in 129 regular-season games since making his debut with Anaheim in 2011-12. He was drafted 42nd overall in 2010.
The never-drafted Sekac signed as a free agent with Montreal from Lev Prague of the KHL on July 1 after fielding offers from at least 12 NHL teams. He was impressive early in the season, but looks to have lost the confidence of coach Michel Therrien.
"(Sekac) has good upside offensively," added Murray. "He can skate, he can shoot. He's one of those late bloomers."
The teams are to face one another in Anaheim next week. Smith-Pelly's first home game will be Saturday against the Toronto Maple Leafs, his favourite team as a child.