Habs bounce back to top Flyers
Tomas Plekanec scored the eventual winner while shorthanded in the third period as the Montreal Canadiens beat the Philadelphia Flyers 5-4 on Saturday night.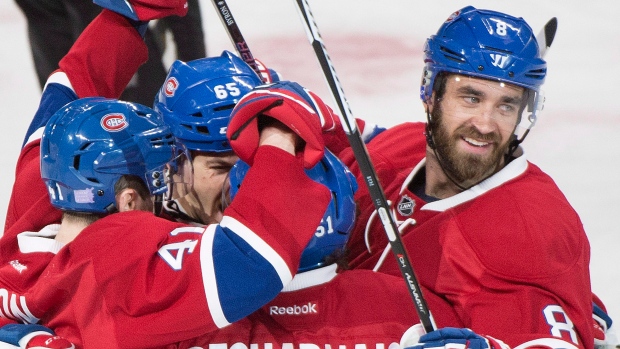 MONTREAL — The Montreal Canadiens knew just how important it was to rebound from one of their worst performances in decades.
Montreal beat the visiting Philadelphia Flyers 5-4 on Saturday, less than 24 hours after a 10-0 drubbing at the hands of the Columbus Blue Jackets — the first time the Canadiens conceded 10 goals since Dec. 2, 1995.
"It was 100 per cent necessary and everyone knew that we needed to bounce back," said defenceman Greg Pateryn, who scored his first goal of the season against Philadelphia. "Everyone knew this morning what it was going to be about. We needed to move on."
The NHL-leading Canadiens (10-1-1) were far from perfect on Saturday, but they did just enough to get back in the win column and snap Philadelphia's three-game winning streak in the process.
The Flyers (6-6-1) outshot Montreal 38-17 and managed to beat Carey Price four times — the first time Price has allowed more than two goals this season.
"It wasn't that hard for us to get up for this game after what happened to us," said Brendan Gallagher. "It's never easy playing back-to-back, but we kind of had no choice but to show up and compete today.
"I thought we were much better than the last few games."
Tomas Plekanec scored the eventual winner at 10:57 of the third period while the Habs were playing down a man. Streaking down the wing, Plekanec beat Michal Neuvirth five-hole for his first goal of the season.
"What a big goal by Pleky," said Phillip Danault, who also scored in the third period. "Proud of him too. He deserves it. He works hard every day. I think we were more happy than he was."
Canadiens coach Michel Therrien played around with his lines on Saturday, most notably putting Artturi Lehkonen on the first line with Alex Galchenyuk and Alexander Radulov.
But it was Montreal's defencemen who provided the offence to start the game.
Andrei Markov made it 1-0 just 1:06 into the contest, jumping on a giveaway by Sean Couturier and firing home his first of the year. Neuvirth got his glove on Markov's slap shot, but not enough of it as the puck trickled in.
After Chris VandeVelde and Shayne Gostisbehere got two goals in quick succession for the visitors, Pateryn made it 2-2 for Montreal at 9:09 of the first. The young defenceman just threw the puck on net, and a screened Neuvirth saw absolutely nothing until it was already too late.
Galchenyuk put the Canadiens ahead late in the second period, scoring at 18:38 on Montreal's third shot of the middle frame. The first-line centre, all alone at the side of Neuvirth's goal, took a cross-ice pass from Radulov through traffic and scored into a gaping net for his fourth goal of the season.
Galchenyuk now has six points in his last five games.
But the Flyers refused to give up.
After Danault made it 4-2 in the third period, Claude Giroux made things interesting again, scoring on the power play at 9:16.
Plekanec answered back with his short-handed goal on that same four-minute minor to Andrew Shaw, but still the visitors did not roll over.
Travis Konecny gave Philadelphia life at 16:16, tipping Ivan Provorov's shot past Price to bring his side back to within one.
"Looks like when the game is coming to an end, we pick it up a little bit," said Giroux of Philadelphia's never-say-die attitude. "But we have to find a way to play like that for 60 minutes. It's tough to play aggressive like that for a full game, but if we do that we're going to be a dangerous team."
Price stopped 34-of-38 shots while Neuvirth made 12 saves in defeat.
Notes: Montreal improved to 9-0-0 when scoring first this year. … The Canadiens remain perfect at home this season 7-0-0. … The Habs are 6-0-0 at home against the Flyers in their last six games. … This was the second of three meetings between Philadelphia and Montreal this season.