Habs' Danault leaves game on stretcher
Montreal Canadiens centre Phillip Danault was taken off the ice on a stretcher after being hit in the head by a Zdeno Chara slapshot on Saturday night.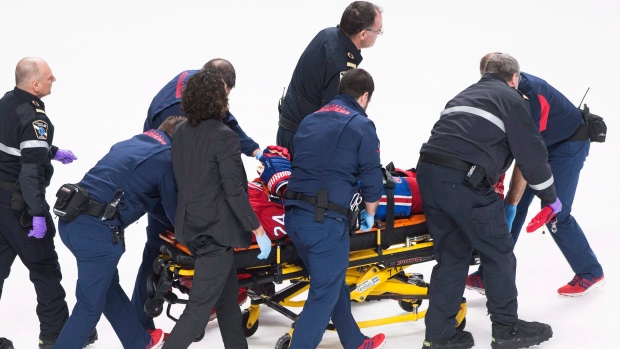 MONTREAL — The Bell Centre went silent when Montreal Canadiens centre Phillip Danault lay on the ice after being hit in the head by a Zdeno Chara point shot on Saturday night.
Danault left the ice on stretcher and was taken to hospital, where the team said in a statement he was conscious and moving.
That was a relief for Chara, the big Bruins defenceman who owns one of the NHL's hardest shots.
"I was hoping that he was not hurt," said Chara. "That's obviously the first thing that goes through your mind.
"It happens. It's unfortunate. Sometimes we all get hit somewhere in the upper body. On that particular play I was getting a pass off the boards and the puck probably was bouncing. You never want to see anyone get hit in the head or the neck area and get carried off the ice. Hopefully Phillip is now recovering. The last news we had he was in hospital getting treatment and he was doing fine. I'm obviously wishing him a fast and full recovery."
The rising shot at 18:23 of the second period looked to hit Danault on the side of the head. He lay on the ice for several minutes before being lifted onto a stretcher and taken away for treatment.
He was moving and appeared to be speaking to medical staff before he left the ice, to an ovation from the crowd.
The Canadiens issued a statement during the third period that said: "Danault suffered a head injury. He was taken to the hospital for further exams. He is awake and moving."
Canadiens coach Claude Julien said after the game that Danault would remain in hospital overnight and would be re-evaluated on Sunday.
Chara and other players from both teams gathered around Danault as he was attended by medical staff. As Danault was leaving the ice, Chara went over and said something to him.
"I wanted to make sure he was OK," said Chara. "He was talking to me and responding so that made me feel better that he's OK and he's not in a condition where he's not responding. So I was glad that he was doing OK."
Danault, a 24-year-old Victoriaville, Que., native, was a first round draft pick by Chicago in 2011. He is in his third full NHL season. He usually plays on a top line with Max Pacioretty.
He has seven goals and 15 assists in 43 games this season.