Habs' Montoya the front-runner to back up Price
When the Montreal Canadiens signed veteran Al Montoya as a free agent this summer it took some of the drama out of the training camp battle for the job as Carey Price's backup.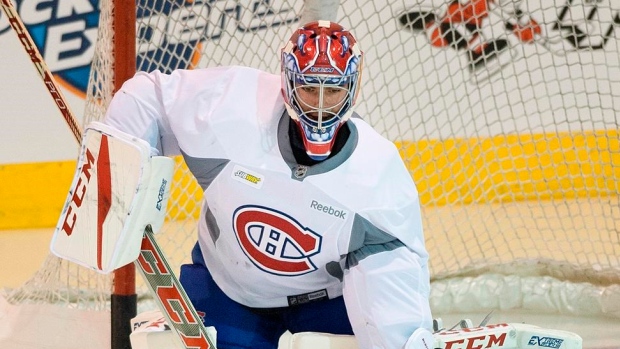 BROSSARD, Que. — When the Montreal Canadiens signed veteran Al Montoya as a free agent this summer it took some of the drama out of the training camp battle for the job as Carey Price's backup.
Montoya, 31, is a seasoned NHL backup who is coming off a strong showing behind Roberto Luongo with the Florida Panthers. He went 12-7-2 with a 2.18 goals-against average last season.
The move looks to have pushed last year's backup, Michael Condon, down the depth chart, where rookie Charlie Lindgren and prospect Zach Fucale are also competing for jobs.
It is not out of the question that one of them can bump Montoya aside, but they would need an exceptional camp to do so.
"Obviously, we like Montoya's experience," coach Michel Therrien said after the club's first day of on-ice workouts at training camp on Friday. "He had a good season with the Panthers, but it'll be a battle.
"With the young guys, we want to make sure they're not just knocking on the door, we want them to hammer the door; to know that by their performance, attitude and work ethic that they want to join our club."
Condon stole the backup job from Dustin Tokarski with a brilliant camp a year ago, but the 26-year-old rookie got thrown in the fire when Price blew out a knee on Nov. 25. Thrust into the starting job, the American struggled along with the rest of the Canadiens as they plunged from first place to well out a playoff contention in a miserable season.
General manager Marc Bergevin brought in veteran Ben Scrivens in mid-season, but it didn't stop the bleeding and he was let go.
Lindgren, 22, joined the club late in the campaign from St. Cloud State University and got into one NHL game, an impressive 4-2 win over Carolina on April 7.
Fucale, 21, drafted 36th overall in 2013, looked to be a goalie for the future when he started for Canada at the 2015 world junior championship but the Montreal native had a middling first year of pro hockey on a weak team with St. John's of the AHL.
The race now may be to see which of Condon, Lindgren and Fucale become the goaltending duo in St. John's and whether one will be assigned to the ECHL.
"Management said clearly that there are jobs up for grabs," said Fucale, who went 16-19-4 with a 3.13 goals-against average last season. "Our responsibility is to force difficult decisions and I intend to play hard and try to force decisions."
He wasn't dismayed at the Montoya signing.
"He's a great goalie, a great person," said Fucale. "I've learned a lot from him already and that's good for me and for everyone.
"All in all, I think I have a lot of learn. It doesn't change anything for me."
Montoya is confident he is the backup and is looking forward to working behind Price, considered by many as the world's best goaltender. The Canadiens clearly wanted an experienced backup to avoid a repeat of last season should Price be injured again.
"My job is to get ready for the season," said Montoya. "I'm excited to put on this jersey and try to help this organization get back in the playoffs.
"I've played behind some fantastic goalies, Luongo the last two years. I learned a lot. I think Carey and me have a more similar style than me and Lou, but just to learn off him, feed off him, whatever it may be, I'm looking forward to it."
Montoya was drafted sixth overall in 2004 by the New York Rangers but never established himself as a starter in stints with Phoenix, the New York Islanders, Winnipeg and Florida.
The first scrimmage of camp was highlighted by a penalty shot goal from off-season signing Alexander Radulov, who beat Lindgren between the pads. Radulov skated with Andrew Shaw and Brian Flynn, who was filling in for Tomas Plekanec while the Czech returns from the World Cup of Hockey. Similarly, prospect Artturi Lehkonen was in Max Pacioretty's spot on the top line with Alex Galchenyuk and Brendan Gallagher.
Defenceman Mikhail Sergachev, the ninth overall draft pick who has an outside chance to make the team, is expected back early next week after suffering an upper body injury during last week's rookie tournament in London, Ont.