Habs 'superfan' Baruchel puts the love of his team on paper in new book
From big revelations, to being a Habs fan in Toronto and what he thinks of this year's team, Jay Baruchel talked to TSN.ca about his new novel Born Into It: A Fan's Life and his genetic fear of talking about himself.
Brianne Spiker, TSN.ca Staff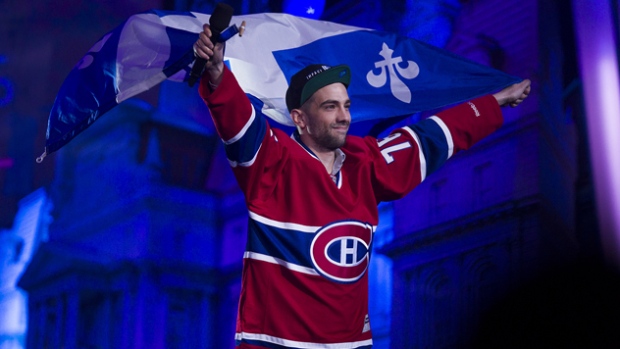 Throughout the career of Canadian actor Jay Baruchel, his love for the Montreal Canadiens has never been a secret and that affinity for Les Habitants has now led him to parlay his fandom into a full-blown novel.
So what made this Habs super fan decide to put his love for his team on paper?
"There was a book that didn't exist that I thought maybe should, which is how to articulate the macro-experience to be a fan," Baruchel told TSN.ca. "For something that is intricately Canadian, that we all share, there was a desperate lack of mythos about the shared experience we have."
For Baruchel, that shared experience is something uniquely Canadian.
"In this country, we all know the romance of pond hockey and a kid lacing up for the first time and getting a stick from his parents and all that stuff," Baruchel said. "There is none of that romance for the packed living room, the packed kitchen or basement, the bar, the nosebleeds, the kind of conversations that everyone gets into when one watches those games with anybody."
While the book itself focuses heavily on Baruchel's fandom, it also shifts to more personal aspects of his life. He described the writing process for the novel to be "very hard" for a variety of reasons, including his own fears.
"I have a built-in genetic fear of talking about myself and I was raised to not talk about myself and there is much more interesting stuff to talk about than me," Baruchel said. "And just actually doing the [expletive] thing. It's a bit of a herculean task to write a minimum of 60,000 words. There were plenty of times I was in the middle of it like, 'Why do you think you could do this? Who told you you could do this?' But there were times I was real proud of it and connected to it and was like, 'You know, if I read this book, I would dig it.'"
Not only did the writing process allow for the 36-year-old Baruchel to face his fears, it also allowed him to examine his relationship with his father and find some closure.
"I was able to forgive my dad for a bunch of s--- [that] I hadn't [before]," Baruchel said. "In writing this book, I was able to understand him in a context outside of him as my dad – a context of him as a man. And not only was I able to forgive him - and even sympathize with him – I definitely was able to understand him."
When it comes to the intensity of his fandom, it wasn't necessarily love at first sight for Baruchel when it came to the Habs.
As a child, Baruchel knew the team was important to his family and he respected it and knew what it was but says they "didn't really mean much" to him. It was after a teenage rebellion against his father in that he was able to find his fandom.
"When my dad passed away when I was 21, I was able to watch the games on my own and understand and find my own connection to watching the Habs," Baruchel said. "And then I became full blown superfan after that. Sometimes you need to go away to come home again."
For Baruchel, home is now Toronto and he's more than happy to represent the Habs in enemy territory and enjoys the push and pull of chirping Leafs fans and getting it right back. Still, it doesn't compare to being around other Habs fans back in Montreal.
"Sometimes I miss being in the throngs of red sweaters outside the Bell Centre on a summer night after we beat the s--- out of Boston or something," Baruchel said. "There's no place else I'd rather be on Earth. However, it's super fun to rep the Bleu, Blanc et Rouge here...especially when they play the Leafs and half that stadium is ours. There are so many people from across the country that move here that lord knows there are enough Habs fans here to feel at home."
As for this year's edition of the Habs, Baruchel has been impressed so far. He cites the lack of expectations as a reason the team is succeeding early on.
"It's just the first team in years where Montreal has just backed off from its over-analysis and let [head coach Claude] Julien coach these kids and he came up with a system that suits them and they play fast, exciting and entertaining hockey," Baruchel said. "[Max] Domi has got a big chip on his shoulder and wants to prove to the league what he can do. [Brendan] Gallagher, every year, gets better and better and better. He's been one of my favourite players consistently since he arrived. I think that if [Carey] Price is Price this year, we're definitely still around in the postseason."
Whether or not the Habs return to the playoffs remains to be seen, but if they do, rest assured Baruchel will be right there watching it all unfold.