Hadwin, Conners scramble to make the cut
When asked to sum up his second round of the PGA Championship, Adam Hadwin had a succinct description. "It was just kind of a weird day," he stated. TSN's Bob Weeks has more from the PGA Championship.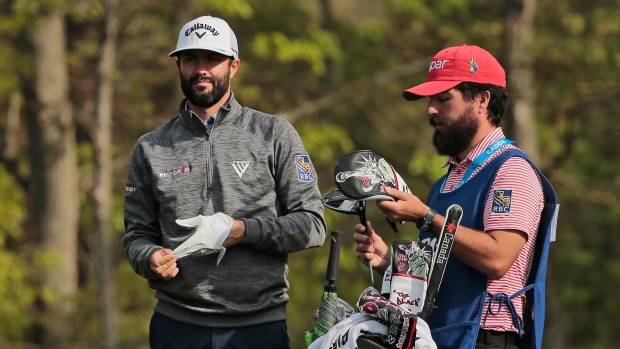 FARMINGDALE, N.Y. -- When asked to sum up his second round of the PGA Championship, Adam Hadwin had a succinct description.
"It was just kind of a weird day," he stated.
Indeed it was. He had some missed fairways, frustrating putting, some scrambling pars, and a big finish that allowed him to continue on into the weekend. It ended on a high note with the Abbotsford, B.C., product saving his best for the last two holes.
He stood on the par-3 17th tee coming off two bogeys that dropped him to three over par. He and his caddie Joe Cruz knew they were flirting with the cut line, although not certain as to where it might fall. But they knew they couldn't afford another bogey.
"We were sort of talking about it, figuring three has got to be safe, not 100 per cent though," admitted Hadwin. "Before we went out it looked like the golf course was playing a little bit easier today and scores weren't as high and you never quite know. I went to a shot that I hadn't been pulling off all day."
That shot was a cut six-iron that flew at the flag before settling about 15 feet behind the pin. Two putts later, he was in for a solid par.
A solid tee shot on 18 led to another silky approach shot, this one coming to rest just eight feet from the cup. Hadwin rolled the ball in for a closing birdie and a Saturday tee time.
"It felt great," he said of the second shot on the final hole, but I also knew I had to hit the putt which I hadn't made all day so it's funny. It's one of those weird things. I made everything for par early and made nothing for birdie coming down the back when I started playing better."
Hadwin held his round together early on with save after save. He missed seven greens in his first dozen holes and managed to scramble for par every time. When he did start hitting greens later in the round, he couldn't get the ball into the hole.
"The putter held me in early," he stated. "I made a lot of seven- to 10-footers for par in that middle stretch of golf. And then I finally got settled in, started hitting some greens and had some good looks. None of them went in."
Corey Conners posted his second straight round of 72 on Friday, but the final score was about the only thing the same with the two rounds.
While his opening 18 on Thursday was made up of a double and 17 pars, Friday's round was a little more erratic with lots of ups and downs.
On the positive side, Conners finally managed to make a birdie, two of them actually, after going the first 18 without one. The first came after he drained a 22-footer on the 18th hole (his ninth), easily the longest putt he's made in 36 holes.
But off the tee, where he led the field in the first round, he wasn't quite as consistent, landing in the short grass only eight times. That forced him to go into scramble mode.
"I made a couple of birdies, which is nice," smiled Conners after his round. "I didn't do that yesterday. But I was less consistent today. I missed a few drives, which I was expecting. I knew I couldn't keep hitting every fairway – it's just not realistic. . . . I was a little up and down. I made some mistakes with the putter, which is disappointing because I've been rolling the ball well."
Conners used 32 putts on Friday, better than the 35 he needed Thursday but still a long way from where he'd like it to be. In addition to the birdie on 18, Conners only managed to hole two other putts of seven feet or longer.
Like many players, the 27-year-old admitted to getting caught reading too much break into the greens. Balls look as if they will break at the hole but too often simply stay straight and slide past the hole, or come up short and stay wide.
"I wasn't being aggressive enough," Conners stated. "I was trying to make the ball break and hitting it a little softer so it takes the break and left some short. I had a really silly three putt on eight, my second-last hole. Same thing on seven, I had a really good look."
After playing his first six holes in two over, he looked as if he would be on the outside of the cutline looking in. However he resisted the urge to get too aggressive, wisely knowing that the course would likely win that battle.
"That's when you really get yourself into problems," analyzed Conners. "I was trying to just keep hitting good shots and I had some chances. Making the turn I had a really good birdie on 18 and I knew if I stayed settled for the second nine, try and shoot a couple under and I could get back into the mix a little but I wasn't really trying to force it, just hit quality shots and take your medicine when you're out of position."
The final result was good enough for a weekend tee time although he had to wait until late in the day to see the cut line move to four over.
"I'm embracing the challenge," he said of trying to tackle the notoriously tough Bethpage Black. "Obviously I would have liked to have scored a little better but it's a fun challenge, it's fun to be out there. You have to grind all day, every shot and it's something I really enjoy."