Hadwin hoping to increase his star power
Canadian golfer feels an off-season of hard work has him pointed in the right direction as he tees it up at the Genesis Open in Los Angeles, Bob Weeks writes.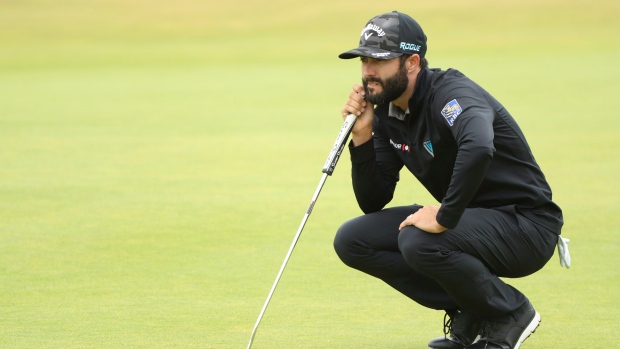 In a city known for its entertainment star power, Adam Hadwin is hoping he can rise and join the biggest names in the golf world.
As he makes his 130th start on the PGA Tour this week at the Genesis Open in Los Angeles, the Abbotsford, B.C., product has already earned $8.9 million in his brief career. But what he is really striving for is to become one of the game's best golfers.
So far, his season is headed in the right direction with some solid finishes that show the hard work he put in over the off-season is starting to pay off.
"I certainly can't complain," Hadwin said on Monday at a corporate outing in Palm Desert. "I got into contention in the desert and had a couple of top 10s in the fall. I put together a nice round at Monterey Peninsula last week to get back in it. I didn't really have much on Sunday, to be honest. I kind of lost the swing a little bit so I was battling all day, but I was proud of the way I hung in there and kept hitting shots.
"It's tough out there. If you don't hit good shots you'll fall back out here on the PGA Tour. There are just a lot of really good players. But I'm extremely happy with the way things are going."
While Hadwin had a decent season a year ago, he became frustrated in the second half when his finishes seemed to be in the 50s and 60s rather than higher up.
Putting was a major factor for his slide most weeks and much of his off-season was spent on the green. Last year, he was ranked 139th in Putting Average. So far this year, he's 27th. He's hoping that will help him become more consistent, even when he doesn't have his best stuff.
"That's the goal," admitted Hadwin. "That's what we've been working towards – when I'm not feeling the greatest during tournament weeks, to keep battling, to get into the top 15, to get into the top 20, when I may not have felt like I played my best golf.
"And when I am playing well, it's about how I take advantage of that and have a chance to win. I've done some really good things the last few years on tour. I've had a number of experiences that have helped propel my thirst to get better."
Not only does Hadwin hope to get more chances to win, but improved play would also get him into major championships and World Golf Championship events.
"Having this year not being exempt for majors has certainly made things a little bit different," Hadwin stated. "I'm not currently qualified for the WGC Mexico next week but a good week here could go a long way for that. There are still some things to be figured out and some big events coming up – some big fields with Players, this week with Genesis. If I can get into some of these WGCs and give myself some opportunities to creep into that top 50 and get myself into the Masters and get myself into a more comfortable position for the rest of the majors, that would be the goal."
Hadwin is currently ranked 58th in the world. Getting inside the top 50 would give him entries to most of the big events.
This week would seem to be a good one to make a move. He has a good record in his four previous starts at Riviera Country Club – he tied for sixth last year and has two other finishes inside the top 25.
There's also the Florida swing approaching that includes the Valspar Championship, site of the 31-year-old's first Tour victory. It's definitely an important time of the year for Hadwin to play well.
Perhaps the biggest goal on his list this year, however, isn't until December. It's the Presidents Cup and he dearly wants in. He was on the International side two years ago and wants to get back on the squad that will take on the Americans in Australia in December.
Captain Ernie Els has had several meetings with potential team members and encouraged them to play practice rounds together and to hang out, hoping to build some chemistry.
"I think that's one of the big things the International team lacks," Hadwin said. "We come from a number of different countries, speak a number of different languages, which means we probably don't spend a whole lot of time together. So he wants to bring together any potential players, get them together a lot more often throughout the year. Hopefully get us to play practice rounds together, get us comfortable with each other so that hopefully when December rolls around we're ready to go as a team."
This week, Hadwin will attempt to increase his star power at what's expected to be a rainy Riviera Country Club. In fact, he'd love nothing more than a starring role come Sunday afternoon.