Hall of Famer Bert Olmstead dead at 89
Bert Olmstead, a Hall of Famer who won five Stanley Cups, has died at the age of 89. Olmstead played 848 games for the Chicago Blackhawks, Montreal Canadiens and Toronto Maple Leafs between 1948 and 1962.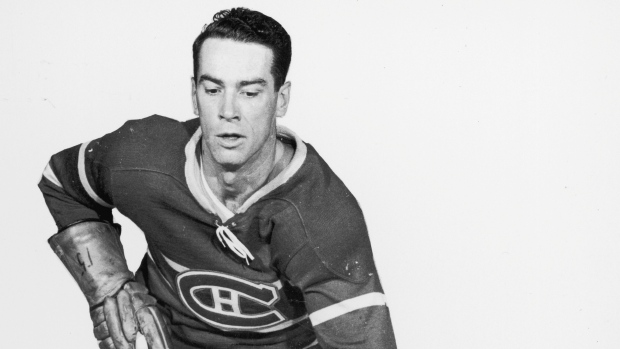 MONTREAL - Bert Olmstead, a Hall of Fame playmaker who won five Stanley Cups and skated alongside some of the game's greats, has died at the age of 89.
Olmstead died Monday in Alberta. The Montreal Canadiens announced his death Wednesday.
A tough winger, he played 848 games for the Canadiens, Chicago Blackhawks and Toronto Maple Leafs between 1948 and 1962. The Saskatchewan native was a key player for the Habs in an era when the team dominated the National Hockey League.
He won four Cups with Montreal (1953 and 1956 to 1958) and a fifth with Toronto in 1962. In all, he played in 11 Stanley Cup finals where he doubled as a playmaker and fierce checker.
As a Hab, Olmstead skated on a line with Elmer Lach and Maurice Richard, later playing left wing with Jean Beliveau and Boom Boom Geoffrion.
Beliveau, in his book "My Life in Hockey," called Olmstead a "hard-rock left-winger who could hammer an opponent senseless and seconds later chew you out on the bench because you were three inches out of position on a play.
"The best years Boom and I had — and remember that we won back-to-back scoring titles in 1955 and 1956 — was when Bert was on our line. He never let us relax or gave us a minute's rest. He was always after us, pushing, pushing"
As a Blackhawk, Olmstead played on the "Boilermakers" or "Meatball Line" with Metro Prystai and Bep Guidolin.
Olmstead tied Richard's record of eight points in a game when he scored four goals and added four assists in a 12-1 win on Jan. 9, 1954. On Nov. 5, 1955, he assisted on Beliveau's three goals in 44 seconds to set a record for fastest three assists in a game.
And he set a then-NHL single-season record for assists with 56 in 1955-56.
The Saskatchewan-born Olmstead became a playing assistant coach with the Leafs and went on to become the first coach of California Oakland Seals. He was inducted into the Hall of Fame in 1985.
NHL commissioner Gary Bettman called Olmstead "a fierce competitor."
"Bert's passion for the game earned unwavering respect from his teammates," he added.
Olmstead finished his NHL career with 181 goals and 421 assists for 602 points. He added another 16 goals and 43 assists in the playoffs.
Born in Sceptre, Sask., Murray (Bert) Olmstead played junior for the Moose Jaw Canucks, making it to the Memorial Cup in 1945.
The Canadiens had his pro rights and assigned him to Kansas City of the United States Hockey League, before trading his rights to Chicago. He made his NHL debut with the Hawks in the 1948-49 season, collecting 20 goals and 49 points in finishing runner-up to the Bruins goalie Jack Gelineau for rookie of the year.
Olmstead was traded to Detroit in December 1950, playing just one game before the Wings traded him to Montreal nine days later for Leo Gravelle. He stayed for the next eight years, helping the Habs make hockey history.
Worried that his knees were shot, Montreal left him unprotected in the intra-league draft after the 1957-58 season. Toronto picked him up and he helped the Maple Leafs find their own glory.
Olmstead eventually gave up his playing coach duties with Toronto. After the Leafs won the Cup in 1962, they made him available in the intra-league draft.
The New York Rangers claimed him but Olmstead refused to report. A rumoured deal to Montreal never came about and he retired.
He was twice voted to NHL all-star teams (1953 and 1956).
"I'm a hockey man through and through," he said in 2005. "I have a lot of love for the game and for what it means."