Hall of Famer Pilote dead at 85
Chicago Blackhawks legend Pierre Pilote has died. The three-time Norris Trophy winner as the National Hockey League's top defenceman was 85. He was inducted into the Hockey Hall of Fame in 1975.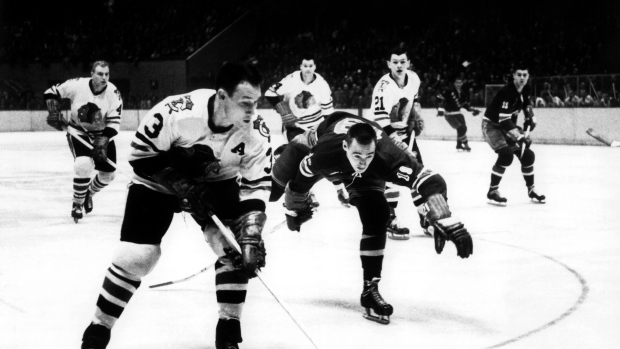 CHICAGO — Former Blackhawks and Maple Leafs defenceman Pierre Pilote, who won a Stanley Cup with Chicago in 1961, has died. He was 85.
The Blackhawks said in a statement Sunday that Pilote had died Saturday night.
Pilote, from Kenogami, Que., played a total of 14 seasons in the NHL from 1955-1969, 13 of those with the Blackhawks and one — his final season — with Toronto.
"The Chicago Blackhawks offer our sincere condolences to the family of Pierre Pilote as we mourn his passing," the statement said. "Pierre was one of the most decorated defenceman in NHL history and was a valuable member of the 1961 Stanley Cup championship team. He will be remembered for his toughness, leadership and reliability on the ice — as proven by his captaincy and streak of 376 consecutive games played.
"We will forever be grateful for his incredible contribution to the Blackhawks and the game of hockey."
Pilote served as team captain of the Blackhawks following their Stanley Cup winning season in 1961 to 1968. He played in 821 games and scored 477 points (77 goals, 400 assists) for Chicago.
Pilote added three goals and 18 assists to his career numbers during his one season in Toronto. He was traded to the Leafs from Chicago in 1968 for Jim Pappin.
"The @MapleLeafs offer their sincere condolences to the family of legendary defenseman and former Leaf Pierre Pilote on his passing," the team tweeted Sunday afternoon along with a black-and-white photo of Pilote in a Toronto uniform.
Pilote is one of just eight defencemen in NHL history to capture the Norris Trophy three times (1963, 1964, 1965).
His No. 3 sweater was retired by Chicago along with Keith Magnuson's in November of 2008, and he was inducted into the Hockey Hall of Fame in 1975.
"We are saddened with the passing of our father, but our family will always remember the Blackhawks organization for providing us with so many special moments," the Pilote family said through the Blackhawks release. "We are so proud of what our father accomplished in his professional career and thankful that his legacy will be preserved with the retirement of his No. 3 by the team."