Hamilton Tiger-Cats Season Preview
Get ready for the CFL season with TSN.ca's Team Previews. Check out roster breakdowns and season outlooks from CFL on TSN analysts. We'll roll out a new team each week day. Today, the Hamilton Tiger-Cats.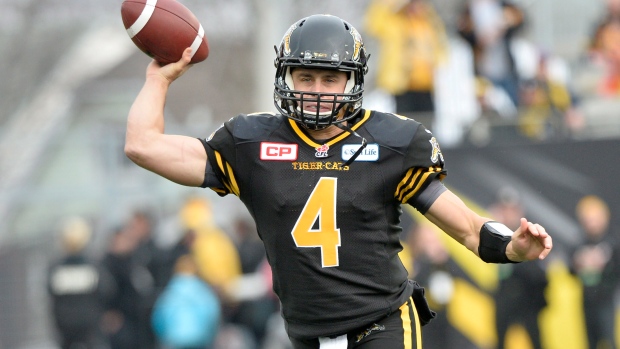 After two GC defeats, Ticats look to get over hump
Head Coach and GM: Kent Austin
| Record | Offence | Defence |
| --- | --- | --- |
| 9-9 | 330.8 (5th) | 314.2 (2nd) |
At least the Hamilton Tiger-Cats know how to start all over again.
A year after being forced to regroup from coming so close to the ultimate prize, the Ticats have to once again find a way to regroup from coming so close – even closer this time – to winning the last game of the season.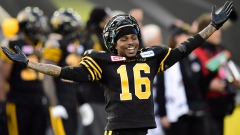 It was a much quieter off-season for the Ticats than Kent Austin's first two in Hamilton, with the head coach and general manager perhaps finally having built the team he wants to compete for the Grey Cup.
Nearly the entire East Division-winning roster returns for 2015 season with the notable exception of All-Star cornerback Delvin Breaux, who is now making a name for himself in New Orleans in the NFL.
If Zach Collaros can carry over his impressive second half to this year, the Ticats should be in the running as Eastern reps for the Grey Cup once again; if the new kick return rules open the field up even more for Brandon Banks, they should be a virtual lock.
Duane Forde's Canadian Content
Few teams have the depth to overcome the kind of losses that the Tiger-Cats have suffered to their Canadian talent base in 2015. Before even playing their preseason opener, Hamilton had already lost defensive tackles Brian Bulcke and Linden Gaydosh, and receiver Spencer Watt for the entire season.
However, considering that the Tabbies lineup still boasts the East Division's reigning Top Canadian in DT Ted Laurent, slotback Andy Fantuz, and safety Craig Butler, they remain in a solid position. In terms of depth, the Ticats hope that Michael Atkinson and Hasan Hazime can fill the void created by the injuries to Bulcke and Gaydosh, while Matt Coates, and S.J. Haidara vie to replace Watt.
Should they be forced to start an American at either of those positions, the Tiger-Cats actually still have enough ratio flexibility to do so. This is thanks to the presence of a ratio breaker in field corner Courtney Stephen, as well as the return from injury of Peter Dyakowski and acquisition of Ryan Bomben from Montreal. Dyakowski and Bomben, both proven starters at guard, create options for a team that was forced to play three Internationals on the O-Line last year. Grade: A
Matt Dunigan's Quarterback Analysis
How does Zach Collaros rally a team to start the journey again from scratch after coming so close to winning the Grey Cup?
How does Zach Collaros rally a team to start the journey again from scratch after coming so close to winning the Grey Cup?
That's the burning question for any quarterback, player, coach, or team going into every season.
It's a frickin' competition every time you step on the field, whether it's practice, regular season game, or a playoff game, it's about competing and beating your opponent.
Nothing changes for the Zack Collaros and the Ticats. It's about "The Process," like it has been since Kent Austin took over as head coach.
Whether it's Henry Burris two years ago, or Collaros last year leading the Cats to the Big Game, the emphasis on doing the little things, consistently, will not change for Hamilton.
Zach is going to be even better this season, as he will be involved with the same system the second year in a row. This always helps, see Mike Reilly in Edmonton, Jonathan Crompton in Montreal, Drew Willy in Winnipeg etc...
When you have continuity with the approach and with the systems you are running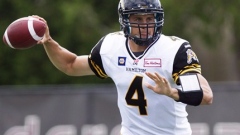 , you are able to make adjustments quicker and extensions to plays become more intricate. You are able to build on the core offence and continually expand when necessary. You are able to speak the language of football at a different level, and communicate faster and with more depth.
This helps with the implementation of game plans from week to week as you are able to do more because you understand the why's and how's in greater detail, such as, "why is a defence running this front, stunt, coverage and or blitz." Again, Zach will be assimilating more information and at a faster rate of speed because of this deeper understanding and familiarity with the offence. Which leads to the "how" aspect of attacking a defence. You become more involved in the process and actually become a coach on the field.
So Zach, this season should be able to play the game faster. He will be connecting the dots, getting his pre-snap reads, keys, and indicators quicker and already know where he is going with the football, often times before the ball is snapped. The game at that point slows down and seems, on many occasions, to be standing still.
When a quarterback gets to this level, that's when you see rhythm, timing, tempo and fluidity to his game.
These are the details, small things of the game that Zach will be working on and striving for; it is the process, the process of becoming a champion.
Farhan Lalji's Draft Analysis
The Ticats were the one team that assured itself of an immediate starter on draft day when they traded their first round pick to Montreal for Ryan Bomben. As Matthias Gossen showed last year, rookies are never guaranteed to start, no matter how high they were selected. Bomben is an experienced starter at a position the Ticats needed help badly. A fifth round pick was also given up for SJ Haidara, giving the Ticats immediate receiving depth in the form of a three-year veteran, instead of a rookie.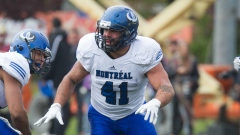 It's clear that after two straight appearances in the Grey Cup game, for Kent Austin, it's all about winning now.
The Ticats already have a glut of Canadian D-linemen, so for the actual rookie class that came out of the draft, it was all about making special teams coordinator Jeff Reinebold a happy man. The Ticats first three picks were linebackers Byron Archambault, Jonathan Langa and Ron Omara, players who should be able to take advantage of the new rules on punt teams and add to an already effective special teams unit.
| Round (Pick) | Player | Pos. | College |
| --- | --- | --- | --- |
| 2 (17) | Byron Archambault | LB | Montreal |
| 3 (20) | Jonathan Langa | LB | St. Mary's |
| 4 (29) | Ron Omara | LB | St. FX |
| 6 (51) | Everett Ellefsen | DL | McNeese State |
| 6 (52) | Daniel English | WR | UBC |
| 7 (61) | Preston Huggins | LB | Western |
Paul LaPolice's Scouting Report
Offensively, the Tiger Cats should benefit greatly from a healthy Zach Collaros, who missed five starts last season. He does a great job of keeping the Ticats on the football field by making plays; he scrambles, completes unorthodox passes under duress, throws short passes, and just has a knack for making plays. He should be more comfortable in the Ticats system in his second year. They love to throw quick screens and high percentage passes to move the ball.
Sacks can stop scoring drives and the Ticats had the eighth highest sacks allowed in 2015. They need to improve on that number to increase scoring average.
Defensively, the front seven of the Ticats were the most difficult in the CFL to rush against, holding teams to only 76 yards per game. Making teams one dimensional and then allowing ends Justin Hickman and Eric Norwood rush the passer is a great strategy.
The Tiger Cats have one of the deepest groups of National talent in the CFL. They have the ability to start as many as four Nationals on defence, giving them great flexibility. And that is exactly what you need when injuries strike, to be able to adjust your roster. The Ticats have the ability to adapt.
Brandon Banks has shown that if you kick to him, he can hurt you and will no doubt be in the running for Most Outstanding Special Teams Player. He was a force in the playoffs and with the new rules on covering punts, he will have more space to move. Expect the Ticats to be competing for the first round bye once again this season.
Read LaPolice's full analysis here
East: Redblacks, Argonauts, Alouettes, Tiger-Cats
West: Blue Bombers, Lions, Roughriders, Eskimos, Stampeders