Harden, Rockets rally in fourth to edge Jazz
James Harden scored 30 points and the Houston Rockets rallied in the fourth quarter to beat the Utah Jazz 93-91 on Monday night, ending their longest losing streak of the season at four games.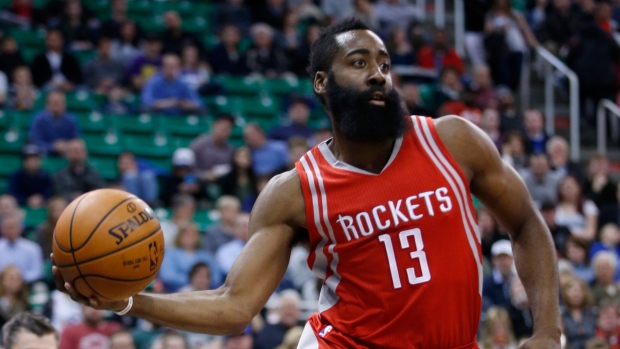 SALT LAKE CITY - The Houston Rockets desperately wanted to avoid a fifth consecutive loss Monday night. But that's exactly where they were headed, down 15 points through 31 minutes against the Utah Jazz.
And then James Harden took over.
Harden scored 30 points and the Rockets rallied in the second half to beat the Jazz 93-91, ending their longest skid of the season at four games.
"He was aggressive," Houston interim coach J.B. Bickerstaff said. "We recognized a certain play that was working for us, so we went back to that play. He and (Jason Terry) in pick-and-roll, you've got two guys that are capable of scoring. They provide a mismatch if they decide to switch it.
"We found something we thought we liked and we went to it and kept going to it. I think we wore James out a little bit."
Utah led by 15 midway through the third before Harden began to heat up. He scored seven straight points on a 3-pointer, a floater and a dribble-drive layup to get the margin down to single digits.
Harden's layup with 1:55 remaining gave the Rockets an 89-87 lead they never relinquished.
Rodney Hood had a chance to tie it for the Jazz with 6 seconds remaining but missed the third of three free throws to leave Utah down by one.
"We found something that worked offensively and we just stuck with it," Harden said. "Defensively we did a good job, we just had to rebound the basketball. They had too many offensive rebounds and we turned the basketball over too many times. That was the story of the first half.
"We kind of limited that in the second half and got some stops and rebounded the basketball. And we got some buckets to fall."
Harden was held to eight first-half points, but was much more aggressive in the second. He finished with seven assists and five rebounds.
Dwight Howard had 16 points and 13 rebounds for Houston.
Hood led the Jazz with 23 points and matched a career high with five 3-pointers. Gordon Hayward added 20 points and seven rebounds.
The Rockets jumped out to a 28-21 lead in the first quarter, only to see the Jazz hit seven 3s in the second. Utah closed the first half on a 19-5 run that included a pair of 3-pointers from Hayward and took a 58-48 lead into the break.
"You could feel at the beginning of the third quarter they really turned up their physicality," Jazz coach Quin Snyder said. "You could just feel it. Then in the fourth quarter ... we didn't get as many good looks. We only got one 3-point shot.
"Couple of those guys, we couldn't really get by them. As a result, the ball stopped."
TIP-INS
Rockets: Ty Lawson did not dress (left ankle sprain), and Donatas Montiejunas (sore back) and Marcus Thorton (personal reasons) were not with the team. ... Trevor Ariza scored 13, including three 3-pointers.
Jazz: Hood had his first child on Sunday, a son. ... Derrick Favours missed his sixth consecutive game with back spasms. ... Trey Lyles scored a career-high 13 points. ... Utah shot 4 for 17 in the fourth quarter.
DEFENSIVE STRUGGLES
The Rockets allowed 100-plus points in their previous four losses and 58 points to the Jazz in the first half. Bickerstaff addressed the issue before the game. "Just be more consistent, and then we have to get defensive rebounds," Bickerstaff said. "That's one of the biggest things that has let us down in the past few games."
FLASHING LIGHT
Harden stopped the game in the middle of two free throws to point out a fan who had shined a light from a flashlight in his eyes. The game was halted for several minutes as arena workers went into the stands and removed the offending person. The person receives a year ban from all NBA games.
QUOTABLE
"Any win for us is a big win," Bickerstaff said. "With this group, we need a little bit of a run of success. This group needs that. They've been working at it, so they deserve that. No one's going to give it to us, so we're going to have to go out and take it. ... I think this team has a run in them where we can run off a few wins in a row, get our confidence up, get the belief in who we really are."
UP NEXT
The Rockets host the Jazz on Thursday.
The Jazz travel to face the Spurs on Wednesday.