Harvey goes nine as Mets down Yankees
Matt Harvey finished one out shy of a complete game, earning his first win against the team he rooted for growing up and leading the New York Mets to an 8-2 victory Saturday over the crosstown rival Yankees.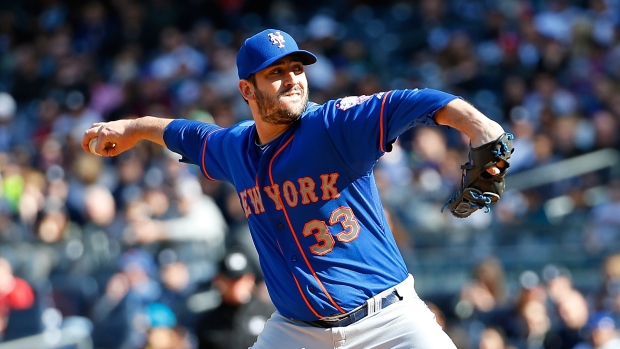 NEW YORK, N.Y. - Matt Harvey held the baseball in his right hand, pointed to his chest and said "Come on, let me get this guy," as his manager made a reluctant walk to the mound with two outs in the ninth inning.
Terry Collins' ace had done his job. Now the skipper had to do his.
Harvey was lifted one out shy of a complete game, earning his first win against the team he grew up rooting for, and led the New York Mets to an 8-2 victory Saturday over the crosstown rival Yankees.
"I know he wants this game bad enough. He deserved it in every way," Collins said. "This was his day and he needed to be out there, so I did the best I could to leave him out there."
Kevin Plawecki hit his first major league homer and drove in three runs, and Lucas Duda and Eric Campbell also connected off an ineffective CC Sabathia (0-4).
Harvey (4-0) and the Mets rebounded from having their 11-game winning streak snapped in the Subway Series opener and kept pace with the 1986 World Series champions for the best start in franchise history at 14-4.
Juan Lagares went 4 for 4 with an RBI triple for the Mets, who got six of their seven RBIs from the Nos. 6-9 batters.
In the first Harvey Day at Yankee Stadium, the young ace from Connecticut didn't disappoint. Coming off Tommy John surgery, he received a nice ovation from Mets fans when he took the mound for the ninth.
With two outs, Harvey gave up just his fifth hit and second walk to push his pitch count to 107. Collins was willing to let Harvey go a little longer because he knew Rafael Montero is scheduled to make a spot start Tuesday, giving the Mets' rotation an extra day of rest.
Harvey wasn't even watching the pitch count. He knew he was efficient enough to go deep and went straight to Collins after the eighth.
"I still felt good. I still felt strong," Harvey said. "Once you get that close to it you want to finish, but I think he made the right call."
The Mets needed to wait an extra 1 minute, 4 seconds to celebrate their 12th win in 13 games as the Yankees challenged a close play at second for the final out.
Harvey struck out seven and yielded Mark Teixeira's third homer of the series, a leadoff drive in the seventh.
The buzzing crowd of 47,909 stirred for The Dark Knight's first time facing baseball's favourite villain: Harvey struck out Alex Rodriguez with an 89 mph curveball after A-Rod fouled off a 97 mph fastball. The right-hander struck out Rodriguez with heat in the ninth.
"That's what baseball's all about," Rodriguez said. "He challenged me with a 98 mph fastball and threw it right by me."
Pitching with his balky left ankle taped, Harvey looked nimble fielding his position. He bounded off the mound and made a barehanded grab of a bouncer toward third base by Brian McCann in the second, then fielded Rodriguez's sharp shot up the middle with an acrobatic shuffle to end the third.
The Yankees jumped out early Friday night in the opener of a much-anticipated series between first-place Big Apple clubs for a 6-1 win. In this late afternoon start, the Mets broke things open after the shadows passed the pitcher's mound in the fourth inning to snap the Yankees' four-game winning streak.
Duda lined a flat breaking pitch with two outs from Sabathia just over the wall in right field to open the scoring in the first.
Jacoby Ellsbury tied it in the third on a double-play grounder.
The Mets got the lead right back against a fading Sabathia, scoring four times with two outs in the fourth, including Plawecki's homer.
"It was a special day in many ways," Plawecki said.
Sabathia was lifted to boos after Campbell homered and Lagares singled to start the sixth. The big lefty, coming off an encouraging start in Detroit, allowed seven runs and nine hits in five-plus innings.
"I was getting ahead but just not with quality pitches," Sabathia said.
TRAINER'S ROOM
Mets: Relief pitcher Vic Black wrote on his blog that doctors have figured out that what was thought to be shoulder weakness is actually nerve irritation caused by a herniated disk in his neck. Black has been shut down for several days in his rehab.
Yankees: Jacoby Ellsbury, who made a sliding catch in left-centre in the fourth, was lifted to start the eighth with a tight hip.
UP NEXT
Mets: LHP Jonathon Niese is on a career-best run of allowing two runs or less for seven straight starts dating to last season. In his previous start, Niese allowed a run in 6 2-3 innings to improve to 2-0 with a 1.50 ERA this year.
Yankees: RHP Nathan Eovaldi is coming off his first win with the Yankees, giving up one run and eight hits in seven innings against Detroit.
MILESTONE?
The Yankees customarily provide media with a sheet of their players' upcoming milestones. With Rodriguez two homers from tying Willie Mays for fourth on the career homer list with 660, New York was giving out a list on the road without Rodriguez's total. On the first two games of this homestand there has been no sheet at all.