'Hawks' Crawford 'close' but not symptom-free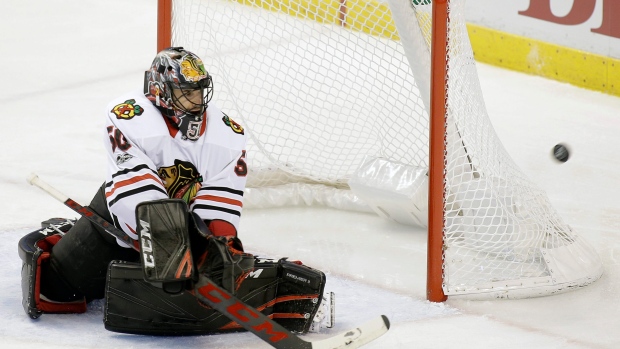 Chicago Blackhawks goaltender Corey Crawford said Friday he's still dealing with concussion symptoms, but insisted he's close to returning to the crease.
Crawford last played on Dec. 23, 2017, when he was pulled in the first period after allowing three goals on seven shots against the New Jersey Devils.
The 33-year-old had a 16-9-2 record with a 2.27 goals-against average and a .929 save percentage before sustaining the head injury.
"Most of them are gone," Crawford told the team's website of his symptoms, "but I'm not cleared yet. Until that happens, I won't be back in."
Crawford was on the ice Friday for a session with goaltending coach Jimmy Waite, but remains without a timetable.
"It's hard to say right now, but things have been progressing really well," Crawford said. "It's really hard to put a timeline on it right now. It's nice to be on the ice and it feels like I didn't miss that much time, compared to being out this long. I was moving pretty good. Jimmy had a bunch of drills for us to do and overall on the ice, it felt great."
The Blackhawks posted a 17-30-8 record without Crawford in net last season.