Healthy again, Savill enjoying return to curling spotlight
After a hiatus of nearly three years, one of the most popular front-end curlers ever is making his return to the pebbled ice at major events this season. Craig Savill is back at a big-time grand slam event after being diagnosed with Hodgkin's lymphoma three years ago.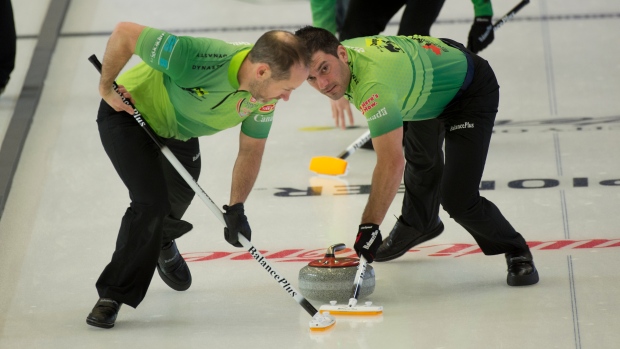 ESTEVAN, Sask. — After a hiatus of nearly three years, one of the most popular front-end curlers ever is making his return to the pebbled ice at major events this season.
Craig Savill, lead for Ontario's Team John Epping, was diagnosed with Hodgkin's lymphoma in late 2015 and was forced to miss the rest of that campaign. After courageously defeating cancer and enduring a long, hard road back to playing shape, Savill competed in a Grand Slam and a handful of smaller events with Edmonton's Team Charley Thomas in 2016-17 and was an alternate for Team Reid Carruthers last year.
Now, Savill is back at it full-time with an elite-level team.
The 40-year-old has played in three Grand Slams the past few months and is in Estevan, Sask. this week for the Season of Champions' opener at the Canada Cup.
Savill says it's been comforting to get back to the sport and the friends he loves.
"It's great. This is where I feel like I belong," said Savill. "I'm having fun with the guys, they're good guys to play with. It's nice travelling again."
The time away was trying for Savill. Watching major events on television was so uncanny for the two-time Brier and world champion simply because he was so used to playing in them.
"That was tough to be away. To be away from friends and knowing I could still compete. It was good to be back on the ice again," he said.
One of the uplifting moments during Savill's battle with cancer came at the 2016 Tim Hortons Brier which was taking place in his hometown of Ottawa. During a round-robin game between Team Canada's Pat Simmons and Ontario's Glenn Howard - Savill's longtime friend and former teammate - the two sides allowed Savill to enter the game and throw the first two rocks of an end.
Savill, Howard and Pat Simmons were named recipients of the World Fair Play Diploma thanks to their act of sportsmanship.
"I still can't say enough about Glenn, Pat and both their teams for giving me that opportunity to return to the ice in Ottawa," Savill told Curling Canada. "It was a dream come true to play a Tim Hortons Brier in my hometown, and the fact that those teams recognized that, and put their rivalries aside to give me that chance, really shows what our sport is all about."
Following chemotherapy and the announcement that his cancer was in remission in August 2016, it was time for Savill to hit the gym and get back into playing shape. The husband and father of two says it's still a "work in progress" getting to the level he was at before he was forced to leave the game.
"I spent a lot of time there working on fitness and nutrition. It's been a process for the last few years and playing this much again," he explained. "I've been on the ice quite a bit practicing and I lost a little bit of my touch, so I had to get that back. It's a work in progress."
The journey Savill has gone through over the past few years has given him a new perspective on life and curling.
"I used to think curling was be- and end-all and I've realized there are other things that are important in life, especially my family and people that were there for me during my cancer treatment," said Savill. "You know, I'm starting to realize, this is just a game, but also how hard it is to get into the Slams after taking some years off. Just relishing every part of these events - not just curling - but the off-ice stuff too."
Returning to the roaring game also meant a reunion with sweeping buddy and team second Brent Laing. The pair are now in their 17th season together as a front-end duo.
The reunion seemed unlikely at the end of the 2013-14 campaign when Laing left Team Howard to play for Kevin Koe. However, shake-ups are commonplace after every Olympic journey, even for a team as good as the one led by Koe.
Laing went back East to play with Epping in Ontario and it wasn't too long before Savill got the call.
"I didn't think that was going to be an opportunity, just with how things were lined up. They shook things up with the Koe team and I got a call from them and it worked out good," he said.
And the return to Ontario could also result in a provincial final clash with Howard, the skip he won all his national and world titles with. That possibility is something Savill is not too keen on, given Howard's 17 career appearances at the Brier.
"Not really because he's always good in the final and he always seems to play his best in provincials. To tell you the truth, I'm hoping he gets knocked out," explained Savill. "It will be fun playing Glenn because you know he's going to play well. We've played him a few times this year and you know he's going to be tough at the provincials. So we're looking forward to playing him."
Team Epping went 2-0 on Day 1 at the Canada Cup by beating Brendan Bottcher and Reid Carruthers.